As a regular visitor to this site you'll no doubt be aware we regularly publish news items which we feel will are of interest to cult movie fans in general. One such news item published a while back really set your imaginations on fire. It's often stated 'Horror has found a new home', but when this is coupled with the titles Argent Films are preparing to release the statement couldn't be more true. Of course, this isn't the only ace up their sleeves as the care and effort poured into The Battle Of Algiers has proved (you can read more below). Quality titles, quality prints - what more can we expect from Argent... read on.

The Spinning Image (TSI): First of all, could you give us some background on Argent Films? How did things evolve from the germ of an idea to being in a position to pitch for distribution deals?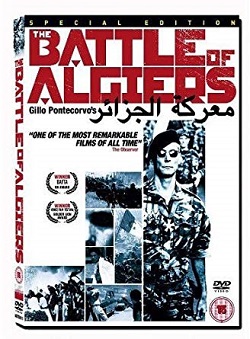 Argent Films (AF): Argent Films is a newly set up DVD publishing venture which was set-up in order to release films from the Carlo Ponti / Surf libraries – in a first instance – in UK. The proposal was put to Surf's head, Massimo Vigliar, a few years ago, when we were discussing how best to rationalise the transition to digital media delivery: Since a whole new approach to source (master) materials had to be devised in order to satisfy new broadcast standards and the inherent quality of the new consumer video devise: the DVD.

It was reasoned that the best way to control both the quality of what went into the DVD and (hopefully) the resulting revenues, in any given territory, was to do it ourselves. In UK, it resulted in my setting up Argent to run alongside (my other company) Chain Production, a film rights broker–seller. NB: "ourselves" here is used in the sharing of a common vision: there is no form of partnership between Surf and Argent other than an output deal with Surf - where Surf / Ponti libraries titles are selected on a title per title merit to be released on UK DVD.

TSI: Your first release - The Battle Of Algiers - is an impressive declaration of intent. Could you give us an idea of the work that went into it, and how pleased are you with the results?

AF: Thank you! Yes we had to start from scratch and be mindful of a budget. We took delivery of two digital masters: One: the Italian version of the film – which was made for the Venice Film Festival presentation (where the film won Golden Lion, notwithstanding the entire French delegation walking out in outraged protest!!). And (two) the French-Algerian spoken version. We found there were several small discrepancies between the two "versions", moreover the quality of these masters was not very good. We had to contemplate striking a new print and making a new telecine which is expensive. Luckily, a new print of the French-Algerian spoken version was struck for the BFI by Cinecitta in Rome. At that time also, Chain Production (which I run along Argent) licensed the film to Channel 4's FilmFour, who made a new telecine – directly in 16/9 anamorphic - from the Cinecitta-BFI print. This was done at Machine Room under supervision of C4's Adam Roberts and it was agreed not to touch up the signs of age of the negative in order to preserve to the inherent look of the film as devised with great care by the Director Pontecorvo and the cinematographer Gatti (who also won an Award for it) . We then went into C4's facility ("124") and cooked up a new master where we inserted a few frames from the Italian version master which were absent from the French-Algerian version (notably a prayer before a covert Muslim marriage ceremony). We then had to make new English subtitles – as we did not want these to be burnt-into and obstruct the DVD film frame. The subtitles are an "optional" feature on the DVD menu.

Argent chose to release only the French-Algerian spoken version in order to keep the verisimilitude of the film: the French speak French and the Algerians speak Algerian. As opposed to the Venice Festival version where they all speak Italian! We told this to director Pontecorvo, when we filmed the interview with him, in Rome, for the DVD extra, and he approved of our decision – although he had personally supervised the Venice print!

TSI: European cinema may be something of a niche market, unlikely to yield high returns. You obviously feel it's an area well worth your involvement and this must indicate some love of the subject.

AF: Well yes. Money is good, but I guess if we just wanted money, we'd all be in the porn or car-chases markets! "World cinema" films and their makers marked my adolescence and I am very fortunate to now be able to make a living dealing with the films I've always admired. Creating DVD extras provides us with the opportunity to meet (live and then on the screen) the people who made these films ... this has got to be good for the film-enthusiast in all of us..

TSI: Your press release states that Argent Films will release titles bearing the signatures of some great directors, including Fellini, Visconti and Godard. Are you at liberty to divulge any of the titles we can look forward to?

AF: I'm afraid not. The classics will come later probably late 2004/ early 2005. We took a commercial view on this enterprise and decided to go with the more instantly recognisable "cult" films. So, first we have scheduled The Spaghetti Westerns Collection late Feb. (to be confirmed). It should represent the best of the non-Leone westerns: DJANGO, KEOMA, QUIEN SABE, DJANGO KILL among others. We will then follow with a collection of "Giallos" from directors Fulci, Martino, Aldo Lado, Deodato.. and others. We will interspace these with one-off films such as SALON KITTY. Now restored in its full Ken Adam-set-designed splendour.

TSI: Could you take us through your acquisitions policy? Is it a process involving deliberation by a group of people, and to what extent does personal preference influence your selections?

AF: We select titles, which are available for UK exploitation, from the 600 strong Surf / Ponti libraries on a merit as well as materials quality basis. Aside from the above westerns, giallo or pure classics genres, there are some wonderful oddities which found their way into these libraries through (elaborate international) co-productions, such as ATTACK FORCE Z, a film based on a true story of the Australian Special Forces in WWII, starring post-Mad Max Mel Gibson and Sam Neil (no less!).

TSI: We've all heard about cases of silly money being asked for rights to certain films. Have you missed out on many titles due to demands for ridiculously large sums of money?

AF: As rights brokers (Chain Prod), we have a long standing relationship with Surf – which Chain also represents in UK. We have an output deal with Surf which works for both parties.

TSI: Your press release also mentions forthcoming releases for two Lucio Fulci films: Manhattan Baby and The New York Ripper. The latter is already available on DVD in the UK in truncated form. Will your release offer us anything more with regard to print quality, running time and extras?

AF: Yes. The idea behind Argent is always to release the best possible and/or available version of each individual film. Where the film justifies it, it will be restored, remastered and we produce our own interviews with key cats and/or director. We are commited to provide value in quality throughout the range of films released by Argent.

TSI: Furthermore, do you have any plans to release your titles as Region 0 to avoid UK Classification with renowned problem titles and to gain a wider market of overseas customers?

AF: I think it most imbalanced that one can buy USA Zone 1 DVD discs which one can play on nearly all our Zone 2 machines here in UK. Moreover, now USA DVD publishers are releasing as Region 0!! - at least it does away with hypocrisy!!! In fact Amazon's UK site "Amazon.co.uk" lists USA DVDs as available to buy by UK customers. Therefore, since Amazon.uk aims to sell to UK customers (on a .co.uk site) it contravenes our copyright licences. It is also unfair because our Zone 2 DVD discs – which must bear a UK BBFC censor's certificate to be legally available to UK customers – mostly cannot be played on USA machines. I also note that conversely the USA Amazon.com "shop" does not list our UK discs releases as being available to buy in /from the USA! So Amazon officially sells USA DVDs into UK but no UK DVDs into the USA. Wonder what the BBFC, FACT, VPRC and other bodies make of this?

In view of the above, I do think it commercially unfair that UK DVD publishers are restricted by having to release cut products which can SO easily be obtained (uncut) over the web to the detriment of UK based video publishers. Argent will investigate all avenues open to remedy this state of affair.

However.. There is one very important element which works in our favour: for people who are serious about the look and quality of the images: PAL IS BETTER picture quality THAN NTSC! Let's not forget that!

TSI: Staying with Fulci, there are a number of unreleased gems from this particular director. I'm thinking of Beatrice Cenci, The Psychic and One On Top Of The Other. Is there any likelihood that you may be able to acquire the rights to these?

AF: Surf is always acquiring new products (albeit old films) and Argent may go looking to acquire outside the Surf Ponti libraries.

TSI: Do you plan to establish close contact with your customers, canvassing opinion on your releases and enquiring about the films they would like to see released?

AF: Yes. We hope to have a web-site up by mid-year and we will certainly listen to opinions and suggestions.

TSI: Thanks very much for your time and comprehensive responses to our questions. I hope that this has answered all the questions that we've been sent as well as whetting your appetites for more release from Argent in the coming year.