Sorry to start out an article on The Goodies by mentioning Monty Python, but they both started around the same time on the BBC, 1970, and neither had sprung fully formed from the ether, as there were a group of ex-university types who had appeared on various programmes together, most notably in the case of The Goodies, the hit radio comedy sketch show I'm Sorry I'll Read That Again (which would also spawn I'm Sorry I Haven't a Clue, still running to this day). While the Pythons went onto great renown as world-changers, their brothers in humour were somewhat neglected other than by those with fond memories of seeing their antics when children, but the entire BBC series has been released on DVD to give the trio their due.

Series 1 (1970)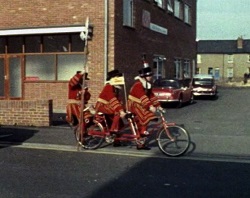 First up was Beefeaters, which introduced Tim Brooke-Taylor, Graeme Garden and Bill Oddie as the titular heroes (and director Jim Franklin), kind of like a British version of The Monkees, only without the teen appeal records (though by and by they would indeed have hit songs in the charts). After establishing them as a computer-assisted gang of helpers, wiling to do anything, anytime, anywhere, their first job is to solve the problem of beef going missing at The Tower of London, leading to the Beefeater guards wasting away (corned beef won't do). George Baker was the guest star in charge, an undercover man, and as would become usual a couple of silent movie-style skits would resolve the issues, which involved a polo-obsessed Prince Charles (not as himself).

Memorable image: Each episode contained at least one image that would be indelible on the memory... this week's? The Goodies simply toppling over on their regular trandem transport.

Second in the debut series was Snooze, which began with Garden doing his mad inventor shtick, and indeed continued in that fashion throughout. After establishing how he got up in the morning, with various levers and machines, not to mention a live chicken and a trolley for collecting the paper, executive Roddy Maude-Roxby showed up to ask the boys if they could market their bedtime drink Venom (!) better. After changing the name to Snooze, this was the first of a popular plot for the programme, sending up commercialism, for soon the whole country is imbibing the stuff, which with Graeme's improved formula sends them to sleep for weeks. Bill starts sleepwalking as he tries to invent an antidote, leading to much Harold Lloyd-style humour.

Memorable image: As Graeme finally gets out of bed, he pulls on and zips up an entire suit of clothes as a labour-saving device.

Third was Give Police a Chance - the pun on the John Lennon and the Plastic Ono Band song was so deliberate that the cast gave a rendition with the altered lyrics right at the end of the episode. Here was Oddie's anti-establishment leanings given full flow, as the cops wish to improve their image of bully boys, so visit the Goodies to take advice. They do this by repeatedly destroying their front door and beating them up, especially the hapless Bill, who looks most like a disruptive student; considering the first theme tune said this show was "fun for all the family", there was a surprising sincerity to the grudge against the law here, not smoothed over by the plan to make the rozzers peace-loving hippies, leading to a kangaroo court of corrupt officers.

Memorable image: Hate to say it, but probably Bill ordered to take all his clothes off by the Chief Superintendent, who then arrests him for indecent exposure.

Fourth was The Playgirl Club, an episode that only exists in black and white now thanks to the colour version being wiped, and endeavouring to get to grips with women's liberation in a very Goodies manner. Mollie Sugden surprised them by visiting as a Cabinet Minister, and now they have their telephone put in they can send Tim to pretend to be female on the call box phone outside to hear her very particular problem: she has had photos taken in The Playgirl Club (the distaff Playboy Club) and wants them back. There followed a series of scenes you'd never get away with now, no matter how right on they were trying to be, as guest star Liz Fraser prompted Bill and Graeme to look up skirts, then dress as "wolves" (not bunnies) as Tim went undercover as the woman boss.

Memorable image: Tim in drag having a cold shower while the ladies next to him had a hot shower.

Fifth? The Greenies, who were not a rival to The Goodies, but The Goodies themselves as Oddie once again demonstrated that anti-authority streak by pitting them against the military, rather than the police. They decide to go on holiday, but after their destinations are ruled out thanks to pollution, a small cove in Wales is their only option. However, on arrival, they find only the Vicar remains in the village after everyone else left thanks to military testing at a base nearby, and when Bill sucks on his sherbet fountain (a common detail in series one) while hooked to a screen they eavesdrop to discover the Army are planning to use the site of a proposed playground as a testing range. It's no wonder the kids of the seventies loved this show.

Memorable image: Bill playing cricket with a hand grenade.

Sixth, the boys met Cecily, another excuse to put Brooke-Taylor in drag and use his "posh old lady" voice as heard on every instalment of the radio series they came to prominence in. After refusing to play nanny or caretaker, Tim relents and does the former while Graeme does the latter (or gardener, anyway) and Bill becomes a cook in a creepy old mansion house out in the countryside. Their employers are a weird couple, and give them a list of exact instructions they all but warn the trio to follow, or else, but after some shenanigans doing odd jobs and the like, they meet Cecily (Jill Riddick, best known for sixties sitcom Not in Front of the Children) and she claims to be a victimised heiress her aunt and uncle are trying to frighten to death. Naturally, the punchline is rather different.

Memorable image: Bill making an egg and cheese pie on the record player, which ends up as an urn.

Seventh and last in the first series was Radio Goodies, where the concerns for the state of Britain's airwaves was combined with the complaints about the Post Office, presumably because the Government Department looking after both was the same. The boys have applied for a new radio licence, but thanks to the Royal Mail their form arrives too late, so they decide (or rather, Graeme decides) not only to set up a pirate radio station (something that had recently been clamped down on in real life) but a pirate Post Office too. The rigmarole they go through to do both was among the most ridiculous of the series, dressing up as post boxes, using helium balloons and so forth, and Graeme's megalomaniac tendencies get the better of him in the end.

Memorable image: Graeme trying to tow the British Isles out to the mid-Atlantic with a rope tied to his rowing boat.

Series 2 (1971-2)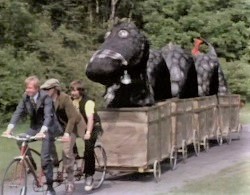 Series 2 debuted with a trip to Scotland for the team, beginning when they meet a zookeeper (Bernard Bresslaw) who is trying to end it all by jumping from a bridge. Once they fish him out and take him home, he tells them the problem: he needs a monster for the zoo, but monsters don't exist. Agreeing to help anyway, they travel up north to Loch Ness in the hopes of catching Nessie, cueing loads of ludicrous Scottish references (Garden being a Scot) and the equally ludicrous Stanley Baxter, who runs the tourist board and furnishes them with the gear to capture the elusive creature. You wonder what the budget was on this show, for Nessie does indeed make an appearance in a costume that must have been fairly expensive. Worth it? Totally.

Memorable image: The giant bagpipe spider creeping towards Tim, which was scarier than Nessie, frankly.

Next, Commonwealth Games, another episode that solely survives in black and white. Now, you have to make some allowances with The Goodies that what seemed a good idea back then would not always be seen as a good idea decades in the future, so there were elements, or indeed entire episodes, that do not play as well today. Such as a storyline that saw Great Britain take on the rest of the Commonwealth in the games, which turns out to be August Bank Holiday Island since all the other nations in the organisation have left thanks to Britain being a bit rubbish. All very well, but the actual sport segment was peopled with the locals, who didn't get any lines, played by black extras, and though they were not the butt of the joke, it did hark back to less enlightened representation.

Memorable image: Bill in the boxing ring, unable to be knocked down thanks to his gravity shoes (the stadium is on top of a huge mountain).

Third was an example of how this programme loved to tackle the big issues through the universal medium of comedy, which was why, no matter how silly it got, there was usually an edge to its observations. Not satire, exactly, but with an element of lampooning and spoofery that made its consideration of a hot topic - Pollution this time - accessible and capable of pointing out the flaws in the commonly held opinions of the day. Here the Goodies find the country stuck in the mire of fumes and gunk thanks to a conspiracy by the Ministry of Pollution (represented by Ronnie Stevens) to generate funds through a deliberate clean-up campaign. When the boys try and counter it, their plans are sabotaged, and the City of London suffers... greenly.

Memorable image: All three Goodies growing grass on their heads when it rains.

The Lost Tribe was fourth, and yet again might have been problematic as the title implies, yet there was always a point to the jokes so that the butt of the humour was going to be the assumptions of the audience and the Goodies themselves, not, as in this case, the tribespeople. Here our heroes were asked to seek out the lost tribe of the Orinoco by the daughter (Bridget Armstrong) of an explorer who disappeared twenty years ago (and turns out to be comedy stalwart Roy Kinnear). The fact that they do not end up in South America, the tribe look African, and they only go as far as Sevenoaks was the main source of humour, along with the witch doctor (Nollywood fixture Olu Jacobs) who speaks gibberish, and English when it suits him. Oh, and cannibalism rears its head.

Memorable image: Graeme recast as The Galloping Gourmet, swigging wine straight from the bottle in a pretty accurate send-up.

Fifth was The Stolen Musicians, more evidence of Oddie's desire not to be a comedian so much as a rock star; each episode would contain at least one of his songs (aside from the theme tune) as the action went into silent comedy mode, and here was a story that was all about music as musicians are kidnapped and the Goodies pose as a band to get picked up themselves, all the better to find out who is behind the crime. Who would have expected Benny Hill's frequent stooge Henry McGee to be the man, dressed in Dracula cape behind a Mighty Wurlitzer, who is forcing the public to buy his terrible team-up records that he alone will make? Cilla Black also appeared in voice only as Bill's pet hate, and apparently McGee has reformed The Beatles, who are still fighting.

Memorable image: The makers of Bond movie The Living Daylights must surely have seen the bit where Tim rides down a hill on a cello?

For Art's Sake was sixth as once again Tim's patriotism is put to the test by circumstances that indicate the days of the British Empire were well and truly over, this time, as the title suggested, thanks to the art treasures in the country's galleries being sold off to the Americans, much to Tim's disgust. In an ill-advised bid to prevent a precious Velasquez heading out of the country, he, well, bids a million billion trillion quintillion zillion pounds and two and a half pence to prevent this occurring, which puts the Goodies so far out of pocket that they are forced to enter the art market and dream up ways of revitalising interest in the cultural gems remaining. Which involves turning the National Gallery into a fairground, natch.

Memorable image: Tim scrubbing a random masterpiece clean in a washtub to better spruce up the artworks.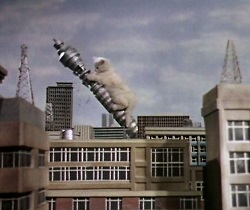 Now, here's a thing: Kitten Kong should have been here, but in its original incarnation it was wiped, probably because there was a version made in 1972 that was much the same. This was for entry into the Montreux Television Festival of that year, where it won Silver (Marty Feldman beat them), and it's the version included on repeats, tapes and DVDs ever since, though it was an expanded variation on the original. Although there were around seventy-five episodes of The Goodies, they'll always be remembered for Twinkle, the giant kitten, rampaging through London, the perfect summation of the comedy's love of cartoon humour (though the social conscience was left out this time). Rightly, it's one of the most famous comedy half hours of the seventies.

Memorable image: Just has to be Twinkle toppling the Post Office Tower, absolutely iconic.

Before Strictly Come Dancing was the biggest Saturday night show on British TV during the Autumn and Winter months, there was simply Come Dancing, a weekly instalment of ballroom expertise which ran for decades and apparently comedian Tony Hancock found it hilarious. Evidently on the same wavelength, The Goodies sent it up in the episode Dancing, where predictably it's Tim's favourite programme because it appeals to his sense of decorum, and Bill and Graeme endure it with grumbles. When there's a doping scandal, they are brought in as substitutes in a battle of wills between formation dance instructor June Whitfield and gangster Joan Sims, using remote controlled suits and letting their imaginations fly - the variations on how silly they can get are impressive.

Memorable image: The trio dressed in taffeta flinging the gangsters around in a ballroom dancing duel (in the park, it looks like).

Farm Fresh Food was another instance of the show sending up a factor of the modern world, in that factory farming and new technology was giving the British public new produce that we would look back on as horribly synthetic - the boys seem ahead of their time in that respect. This was the decade that brought the world Supermousse, after all, and that climate was represented first, by waiter Frank Thornton's supposedly authentic restaurant (nothing of the kind) and second, by Tim's farm-owning Uncle Tom (John Le Mesurier) whose premises are run by what looks suspiciously like the bridge of the Starship Enterprise. Since they have dismissed Bill's health food kick, helping out there in the hope of a meal is their best bet - square eggs and butter from the cow ensue.

Memorable image: Bill serving up his sultana roast - of a single sultana on a platter.

Free to Live was another issues-led piece, this time on the pressing subject of women's liberation that was hitting the headlines with calls for equal pay, for instance, changing society. The Liver Birds would be where you'd expect this to be taken on board, but when The Goodies did it, it was a case of well-intentioned but a shade tone deaf. Bill calls a representative of the Women's Liberation Front (Gaye Brown) to take down Graeme and Tim for behaving so sexist towards Graeme's new "totty", which leads in a real random ramble of a tale to the two of them sent to Allan Cuthbertson's stately home for re-education, only working on Tim since the Lord of the manor casts him as the woman. There follows a bunch of gender role gags, some of which are silly enough to land.

Memorable image: Graeme gambolling through the woods with his new love: a supercomputer.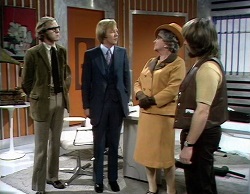 Something else torn from the headlines, or rather someone else, found themselves the target in Gender Education, the response the team had to a fan letter written to them by Mary Whitehouse, the self-styled, publicity-hungry campaigner for morality in the media within her extremely strict and conservative Christian boundaries. Beryl Reid played her as someone who cannot even say "sex" and hired the boys to make a sex education short (an issue in the news at the time): "How to Make Babies by Doing Dirty Things", though no matter how clean the results, she still finds something to complain about. Also featuring a spoof of Tory MP Sir Gerald Nabarro, an equally repressive loudmouth, here was an episode that took the censorship subject to preposterous limits.

Memorable image: BBC Television Centre blowing up thanks to a violence-crazed Bill going on a rampage.

Penultimate in a longer series than the first (double in length, in fact) was London to Brighton, not an episode often mentioned apart from griping it was one of the worst in the run. There were some funny moments, but the problem was the trio were hardly in it, as the plot had them undertaking a charity marathon from London to Brighton that is extended around the world. While doing so, they wore toothpaste tube costumes of the brand sponsoring them, meaning it could be anybody we see bouncing around on space hoppers. The bulk of the comedy was given over to Freddie Jones (the chairman reluctant to give up his cash), Jonathan Cecil (his grovelling minion) and Gilly McIver as the grinning but silent secretary. They weren't bad at all, but this was supposed to be The Goodies.

Memorable image: The South Africans using the zebra crossing.

Last in series two was Double Trouble, where a contest to win the title of Nicest Person of the Year looks like it will be won by The Goodies until they venture outside and find the reaction to them from the public is far from nice itself - in fact, it's downright hostile. But they can't think of anything they've done to deserve that opprobrium, and nobody will tell them: not even policeman John Junkin can help, until they realise someone has made evil doubles of the team. The track them to the lair of Dr Petal (former Doctor Who Patrick Troughton) who is like something out of an old serial, hunched over, manically laughing and devising deadly traps. Can the boys clear their name and win the title that is rightfully theirs? As ever, a treat to see them act against a respected character actor.

Memorable image: All three bound to a huge bomb - with BOMB written on the side, if we were in any doubt.

In between series two and three in 1972, which was around a year in broadcasting terms, The Goodies enlivened an Engelbert Humperdinck series where he, as many singing talents of the day, was paired with dance troupe The Young Generation. They provided comedy skits in their patented silent movie style, five in all, that were later compiled with new links set in the office for a special entitled A Collection of Goodies: Special Tax Edition (the slight plot had them working out what to put on their tax form). There were some pretty funny bits here, though perhaps a little familiar in tone, but everything from a trip to the gym to Pan's Grannies (a spoof of the Top of the Pops troupe Pan's People) to a bid to break into showbusiness were included (weren't they there already?).

Memorable image: The acrobatic bush baby jumping into a bowl of water.

That '72 Christmas, they also provided a seven minute segment on seasonal variety show Christmas Night with the Stars, where they served up a complete Yuletide celebration for a Dickensian orphan. It wasn't much, but it tided their fans over for the third series in 1973.

Series 3 (1973)

This began with The New Office, which took its premise as the team reuniting in, yes, a new office, or rather the old office after the painters and decorators had been in, rather blatantly delivering the script with a new set as inspiration for digs at the building and property trade. Joe Melia played both the builder and the estate agent (definitely not the same person, oh no) who proceeds to demolish the old office leading the boys to visit the estate agent to buy somewhere fresh, but proves too expensive so they have to construct "a converted, disused railway station" of their own. Much sport was had with the mechanical diggers and such other vehicles as the later target proved to be the way greenbelt land was being built on all over the country.

Memorable image: Graeme eaten and spat out by a towering grab.

Second was Hunting Pink, as the name implies one of animal-lover Bill Oddie's critiques of the mistreatment of our furry friends, in this instance the controversial subject of fox hunting. The plot had it that Tim's Great Uncle Butcher (played by Brooke Taylor with heavy facial furniture makeup and a touch of trick photography) has invited him to his estate to hunt, and Tim wants to get into his good books so he can get his hands on an inheritance. When all goes to plan, he turns into his relative in a manner not unlike Jeff Goldblum turning into a fly, so Graeme and Bill become hunt saboteurs in amusing style. For some reason, there was no advert break in this episode, a tradition usually where they would parody the big ads of the day (especially the Heinz Beans one).

Memorable image: Uncle Butcher catapulted onto his horse.

Third was The Winter Olympics, where yet again an official hires the boys to perform a service, here replacing the British team of said event, which is to take place at the North Pole. The Minister for Sport (Peter Jones) practically orders them up there where much fun is had on the theme of how cold it is, culminating in realising the only method of winning available to them is to melt the ice cap. Yes, there were environmental concerns once more - someone must have been reading up on the then-newly important subject of global warming, since the whole plot leads up to a punchline that while exaggerated, doesn't seem much different to what the news headlines were telling us decades later. Also of note, Danish bombshell Helli Louise as Eskimo Nell (!).

Memorable image: In the now waterlogged Pole, Tim manages a gold medal-winning ski jump.

Summoning up the zeitgeist once again was That Old Black Magic where the team get embroiled with an apparent witch, named Hazel (Patricia Hayes laffing her head orf), just as the craze in the seventies for the occult was truly taking hold. They had already tangled with the Loch Ness Monster, and would have a close encounter with UFOs sometime later, so this was the Dark Arts yarn which they initially scoff at, and solely agree to a séance if they can earn a bit of income. Graeme is particularly sceptical, making it all the more ironic that he is the one that falls under the Satanic influence (of David Frost, apparently) and sets about sacrificing virgins (actually Tim and Bill in disguise). The ultimate effect transforms him into a human gibbon (of course).

Memorable image: Graeme in simian form leaping from the ground into a tree - impressive!

Thor Heyerdahl was still big news in the seventies, having made his name as the pioneer of the Kon Tiki raft and following it up that decade with a new excursion, so obviously The Goodies had to get a few digs in with For Those in Peril on the Sea. They devise their own "Viking" vessel and set off, managing to get well and truly lost in a short amount of time as they seek the island of Munga, but along the way they meet an old enemy: The Music Master, under a seafaring alias now and played by Henry McGee once more. This culminated in the spoofing of all those South Seas adventures that used to be intermittently popular down the years as they try to outwit their old foe, McGee an ideal foil for this sort of wacky humour, as ever.

Memorable image: The bell bottoms.

The penultimate series 3 instalment was Way Outward Bound, a take-off on the Duke of Edinburgh's Award Scheme which is designed to give young people a goal to work towards and with any luck get physically fit in the process. This time, the boys were asked to (literally) round up kids to take part in the Duke of Glasgow scheme, but when that doesn't work out, they step in themselves, dressed as kids - Graeme in drag as a schoolgirl, not Tim, surprisingly, who sports Little Lord Fauntleroy garb. The point was to have a dig as the phenomenon of private right wing militias that were rumoured to be preparing for a coup in Britain, though here Bill Fraser and a returning Joan Sims were not quite on the same page, winding up with a bizarre baby army.

Memorable image: Any of the baby attack scenes, but we'll settle with the pram tank.

Superstar, the last in the series, finally gave in to Bill's desire to be a rock star, and if not that a pop star would do, as it presented him dazzled by the lure of showbusiness and refashioned as teen idol Randy Pandy. Before that, the trio have been lamenting the filth in the music charts and wish to serve up something wholesome, so go on an Opportunity Knocks style programme singing an actually rather excellent excoriation of the sappy, granny-friendly records around at the time. But Bill, encouraged by Aussie agent Barbara Mitchell, goes it alone, leading to remarkable extended sequence with armed guards at Top of the Pops as he performs, which isn't funny, but certainly had chutzpah. Also featuring John Peel doing a Jimmy Savile impersonation.

Memorable image: More a lyric, to the mawkish Mummy I Don't Like My Meat.

Series 4 (1973-4)

Camelot began the fourth series, once again proving The Goodies were ahead of the game quite often (Monty Python and the Holy Grail was a few months away), where Tim received a letter (and a fanfare) from his Uncle, King Arthur, or Arthur King as he was more commonly known. Nevertheless, he does live in the titular Arthurian castle, located on Acacia Avenue, prompting one to wonder if there was a Bananaman connection as he lived there too, and the trio performed the voices to that cartoon. Anyway, this was the cue for sundry medieval jokes, some sounding literally that old when Tim does his jester act, as Alfie Bass guested playing a council planner who wants to knock the castle down for redevelopment (don't dismiss the social commentary they smuggled into these!).

Memorable image: Rapunzel letting down her hair.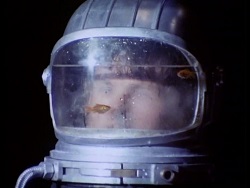 Second was Invasion of the Moon Creatures, where science fiction was the order of the day as highlighted by the Also Sprach Zarathustra theme from 2001: A Space Odyssey, though by and by it was a different Stanley Kubrick movie that provided inspiration for the humour. Graeme has been hired to send rabbits into space for the British space programme, the Americans having packed in their moon project recent to this episode, but for some reason the bunnies don't come back, and Tim and Bill are despatched to the surface to find out why. Somehow, and it's not wholly clear why, this wound up with both of them in rabbit costumes recreating the spirit, if not specific scenes, of A Clockwork Orange, one of the most peculiar flights of fancy in the whole (rabbit) run.

Memorable image: Wouldn't be a proper Brit sci-fi spoof without, not one, but two Doctor Who references. And the bunnies sing the Star Trek theme too. Sorry, that's three images.

Hospital for Hire was third, taking Garden's experience as a medical student and indeed doctor as its premise - Garden, like Jonathan Miller of another, earlier comedy team, would return to medicine once The Goodies had run its course. Here, in a manner that sadly would never date down the decades since, the National Health Service is much beleaguered and the Minister for Health (another Minister!), played by Harry H. Corbett with a Scottish accent, is alarmed when the boys apply themselves to cutting the waiting times and making everyone in the country well, for that will put the service out of business. Hence they have to go undercover as an old-time medicine show, complete with gospel theme song, and an elixir of life as panacea.

Memorable image: Graeme X-raying a patient who promptly turns into a skeleton and chases him.

They were given a Christmas special in 1973, which amounted to no more than an extended episode, around three quarters of an hour instead of the usual thirty minutes or so, but what an episode it was, perhaps second only to Kitten Kong in the widely recalled stakes. This was The Goodies and the Beanstalk, a shot on film fairy tale told in their inimitable fashion, and one of the funniest endeavours they ever crafted as they find themselves down on their luck and are forced to sell their trandem for a can of beans. On planting one, a 5,000 foot long beanstalk appears, and when they climb it in an It's a Knockout contest, they find golden eggs and a giant (Alfie Bass) who is not all he's cracked up to be. Always imaginative, but this festive season evidently brought out their best.

Memorable image: The geese bombing our heroes with golden eggs.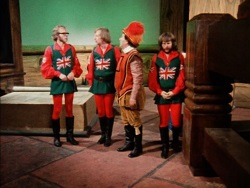 In the mid-Christmas and New Year period - you might call it an in-betweenie - was The Stone Age, where all the budget lavished on the Beanstalk episode was shown up in a far cheaper one, though they still had to fork out for a dinosaur, one supposes. There were no filmed segments as usual, though the spoof ads were present, and the plot had them finding a cavern underneath their home in Cricklewood which housed an extinct Tyrannosaurus Rex. It had to be said, even by Goodies standards this one didn't make a huge amount of sense, but their innovation on a limited number of sets remained something to marvel at, from the cave to the guts of the creature they end up stuck in. Some solid dialogue helped, but you might miss them getting out and about.

Memorable image: Probably the final shot of the T-Rex erupting from the ground - Doctor Who would have trouble with dinos soon too.

The Goodies in the Nick was exactly what the title said, as for the penultimate in series 4 they agreed to help out bumbling policeman Jack Douglas, Oddie's anti-establishment suspicion of the rozzers once again to the fore. To that end, they pose as gangsters in the pattern of The Godfather, which was a recent hit at the cinema - their parodies of pop culture would only become more prevalent as their time at the BBC moved into its second half. Tim becomes The Goodiefather, complete with marbles in his cheeks that make him unintelligible, and after a daring bank robbery (where they take a cheque!) they are banged up in prison despite doing precisely what the cop wanted them to (a not-so-subtle nod to the corruption in the news of the day). A retrial sets things right, preposterously.

Memorable image: The boys in an identification parade consisting of them and two attractive black ladies, and the eye witness (Erik Chitty) still has trouble picking them out (he's shortsighted).

Last in this run was The Race, which began with them on their trandem, cycling through France only to be caught up in the excitement of the Tour de France - to the extent of winning the event. This inspires them to spend their holiday finding another competition to enter, and they settle on Le Mans, not realising it is a 24-hour car race, not a bike one, and none of them can drive. A "crash" course for Tim and Graeme's ingenuity with making a vehicle looks set for success, but there is a Dick Dastardly-style villain who sabotages every participant, this episode either inspired by cartoon Wacky Races, or its inspiration, hit sixties comedy The Great Race, but curiously reminiscent of Death Race 2000, then a couple of years in the future. Their solution was very Goodies.

Memorable image: Driving their office along the racetrack. That's right: their office.

Here was the halfway point in The Goodies efforts at the BBC, but there was plenty more to come, and some would say they got even better. Onward and upwards to Part 2... Click here!