Texan native Jonathan Breck is a graduate in business studies from The Baylor University, who turned his back on a successful career in medical sales to pursue his dream of becoming an actor. Aside from originating the role of The Creeper in Jeepers Creepers – reprising the character in the sequel – he has starred in Star Trek Voyager and JAG on tv as well as movies I Married a Monster and the upcoming Beat Boys, Beat Girls and Cable Monkey. He is about to start filming The Shed.





The Spinning Image (TSI): Some of the biggest shocks in these films don't come from the grisly, gory moments, but subtler, psychological things aren't they?

Jonathan Breck (JB): I think the simple things are frightening. That was shown in the first film, director Victor Salva didn't use any special effects or gadgets or anything except for great suspense and straightforward storytelling for the first 45 minutes. With a talented director you really don't need all that stuff to scare people. It's not to say that we won't have those things as well, but a simple scare is just as good sometimes.

TSI: You've said in the past that you're not a big horror fan, so does that help you bring an original perspective to the role of The Creeper?



JB: Somebody asked me that question, whether I was tipping my hat to any of the other horror icons out there. I feel that's why people think this horror character is so fresh, because I really didn't come to it with any subconscious ideas of how to play him. I didn't come to it with any of those characters in my brain, I just approached the role as I would any other role and consequently we were able to do some new things with him.

TSI: How soon after the first film did you know that a sequel would be in the offing?

JB: We kind of had hints after the opening weekend. We had set out to make this little film and it all went horribly wrong! We figured we'd maybe get a limited release in the States and hopefully earn our money back and have a nice little cult following. The next thing we knew we were setting records for opening weekends here in the States and it was quite a shock to all of us. After that we started to get hints that they would want to do a sequel.

TSI: Was there not a thought of 'here we go again' when you had to get into the make-up chair again?



JB: Fortunately for me it was so long between films that I had that selective recall by then. I only had fond memories by the time we got to shoot it again, and then of course the first day in make-up again it was like 'oh damn, this is what it's like!' But truthfully I loved everybody that I was working with in the first Jeepers Creepers and I was really excited when I heard that most of the crew starting with Victor, down through most of the crew were returning to make the second film. That's nice, it's kind of like going back to family. That makes a huge difference, you've got through all those uncomfortable hellos and you can just settle in to making a great movie and taking it to the next level, which we did.

TSI: As the only returning character – and such a crucial one at that – did you have a great deal of input into how The Creeper developed in this film, and what he got up to?

JB: I think I did have a lot more weight and freedom to expand the character. But I must say Victor is a real collaborative director, and I feel like I had quite a lot of input on the way the character is played in the first Jeepers Creepers too. But this time I was in on pre-production meetings so I really felt more a part of the development of it, which was great. You feel like you're more a part of a team then.

TSI: Are you a sportsman in real life, and if so does that attract you to the physicality of roles such as this?

JB: I haven't sought out these physical kind of roles, it's just the way it happened. I played American football for 14 years – I played defensive end, inflicting punishment rather than having it inflicted upon me – so I guess I just have the body type and the inclination to be physical. It seems like something I'm always being asked to do. I was just filming this past week, tackling a guy and throwing him to the ground. We all got bumps and bruises all week long. It's just what I fall into.

TSI: So as a football player you could totally identify with the stranded basketball team in the film?

JB: Ten years ago I'd have been just like one of the guys in the bus probably. But with a little bit more wisdom and life experience, it's better to be on the outside eating in than the inside freaking out!

TSI: One of the appeals of the two Jeepers Creepers films is that they don't do the obvious thing, especially at the end of them.



JB: Without giving anything away I think Victor is dedicated to continuously surprising the audience. Audiences today are so intelligent, if you've seen a few horror films people start to expect certain things. His gift is that he continuously rolls out new information and keeps audiences on the edge of their seats. That includes the way he concludes the films. It's the last impression he leaves people with and I think he does a very good job of holding back on certain information and keeping audiences on their toes. A good horror film depends on that.

TSI: So without giving anything away, will The Creeper return in some form or other?

JB: You never know if this is the last of him. I'd like to keep it going, it was a hell of a lot of fun to do the film and I liked all the people involved so as far I'm concerned if they keep coming up with fresh stories that are exciting, that take the series to the next level, then I'd certainly like to keep doing Jeepers Creepers. It's when sequels are on number four or five or six and then they start churning them out just for the money, that's when I lose interest.

TSI: Are you ever shocked at seeing yourself in the mirror, in full costume and make-up?

JB: I've long since gotten past all that. The first few times I would walk past the mirror and scare myself, but truthfully now it feels like a second skin with the way they craft my face, the bodysuit, everything. It's made from very elaborate moulds out of very thin latex, and once everything is on it's kind of like a suit of armour. After playing football for all those years that really felt like another piece of me.

TSI: And a prolonged period of preparation must help when it comes to getting into character, doesn't it?



JB: Absolutely. The whole process in the chair for between four to seven hours is kind of meditative for me. I've got four make-up gentlemen who help me the whole time; they go with me everywhere. We had our own trailer off to the side of the set, we had our own little cage that we went to and hung out. We had a big stereo and our own CD collection because we spent all our time together. Music was a big part of it. People just stayed out of that trailer. They didn't want any part of us, it got ugly in there.

TSI: How on Earth did you go to the toilet when you were trapped inside the intricate costume?

JB: Most days I'd sweat so much that I didn't need the toilet. I've learned to manage my food well. Every now and then they would need to get me out, but very rarely. By the end of the day they'd take one of the legs and they could pour the sweat out of it. So that's how I'd get rid of most of what I'd need to get rid of. It's exhausting, that's the biggest challenge on these pictures, keeping your energy level up on a forty-day shoot. They normally save a lot of my big stuff for the end of the film, so it becomes a matter of managing your energy and your mental strength so you've got something left and you're not completely wrung out by the end of the film.


TSI: Do you ever have a problem establishing how many of the stunts you are able to do on one of these films?

JB: I always want to do more as far as stunts are concerned. Obviously I want to do as much as I can, but from a practical point of view I understand that I can't do everything. Fortunately I had a super talented stuntman working with me, Darrin Prescott. I had complete confidence in him, that he was going to do everything 110 % and make it look great.

TSI: Despite the fact that you are unrecognisable in the film do people out in the wider world ever see the connection between you and these films?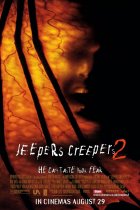 JB: I've been to a couple of the horror festivals and it's a huge thrill to see how devoted some of these fans are to your work. They can quote a scene when I turn in this direction or whatever; they know everything down to the last detail. They're incredibly appreciative. I was on a train in New York and this guy came up to me and said; 'you're Jonathan Breck, you were The Creeper', and I said yeah I was. He started this whole conversation with me about the end of the film, that he thought he read this one thing in my eyes, he asked me what I was thinking and the crazy thing was he nailed it exactly. That was one of those moments where you go 'wow'. All this preparation and all this work that I do, to communicate – and all I have is my eyes to communicate with in these films – that totally makes it through to everything. I love the excitement that the fans have about The Creeper, I really do.