Film director Ken Russell was well into his thirties by the time he was establishing himself as a talent to watch, he had been in the Army for a spell but his heart lay with the arts, and after trying photography and ballet dancing (which sounds rather improbable if your image of him is that rather portly, florid-complexioned chap offering his opinions on chat shows and in documentaries) he started to make short films. These got him noticed by the BBC, and he was hired to direct short subjects for magazine programmes, but it was Monitor, the flagship arts show under the guidance of Huw Weldon, that truly set out Russell's stall. He had been interested in classical music since he was a boy, indeed it was a lifelong passion of his, so to be given the opportunity to take over from the departing John Schlesinger and helm various biographies of composers must have been his dream job at the time.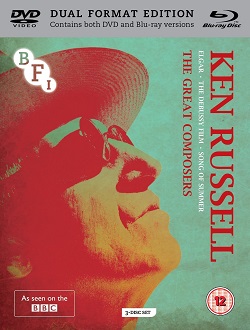 One of the first of these that made the public sit up and take notice was 1962's Elgar, although he had been creating for Monitor since 1959, but with its respectful tone and emphasis on the landscape coupled with Sir Edward Elgar's music, it was an undeniably evocative work. In many ways, it was a fairly conventional biography, we start at the beginning of the man's life where as a boy he was fond of riding his pony around the Worcestershire countryside, cueing Russell's camera to follow the rider and steed as they rush around the fields and hills at a gallop, the perfect accompaniment to a composer so in touch with the lie of the land and setting up the premise that he had to continually return to those windswept locations to recharge his batteries, even to seek some solace when things were not going as well as he would have hoped.

Weldon provided the commentary, which was knowledgeable and informative, but it was the imagery and the way Russell meshed it with the music that really sold the piece. We learned of Elgar's struggles to establish himself, finally managing it in his forties, his marriage to the great love of his life which lasted to her death, and how he had mixed feelings to say the least about how his work was appropriated for patriotic means. It is well-known he hated the lyrics added to Land of Hope and Glory, and its use in the First World War where Britain went to war with Germany, the nation that had been first to recognise his genius and laud him as a great composer, caused him no end of anguish; here Russell employed stock footage to illustrate the times, but there were parts where he allowed his subject some relief, even moments of humour that verged on the irreverent, a sign of what was to come.

Three years later in The Debussy Film, also for Monitor, Russell was taking more chances with the material, presenting the life of French composer Claude Debussy almost as metafiction where the actors playing the roles of real people were also seen as "themselves", discussing the programme with the director and finding the events they were playing out affecting them in the modern times it was created. Basically what Karel Reisz did with The French Lieutenant's Woman nearly twenty years later, though this felt more vital, more relevant to the cultural revolution of the sixties as new ways were settled on for telling stories in music, film, television, writing and so forth. Russell even set his visuals to the music in a fashion very similar to the pop and rock videos that were going to be such a major delivery system for hit tunes for decades after, ahead of his time once again.

The Debussy Film also marked his first collaboration with Oliver Reed; although they seemed to have worked together more in the memory than they actually did, every time they united there was something interesting to watch as a result. Reed played the title role and the actor playing him, as the latter growing more and more involved with the part until we cannot tell in the final stages where he ends and the composer begins. Russell brought out the sexual angle to Debussy's life in a manner that suggested he was champing at the bit to be as explicit as he could, yet was constrained by the limits of what was allowed on television, though nevertheless he did get in a couple of stripteases, not that we saw very much, thus illustrating the power of suggestion that he would not often embrace when his cinematic career took off. And to top it all, you did learn something about Debussy from this idiosyncratic approach, as Vladek Sheybal's director within the film acts as a guide.

For some, Russell's adaptation of Eric Fenby's memoir of his time spent collaborating with composer Frederick Delius is his finest achievement. These people are usually those who turned their noses up at the director when he seized the opportunity to let his imagination run riot after about 1970, both with more biographies and fictional work, so the relative calm of Song of Summer comes as a pleasant contrast to the excesses of Tommy or Lisztomania. It was true there was a contemplative tone to this example, as it took care to actually spend time on the process of writing music, usually a solitary occupation but here assisted by the fact Fenby (Christopher Gable) was providing the eyes and hands of the by then infirm Delius (Max Adrian), who was paralysed and blind by that point. They spent five years together, living in Delius' house in France with his wife Jelka (Maureen Pryor) and their small staff. Something as simple as watching them at the piano can be enlightening.

But more than that, the actual location from where creativity springs was always an obsession with Russell, probably why he insisted on returning to the subject over and over, and not just in the biopics. The Delius we heard in Song of Summer was his more pastoral, calmer efforts rather than the more difficult works that he may be just as celebrated for, and that contrasted neatly with the man's irascible nature. Being disabled had not mellowed him in the slightest, if anything it had made him harder to get on with as if his state was bringing out his frustrations - when Fenby first sits down with him he cannot even carry a tune, understandably something of an impediment in their writing process. In spite of an interlude where Percy Grainger (David Collings) shows up to represent the more gregarious and friendly side to artistic nature, this was a gentler presentation than many will be used to from Russell, and demonstrated his range not often given credit for.

For his final Monitor programme, Russell made a relatively short biography of the French naïve painter Henri Rousseau, proving that it was not simply music he was captivated by, and Rousseau's place in the art world must have appealed greatly to the director for he was a talent shunned and made fun of by the establishment who nonetheless found a way to achieve recognition. That this came after his death only made the drama all the more sympathetic to the painter as it detailed his rather sad life, only illuminated by his absolute faith in his art and its worth as a valid body of work. His story narrated by Oliver Reed, Rousseau was played by James Lloyd at various stages in his life, though his story only really began when he was middle-aged and he devoted his every waking hour to his creativity, as if that self-belief was all that was needed to persuade others of his supposed genius.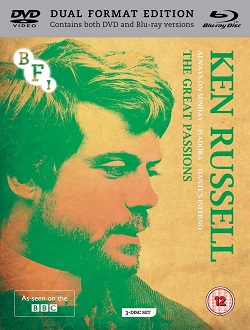 Russell didn't use many tricks here, unlike his Debussy effort from earlier in the year, probably because Rousseau's tale spoke for itself, but there was a wounding quality to every scene where someone rejects or even laughs at the artist's canvases, as if to ask the audience, didn't this man deserve acclaim for his sincerity, his highly individual take on the subjects he chose, as much as many a more accomplished painter in the eyes of the cognoscenti? The answer given here, though not stated outright, was that he definitely did, and as the list of indignities he suffered grows ever longer, from being shunned by the critics, the public and even in love, Rousseau begins to take on a heroic quality, yet never comes across as bloody-minded, simply unwavering in his optimism that some day he would be accepted. As it is, only his surrealist friend Alfred Jarry and Pablo Picasso appeared willing to unironically champion him in his lifetime.

The following year, 1966, Russell embarked on a standalone documentary for the BBC, this one on a female subject for a change. Isadora Duncan was the focus of Isadora, The Biggest Dancer in the World, a notorious figure of the early twentieth century whose essential outrageousness was ideal for the director. Beginning with a cheerleader chant of her name straight into a newsreel rundown of the highs and lows of her career, all delivered at breakneck speed, we were well prepared for the rollercoaster ride through an account that took about an hour, but remained snappier and more evocative of Duncan than the feature film of a couple of years later, which placed Vanessa Redgrave in the title role. Here we had the less willowy Vivian Pickles who took on the mantle as if born for the part, perfectly capturing the woman's ridiculous qualities yet acknowledging her humanity as well.

Indeed, Russell didn't seem to be able to make up his mind about whether he was serving up a story of someone we should be lampooning or admiring, if only for Isadora's sheer chutzpah. In every scene she was in, which was most of them, our eyes are purposefully drawn to her posing and prancing as she was obsessed with bringing the notion of art to the masses, and possibly away from the intelligentsia which did not endear her to them. To that end she sets up dancing school after dancing school for young girls, all of which flounder no matter if they were in France or the new Soviet Union, simply because though Isadora drew crowds, not many were willing to pay enough money to her for her antics, not leaving enough for her to live day to day never mind fund her ambitions for others. As she hits tragedy, a disastrous love life, and dies in a weirdly appropriate manner - absurd - the film emerged less a sly giggle at her and more an amused, sad-eyed indulgence.

There was little humour in 1967's Dante's Inferno, at least in its second half, a more blatant indication that Russell was moving towards cinematic features to give his vision more room to breathe. This wasn't anything to do with the famed poem of the same name, it simply appropriated the title for the biography of painter and poet Dante Gabriel Rosetti who like the other subjects the director preferred to settle on, suffered greatly for their art. He began the film as part of the Pre-Raphaelite set, as mischievous as many artists can be when they are not channeling their creativity into something productive, but his love of the lower class (to him) Elizabeth Siddal (striking Judith Paris, best known to Doctor Who fans as Eldrad in The Hand of Fear) does not bring him the joy he feels he should have, and that feeling is mutual even when their previously chaste relationship continues on to a testy, unconsummated marriage.

Once we had been informed Rosetti and his pals liked a laugh with a few scenes of them acting the goat, this proceeded to delineate precisely how that demeanour was entirely misplaced when the pressures of life took their inevitable toll. Elizabeth gradually begins fade away thanks to her ailments and addiction to laudanum, which only makes her husband's romantic obsession with her all the more brittle and damaging, though the point was that this turmoil was all to the benefit of his craft as once he is miserable, his artworks and writing have never been better. With that in mind, Dante's Inferno was noticeably less accessible than the Russell we had seen in others of his BBC works, leaving an experience that lasted almost ninety minutes but not everyone was going to get on with. Yet when Oliver Reed was collaborating with him, as he played Rosetti, the results were always going to be worth watching, and Russell coaxed a performance that illustrated when Reed was committed to a role, there were few of his generation better. As for Ken, he would work in television on and off for the rest of his life, obviously grateful for the grounding he had in the BBC.

[The BFI have released two Blu-rays of these Russell programmes at the BBC under the titles The Great Composers and The Great Passions. They have never looked or sounded better thanks to pristine prints, and are packed with extras, including audio commentaries (two from Russell himself), vintage documentaries and featurettes.]