If it had not been for a fatal car accident in 1970, who knows where the career of Spanish actress Soledad Miranda would have ended up? It's a question that hangs over her death in the minds of her fans who to this day lament her passing, and the fact the world was denied any further film appearances from a woman widely regarded by cult movie followers as one of the most beautiful actresses of her day, and the man who brought her to their attention was Jess Franco. By the time the final two movies she shot with Soledad were released, he was well into his status as one of the most prolific of the European trash flick directors, but it had taken him some time to truly find a muse who could bring to the screen the precise quality and charisma that would have lifted his often slapdash material.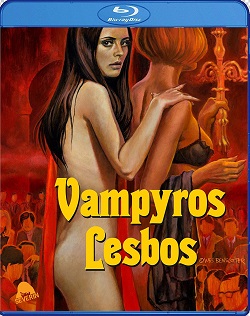 Miranda was that woman, they had met when Franco directed her in one of his earlier efforts and he liked her style, so it was that as her career was taking off she deigned to star in his particular brand of softcore horrors and thrillers since she was not shy about taking her clothes off for the camera: ideal for Franco's projects. By the point she was making Vampyros Lesbos, her most celebrated film, she was married to a racing car driver and the mother of a young son, and things were looking rosy as far as the jobs she had lined up went, for she was about to sign a contract for bigger things. Whether that meant she would have left Franco behind is something we will never know, as she passed away some hours after the car she was a passenger in, driven by her husband, crashed into another vehicle in Portugal, thus ending her life but ensuring a degree of screen immortality.

You could argue that most actresses who take their clothes off in films are guaranteed that immortality as there is always going to be some interest even decades after the fact in a performer willing to bare all, or even some, but not everyone who does so had the glamour of a Soledad Miranda. In Vampyros Lesbos she was central to the reason you kept watching, cast in a Count Dracula role only with a feminine twist, as Franco, hot on the heels of his actual Bram Stoker adaptation, readapted the novel by taking note of the Hammer version of J. Sheridan Le Fanu's Carmilla, a lesbian vampire movie of 1970 called The Vampire Lovers. There had been bloodsuckers of that orientation before, Dracula's Daughter in 1936, while tame, had a certain homosexual theme to its lead character, and of course Roger Vadim had offered his own variation around ten years before with Blood and Roses.

All of these were European pictures, and something about the notion of a beautiful woman preying on other beautiful women supposedly for their blood, but in effect for sexual domination, appealed to the audience of that continent. Whether that was anything to do with how actual lesbians felt or if it was more connected to a male fantasy was a moot point, certainly behind the camera there were not many females penning or directing these films, and the ladies were more required to disrobe and participate in would-be sensual love scenes. Franco thought he knew his audience, and at the time he made Vampyros Lesbos he was capitalising on the loosening of censorship that he had been straining at for a while; lesbians were a subject he would return to over and over in, for instance, his women in prison movies, purely from an exploitation angle and about as far from something like The Killing of Sister George as you could get.

In Vampyros Lesbos, Franco cultivated a surreal atmosphere that rendered the experience as something not many other filmmakers would achieve, nor would they even try, with his repeated motifs - returning to images of scorpions, a line of blood oozing down a pane of glass, a kite flying in an azure sky - and a soundtrack by Manfred Hübler and Sigi Schwab which oddly enough made this possibly the director's most famous film when it was released on CD at the height of the easy listening loungecore revival of the nineteen-nineties and early two thousands. It's certainly a collection of groovy sounds, though not exactly spooky in spite of the unexplained garble of a mysterious radio message frequently played over the action for weirdness' sake, but contributed to the air of kitsch that many responded to as brunette Miranda's vampire seduced blonde Ewa Strömberg in a selection of sunkissed Turkish locations.

What was striking about Franco's later films with Miranda, aside from the obvious, was the vivid colour, preferring the hues strong sunlight could bring and filming in the Mediterranean, though the money came from West Germany, only assisted that. Therefore her vampire Countess Carody didn't shun the daytime, as she was if anything more at home relaxing on a beach as she was picking out her next victim; as with the Stoker book, there is an asylum that one of her previous conquests is incarcerated in, Agra (Heidrun Kussin), overseen by Dr Seward, played by British actor Dennis Price who became quite the horror movie fixture in his later years. Agra behaves like a junkie going cold turkey away from Carody, and Ewa's Linda Westinghouse is inducted into the undead way of life much as a drug dealer would snare a customer, first seeing her in her dreams of a nightclub act that turn out to be real.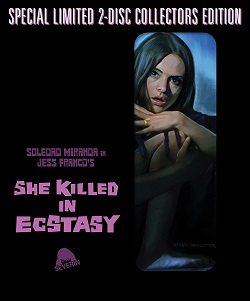 Strömberg and Miranda returned in the third of the Franco-Soledad movies of 1970 (the other one being the caper The Devil Came from Akasava), which was another horror flick, She Killed in Ecstasy. Here the leading lady played Mrs Johnson (we never learn her first name), the wife of a scientist who was experimenting on human embryos until the establishment force him to be discredited and effectively struck off, a variation on Franco's beloved Dr Orloff series and its spin-offs where mad science was the impetus behind the plot. Again, the colour was bright and the nudity was plentiful, if not as plentiful as in Vampyros Lesbos, but the female protagonist was intriguing as an example of the seventies run of vengeance-seeking women, with Mrs Johnson sent round the bend after her husband commits suicide when his career is left in ruins. As you would expect, her revenge is bloody and death-dealing.

It could also be taken as a prototype slasher movie, as Franco spared no sensitivities when his antiheroine sets about separating the male members of the authority from, well, their male members, which offered the bizarre sight of Franco regular Howard Vernon being attacked entirely nude by Miranda, who was equally naked aside from a garish purple cape that appeared to have been crocheted. Strömberg entered the plot as the sole woman held responsible, so naturally she had to be a lesbian all the better for Mrs Johnson to get her where she wanted her, which was on the wrong end of a plastic inflatable pillow (though she looks to be very much alive even after her demise). Franco was by this time shooting as much footage as possible to be assembled, somewhat haphazardly in the editing room, a method he would continue for the rest of his life, and there was a slapdash quality to these last Miranda works.

But he could not be accused of shortchanging her fans, as the final appearances she made in no way saw her at a disadvantage and would likely have set her on a course to more mainstream success had she survived. She was credited as Susann Korda in these unclothed roles, presumably to either spare her blushes or to make sure that mainstream would not reject her when she was under an alias and her usual stage name would be used otherwise, and after she died Franco used footage of her in one final effort, Eugenie, but if the ending was unhappy for all concerned, at least the director found a new muse in Lina Romay for the remainder of his movies. As for Soledad Miranda, she continues to gather new fans who discover those trippy, pop art-y, even jazz-influenced movies she closed her career with, forever frozen in time with haunting effect in her mid-twenties for films even in their day were never intended to last so long. But last they did.

[Severin have released Vampyros Lesbos and She Killed in Ecstasy on Blu-ray with some very attractive restored prints, looking and sounding better than they ever have. Both discs are packed with featurettes interviewing experts and Franco himself, with trailers too. Fans couldn't wish for a better presentation.]