Author Noel Mellor has penned Adventures in VHS, a book about the era of home video as he remembers it in its heyday of the 1980s. Check out the Adventures in VHS webpage at this link to discover more, including how to purchase a copy. Here's what Noel had to say about his project...

TSI: How did the idea for the book come about? Did it spring from your podcast?

NM: It actually happened the other way around. A couple of years back I was writing for a site called Eat Sleep Live Film and trying to come up with new editorial feature ideas, so I started a series of articles called Rentals Revisited where I would go back and rewatch some of the formative horror and cult films of my childhood.

I knew I'd have a lot of fun looking at stuff like Stuart Gordon's Dolls and Brian Yuzna's Society, but what I didn't expect was for so many other memories to come pouring out at the same time! I found myself writing about the video rental store I visited every day, the guy who ran the place and how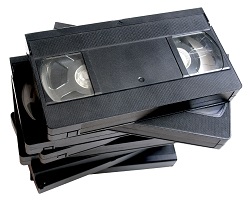 individual movies had a profound effect on me at the time. After a while, I started to wonder if there might be a book in it and then later a supporting podcast for the project just seemed to make sense.

TSI: You say you researched it by tracking down original tapes from the era, is this as difficult as it sounds?

NM: Well that also forms part of the story in the book. I started off with nothing, just a relatively short list of films I wanted to find and, of course, the internet. So there's some stuff in there about how I got started collecting and some of the mistakes I made along the way!

To answer your question though, how difficult it is really comes down to what you're looking for. There are hardcore collectors out there who are obsessed with bragging about having the rarest and most valuable tapes, or people who just decide they want the complete list of 72 'video nasties'. Honestly though, I've never really had that collector mentality, I just don't see the point. For me, this is about reliving the experiences I had with VHS through some of the films I grew up with - and hopefully connecting with the many people out there who had those same experiences.

TSI: And you watched those tapes on a vintage set-up with VHS player and original TV! Some would balk at revisiting them in anything but pristine HD on a great big wide screen. How did your process enhance the experience?

NM: This is a difficult one, because on the one hand I believe that by today's standards VHS is pretty useless, but then on the other hand it gives me a very specific visceral film-watching experience that digital just doesn't.

I suppose the best example I can give is Weird Science... a film I watched hundreds of times as a kid. Of course, it's a pretty well known film and with just a few clicks of the mouse I could be streaming it online or ordering the Blu-ray from Amazon. But instead, I know I can go upstairs and pick out the same big box VHS version from my shelf that I used to rent on an almost weekly basis and that when I open that big plastic clamshell and pop it in for a watch, I'll get the same CIC Video idents, trailers, cropped 4:3 aspect ratio and occasional tracking issues. In short, I'm seeing it just how I saw it back then - and there's something comforting about that.

TSI: Were you able to find films you had fond memories of, and on revisiting them did they live up to those memories?

NM: There are a few different sections to the book, one of which is dedicated to the films I have fond memories of for one reason or another. I guess I enjoy seeing these now through the eyes of a jaded and cynical old man, but for the most part I've found I can see past any weaknesses and just enjoy them for what they are. I'm not one for pontificating on the hidden depths of cinema and applying vague theories and ideas to individual films to try and make myself sound clever. But then, with some of these movies that's no bad thing!

TSI: Can you name a few titles that really stood the test of time?

NM: There are surprises throughout the book really and not just films I saw back then which have retained some of their magic. Quite often, I'll stumble across a film I've never heard of, but one I know lived on the shelf in my local store - only to discover a real gem. There's one in particular that stands out called Slayground from 1983, which is based on a novel by Richard Stark and stars Peter Coyote and the late Mel Smith. It's basically this grimy little story about a professional criminal who is on the run from a dangerous hit man in the North East of the USA, which then ups sticks halfway through to almost start a whole new story in the North West of England! It feels a bit like two films smashed together using the same central character, but it all comes together really nicely in the end and I found myself wondering how the hell it has never been released on any other format.

TSI: And what about those titles that looked less impressive?

NM: Well, effects are always going to be an issue for some people so there are definitely films throughout the book where the prosthetics and early attempts at CG will make them feel a little dated. I think you need to get past that though and appreciate the effort that goes into some of these films and very often on a budget that would have been a tenth of what was being made available for the big theatrical releases of the day. I can cope with dated effects, clothes and even poor plotting, but the one thing I cannot stand is a movie that is boring. For the most part, that hasn't been a problem, but there are films I was too terrified to rent as a kid that feature in the book - and fall foul of that very crime!

TSI: Although popular, visiting the video rentals was less of an event than attending the cinema for most people in the 1980s. Did you feel the same way or was visiting the store like walking into a chocolate box of movie possibilities?

NM: That's what was so great about it! We didn't have the time - and couldn't really afford - to have a family day out at the cinema every time I wanted to see a movie. I have great memories of seeing blockbusters like Ghostbusters and Back to the Future in theatres, but alone they couldn't satisfy my appetite for films. That's why the advent of home video was so important for me, I could walk into 'Video World' every day and find something new - and as it would often feature killer clowns, murderous dolls, radioactive teenagers and large breasted women, it was just way more appealing to me anyway!

TSI: The covers were sometimes the best part of the tapes, are there any that really stand out for you as superb images?

NM: I wanted the book to reflect the video store rental experience and a big part of that is the covers. So, for every movie covered, there is a full page dedicated to showing off the full colour sleeve art. As far as those covered in those pages, I think the Virgin Premiere release of Class of Nuke 'Em High is a beautiful thing, then there's stuff like Cut and Run on Medusa Home Video (who are pretty consistent when it comes to great sleeves). Obviously, some of these sleeves take a bit of artistic licence, but then there are others (like The Howling 2 for example) that really capture the movie with a simple iconic image. I could give you a hundred examples, but I suppose you'll get to see many of them in the book!

TSI: Finally, what do you hope to achieve with the book, would you like readers to use it as a starting point for their own movie journeys?

NM: I think the main thing I want is for people to feel like they've joined me for mine! If they remember these films and what it was like back in the days of independent video rental stores, then I hope they get to relive some of that magic with me. If they're more a child of the HD generation, then I hope they get a kick out of experiencing what that was like for us as young film fans. Essentially, Adventures in VHS is something I think film fans of all kinds will enjoy, but I hope there's a story there too that makes it appealing for everyone... And who knows, maybe it'll cause someone to put Slayground out on Blu-ray.

Rest assured, Noel, Slayground is indeed out on DVD. No Blu-ray yet, mind you.