Bless you, Scream Queens, wherever you are.


Remember that scene in 2001: A Space Odyssey where all the planets and the ominous black monolith lined up single file to create a wonderful change in the solar system and perhaps the universe? That's known as "harmonic convergence," and something akin to it occurred in the entertainment cosmos during the Eighties.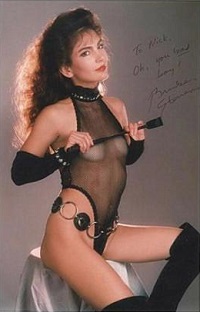 Let's first establish an inarguable fact: porn--soft- and especially hardcore--irrevocably affected virtually everyone in the Free World, regardless of whether they have ever seen a single frame of a skin flick.

The advent of the VCR created a new industry, the videotape rental and sales business; and it is accepted that the newfound ability to enjoy smut in the privacy of one's home (and the revenue it generated) is what allowed the early video stores to remain open and owners to afford to stock My Little Pony collections and the Audrey Hepburn library. The brass at Blockbuster and Disney may try to spin it differently these days, but they owe a lot more to Marilyn Chambers and Johnny Wadd than to Marilyn Monroe and John Wayne.

Once the fledgling vid joints became established, it was all a series of begats. Rather than provide a long-winded dissertation, I'll just lay out the chronology in a simple format.

Public confidence home video here to stay--> VCR becomes as commonplace as microwave oven--> huge demand for tapes boom in production of low-budget mopix--> financiers willing to back unknown directors, techs and performers, many of whom will go on to become Major Players--> sudden glut of "product" allows new enterprises such as HBO to get off the ground and flourish--> cable TV perceived as more than just a fancy-dan substitute for an antenna.

As for the skin side…adult material at local respectable shops--> average schmo far more comfortable admitting he likes dirty pictures--> Showtime and the like equally comfortable airing flesh-filled follies--> Puritanical moat crossed by such a middle-class venue creates new open-minded attitude across the board--> Ron Jeremy as recognizable as an NBA all-star--> internet explosion fueled by an avalanche of erotica that simply wouldn't have been there without all of the above--> total strangers googling yo' mama.

But most important about the "convergence" of the VCR, video production business, rental stores, cable networks and so on is that relaxed morals and the need for content created something fresh and wondrous, a lovely rose blossoming out of the dung pile that was the Me Decade and oppressive Reaganomics.

The Scream Queen.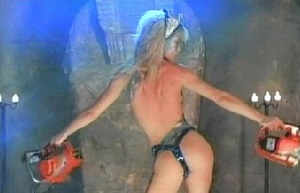 These women were goddesses—do you hear me, goddamn goddesses?!?—and I will stand by that no matter how many times I've googled yo' mama and how many "thank you" cards she mailed thereafter. Unlike their predecessors in the flesh-flashing game, these sirens of soft-core did not come across as strippers moonlighting in nudie movies or apprehensive women cajoled into bearing their boobies, be it by bullying or blackmail. The Scream Queens were a group of attractive starlets who embraced the low-budget end of the industry rather than felt it a demeaning chore they had to suffer through until breaking into "good" movies.

Their enthusiasm for the genre was so evident, it gave the films an adrenaline boost Serious Actresses could never touch. They appeared to be having a blast and, in turn, the enjoyment carried over to the viewing experience. The ladies' keenness for doffing their duds didn't hurt matters either.

Though they had many sizzling sisters, the core of Queendom came down to a trio of tasty tarts. There was the lithe and lovely Brinke Stevens, her delicate facial features, long straight hair and natural modest breasts giving her the appearance of a babe you might bump into at the nearby Barnes & Noble—assuming the local bibliophile loves to strip naked and wiggle her goodies at every conceivable opportunity.

The blonde in the bunch was (and still is) Linnea Quigley. Coming across with a "tough chick" aura—and wild enough in real life to later become engaged to Screw publisher Al Goldstein—curvy Quigley had a butt that would make any apple green with envy. And anyone who saw her bare-ass moon dance in The Return of the Living Dead knows uninhibited Linnea sure knew how to shake it.

But to me, the without-question Queen Of The Queens crown goes to Michelle Bauer (aka Michelle McLellan) who began her onscreen career as Pia Snow in XXX fare. I would gladly drink a boiling quart of her armpit sweat just for a sniff of where it emanated. Okay, that's not true; nonetheless, visions of Michelle get the Manor heart pumping more than a double dose of Red Bull poured into a cup found at a meth lab.

As could be expected, the Bauer bod is breathtaking—but that's only a portion of the equation. A cute face surrounded by shoulder-length brown hair and an ever-so-slightly-wicked smile gave her great magnetism without any glammed-up goop. In fact, that may be the appeal of all the Scream Queens: They were "real women" (albeit really hot ones), not made-over Stepfords assembled in a lab behind the Playboy Mansion. The Queens were the kind of chickadee a guy might actually meet down at Pete's Pub…and due to the senorita's accessibility and aggressive pursuit of men, might even be pounced upon by!

You stood no chance of ever nailing Morgan Fairchild and similar Frigidaires; but a Linnea Quigley? Bartender, give the little lady a pitcher of kamikazes on me.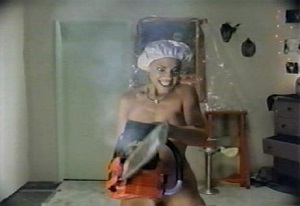 Brinke, Michelle, Linnea and their saucy sorority gave us skin-and-splatter-filled epics with titles as outrageous as the films' storylines. Sorority Babes In the Slimeball Bowl-O-Rama and Assault Of The Killer Bimbos (both 1988) immediately come to mind.

Incidentally, you can see the entire (Un)Holy Trinity Of SQs—Quigley, Bauer and Stevens—together in Nightmare Sisters (1988) and the aforementioned Sorority Babes. And should you fall in love with sleek Brinke, look for Teenage Exorcist, written by the multitalented mademoiselle.


My personal favorite is Hollywood Chainsaw Hookers (1988), singled out for more than its memorable moniker and ad-art tag line "They Charge An Arm And A Leg." It also has the delectable duo of Quigley and Bauer; Gunnar Hansen, the original "Leatherface" from 1974's The Texas Chain Saw Massacre; a non-stop barrage of tattered torsos and T&A; clever spoofing of cookie-cutter private dick flicks; and even a cameo by Elvis Presley! (You'll see.)


The Scream Queen films are not meant to be taken as Highbrow Art—perhaps the titles were a hint?—and, not surprisingly, their admirably perverse sense of humor failed to register with stuffed shirts. To which I say, that's their tough luck. Besides, who needs stuffed shirts when you've got removed blouses?

There's a boatload of junkfilm reviews--most illustrated in the crazy new COLOR medium!--at ManorOnMovies.com. You are invited.