Angelina Jolie makes a sensational return to the action thriller genre in Timur Bekmambetov's Wanted. Jolie plays Fox, a heavily tattooed, deadly assassin who has to train a new recruit to the shadowy organisation known as The Fraternity.

Jolie joins a stellar cast including James McAvoy, Morgan Freeman and Thomas Kretschmann the ground-breaking screen version based on Mark Millar's comic books.

Wes Gibson (McAvoy) hates his life – with good reason. He's working as a lowly accountant in a dead end job and his best friend is sleeping with his girlfriend. And what's worse, he doesn't care. He has no money and no prospects and he's suffering panic attacks when his bully of a boss shouts at him. And then it all changes.

Wes is going about his mundane life when Fox (Jolie) literally bursts on to the scene with guns blazing to inform him that the father he never knew has just been killed – and the murderer is now out to target him.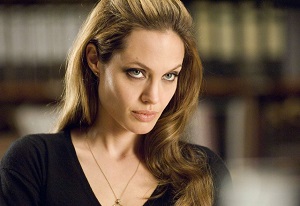 Reluctantly, Wes is dragged into the inner sanctum of The Fraternity, led by the enigmatic Sloan (Freeman) an organisation that targets criminals and assassinates them for the greater good. He learns that his father was the deadliest of them all and that it's now time for him to follow in his massive footsteps. But as Wes turns from deadbeat into deadly killer he begins to realise that the organisation might not be exactly as noble as it claims to be.

The daughter of French actress Marcheline Betrand and Oscar winning actor Jon Voight, Jolie, 33, first started acting as a child and later studied at the Lee Strasberg Institute in New York and at New York University.

She won international recognition in the mid 1990s with films including Hackers and Foxfire. She earned both Golden Globe and Emmy nominations for her role in the made-for-TV movie George Wallace and again for her remarkable performance as drug addicted model in Gia. In 1999 she won the Academy Award for Best Supporting Actress in Girl, Interrupted.

Throughout her career, Jolie has enjoyed switching genres from action – playing the popular computer game heroine in Lara Croft: Tomb Raider and it's sequel Lara Croft Tomb Raider: The Cradle of Life, an assassin in Mr and Mrs Smith and animation roles in Shark Tale and Kung Fu Panda – to more serious drama including Beyond Borders and, more recently, the highly acclaimed A Mighty Heart in which she played the widow of murdered journalist Daniel Pearl. Later this year she will be seen starring in the Clint Eastwood directed period thriller, Changeling.

Her work as a goodwill ambassador for the United Nations High Commission For Refugees started after first visiting Cambodia where she partly filmed the first Tomb Raider. Since then, she has travelled to more than 30 countries, including many dangerous regions, highlighting the plight of refugees. She has also funded several humanitarian projects in Asia and Africa.

Jolie and her partner Brad Pitt have four children – Maddox, 7, Pax, 4, Zahara, 3, and two year old Shiloh.

Q: There's a key scene in Wanted where the killer is chasing you and James' character and you are hanging out of a car firing back at him. It looks incredible and frankly, highly dangerous. What was that like to film?

A: Oh good (laughs)! We did a little bit of everything. So I am actually driving for some of the time and I am actually on the hood for a big chunk of the time. We did some in the studio when I'm on the hood, and that was mostly for close ups of like heels on necks (laughs) and then most of it was on the streets of Chicago. It was fun, actually.

Q: Do you like doing those kinds of risky stunts?

A: I do, yes. It's an adrenaline rush and it's fun. I mean, it's very much in our family. Brad and I met doing that kind of thing - we met on Mr and Mrs Smith. And we have that in common so it's kind of what we shared before we met - with him doing those films and me doing those films so we have a good healthy competition in the house for craziness and things like that.

Q: It's a very physical role in Wanted. Did that involve a lot of gym time for you?

A: Yes, a lot of gym and then each stunt requires it's own preparation. With the car there's nothing you can kind of train for – you know, for flipping around the car. But you do have to get on it and off it and hold the guns and figure out the choreography and practice it all. It involves so many different guns and leaning over the side of the car and the big stunt with the bus. So you kind of break it down into component parts. And then there is a physical fight that James and I have which took a lot of planning. I do get to kick his ass, though! (laughs) It's always fun.

Q: You've done action films before but this was James' first time. Was he was well prepared for the stunts?

A: He is very physical and I don't know whether that's from being properly trained. A lot of us in the States do a few acting classes and in Europe they train properly for years - they do a lot of stage fights and physical training and he's done all of that and you can see it. He's actually great. And you can see his transformation in the film. The film is really his character's journey from this nerdy guy into one of us in The Fraternity. James was great.

Q: Were you a physical kid?

A: I was kind of a punk but I didn't get picked on. I was more the one that people left alone because I was a bit of a loner. I would get into fights on behalf of other people but usually they'd remain verbal. I just really wasn't somebody who was in other people's face, I went my own way but I also wasn't a pushover so I wasn't the one that was targeted.

Q: Did you know Morgan Freeman before you worked with him on Wanted?

A: Brad had worked with him on Se7en and told me what a lovely guy he is and he is, he's like Clint (Eastwood) who I worked with recently on a film called Changeling. He is a lot like Clint, I can see how they are good friends. He also flies a plane – and so does Clint - and if you sit next to him he starts speaking in French, then he's singing and he sings beautifully and then he talks about flying airplanes and he talks about cooking. He's a nice man but he is also such a liver of life. He's younger than the young men on set and he's just ready to take on anything! These guys are remarkable and there's a lot we can learn from them. You put these guys, these alpha males, who are capable of anything and excited about life and have a great sense of humour and a good sense of fun about themselves, next to a new young guy who is probably brooding and moody! (laughs). Morgan and Clint are just great.

Q: And tell me about working with Timur…

A: He was good. The reason I decided to do the film was because I had seen one of his films and I had met him and I thought no matter how this turns out, there's no way it's going to be an average action movie.' I knew that this man would bring some very interesting textures to it that are from ancient Russian story-telling, a European sensibility and from his time at art school. And he's a real artist and I knew that it wasn't just going to be that flashy summer cheap thing with Wanted. I knew that he would do something neat with everything and push things. And he did. I remember being on set and thinking 'this is so weird' with some of the things we did, some of the sets we had, and it was so crazy, but you know these things can be too cool sometimes but there is something very original about this.