In 1980, brothers Harry and Michael Medved had their book The Golden Turkey Awards published and it was a worldwide hit. It was a follow up to their previous book, The Fifty Worst Movies of All Time, and continued in the same vein, only this time listing candidates for various awards: "Worst Casting of All Time", "Worst Blaxploitation Movie Ever Made", "Most Badly Bumbled Bee Movie of All Time", that sort of thing. It was a work of disparaging humour, but had just as many detractors as admirers, with some claiming the authors were firing pot shots at sitting ducks, and disliking the snide tone.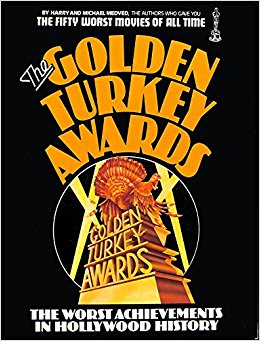 That said, the fans of the Medved books, with Son of the Golden Turkey Awards arriving a few years later, found an outlet for their love of bad movies, a love that attracts followers mainly to film - if it's a bad book, you stop reading, if it's a bad TV show you don't tune in next week. Bad movies are different, however, and whether it's to laugh or cringe at them, there is a lot of fun to be had for those with the right attitude, which may or may not have been the Medved attitude.

Which brings us to the list at the back of The Golden Turkey Awards, compiled as it was from readers' votes as polled from the form at the back of their previous 1978 book to create a snapshot of popular taste in 1980. Reading it now, most of the films wouldn't make the list if assembled today; you just have to look at internet compilations of the worst films of all time to see that. But some of these choices have struck such a chord that they still retain their notoriety after all these years.

The first category that these films fall into is when the book they were based on was a hit, usually not a literary masterpiece but what would best be described as an airport novel. The names you'd expect crop up: Harold Robbins (The Adventurers, The Betsy, The Carpetbaggers - such a pity The Lonely Lady was released too late for the compendium), Jacqueline Susann (camp classic Valley of the Dolls of course, The Love Machine, Once Is Not Enough), and Sidney Sheldon (The Other Side of Midnight, supposedly one of Andy Warhol's favourites). Also worth mentioning here is the crass version of Joseph Wambuagh's The Choirboys - so bad that Wambaugh took his name off the end product. The modern equivalent would be The Da Vinci Code, only these days that made a lot of money.

Similarly, the movie equivalent of that lot would be your typical blockbuster trash of the seventies, a lot of which holds guilty pleasure status today. Look at the Airport series: Airport 1975, Airport 1977, and the most ridiculous, Airport 1979: The Concorde (the first film escapes mention). Prime examples of the genre, as are Earthquake, The Towering Inferno, and the less well recalled Two Minute Warning, that genre being the disaster movie. Borderline examples are Jaws 2 and the notorious King Kong remake, but what of Love Story, a huge hit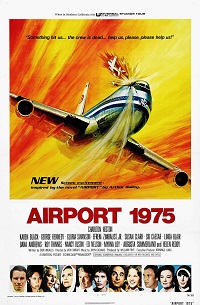 looked down on as vomit-inducing treacle? Something that seems as if it could be comfortably remade to equal success is Smokey and the Bandit, starring the seventies entertainment behemoth that was Burt Reynolds. Then there's a hit people are embarrassed to admit they liked, Billy Jack, its inclusion backed up by one of its sequels, The Trial of Billy Jack, showing that yesterday's right on is tomorrow's right off.

There are two types of film that predictably appear more than any other. The Medveds don't like their horror, and the gorier it is the less they like it. Funnily enough the original The Exorcist, which they can't have enjoyed, isn't invoked as they prefer to opt for the immediate sequel, but lots of other shockers do. Andy Warhol's Frankenstein is an obvious choice with Udo Kier doing the unmentionable things to gall bladders, and the list of disapproval wouldn't be complete without H.G. Lewis' taboo shattering Blood Feast, but it has to share the stage with the mediocre likes of Burnt Offerings and The Car. The small cult of S.F Brownrigg's Don't Look in the Basement might have started here, whereas Frankenstein's Daughter is almost forgotten. Nature takes revenge in Frogs, Grizzly and Joe Dante's Piranha (a pretty good film, actually), The Horror of Party Beach still enjoys a so bad it's good reputation and The Incredible Melting Man erm, doesn't. The Incredibly Strange Creatures Who Stopped Living and Became Mixed-Up Zombies!!? is still remembered for its title, and Larry Cohen's not too bad It's Alive is surely there for its distasteful killer baby rather than any poor filmmaking on display. Modern horror fans may well be horrified at the inclusion of recognised classics The Night of the Living Dead and The Texas Chain Saw Massacre, but it just shows you that they weren't always held in high regard. Therefore is Troll 2 a future classic?

What of the notorious flops? Most of those which merit a mention are largely forgotten today, but Peter Bogdanovich's ill-conceived musical At Long Last Love was pretty well known at the time, as was to a lesser extent his movie making comedy Nickelodeon. Day of the Dolphin had few fans, and most of those preferred the book, Gable and Lombard was seen as defaming a much loved move star couple, The Great Gatsby with Robert Redford meanwhile making a pig's ear of a famous novel. The Greek Tycoon was once infamous for its "based on fiction, but not really" storyline, while John Wayne's ill-advised The Green Berets accidentally proving that America should have stayed out of Vietnam. Hurry Sundown was unintentionally funny in its depiction of race relations (and Michael Caine's accent), International Velvet an uneccessary sequel lacking any Elizabeth Taylor (which the Taylor-obsessed Medveds must have been let down by) and The Legend of Lylah Clare another Hollywood expose that met with ridicule (see also laugh fest The Oscar).

Marlon Brando you get the feeling could have been the focus of the book's "how the mighty have fallen" tendencies with weird western The Missouri Breaks, his Mutiny on the Bounty remake and psychodrama Reflections in a Golden Eye winning mentions. Moment by Moment is another of those disasters, this one almost killing John Travolta and Lily Tomlin's movie careers stone dead, The Norsemen was a would be historical epic whose inclusion of an anachronistic metal silo was the only point of interest, and as if Dino de Laurentiis' King Kong remake wasn't bad enough, how about his Jaws rip off, Orca, complete with Bo Derek-chomping killer whale? The Sailor Who Fell from Grace with the Sea had received poor reviews across the board, as had the Paul Newman starring The Silver Chalice, usually held up as his most embarrassing work. If there's any actor who gets a kicking here, though, it is Richard Burton who is not only named worst actor of all time (drunkest actor, maybe), but gets six of his films on the list. With The Wicker Man remake under his belt, perhaps Nicolas Cage would be a modern candidate for a once-respected actor whose quality control went seriously downhill.

One of the best represented genres is easy target sci-fi, the other example of what the Medveds look down upon the most, with old favourites like Attack of the Crab Monsters, Attack of the Fifty Foot Woman and Bela Lugosi meets a Brooklyn Gorilla in there. But really, the world since the late seventies has not wanted for its share of bad fantasy movies, and if the list were made today the likes of Battlefield Earth, The Postman and Babylon A.D. would be appearing. Yet where are the equivalents of Fire Maidens from Outer Space, The Food of the Gods, The Giant Claw, I Was a Teenage Werewolf and Trog? Clogging up the straight-to-DVD shelves, that's where - like horror, it's such an easy genre to make badly and nothing has changed in that department.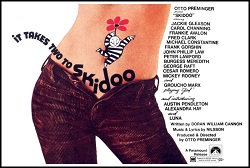 And so it goes on, taking in comedies that weren't such as The Big Noise (meant to be Laurel and Hardy's worst), Dance with Me Henry (meant to be Abbott and Costello's worst), Rabbit Test (Joan Rivers', er, only), Skidoo (Jackie Gleason's worst, now subject to cult fascination) and Which Way to the Front? (Jerry Lewis' worst until The Day the Clown Cried - also covered in the book - is finally released). Surely Freddy Got Fingered and Gigli would be heading this list if made today? Not to mention those apparently endless series of "Who needs jokes when you can recognise the reference we're making?" comedies such as Disaster Movie.

Teen movies get short shrift (were Beach Blanket Bingo, How to Stuff a Wild Bikini and Valley of the Giants really that bad?), but 'twas ever thus, and high camp such as Beyond the Forest and Russ Meyer's renowned Beyond the Valley of the Dolls offend the morals of the Medveds and their readers as much as Death Race 2000, slavery double Mandingo and Drum, saucy spoof Flesh Gordon, gorefest The Last House on the Left, rape drama Lipstick and Hollywood satire from Hell Myra Breckinridge. Pink Flamingos hardly goes without saying, and John Waters would likely be proud of its inclusion, but does anyone take Reefer Madness and The Rocky Horror Picture Show as serious contenders anymore?

There is no shortage of terrible movies for kids even today, maybe there are even more (anyone for the Baby Geniuses films or Son of the Mask? Thought not), but included here are ghastly flops The Blue Bird, Santa Claus Conquers the Martians and Superdad - though modern readers might be surprised at Chitty Chitty Bang Bang on the list, now seen as a favourite of many. Yet musicals are as easy to do badly as sci-fi it seems by other choices such as Anthony Newley's vanity project Can Hieronymus Merkin ever Forget Mercy Hummpe and Find True Happiness?, Elvis Presley's last Change of Habit, or the then-disastrous Doctor Dolittle, Lost Horizon, Mame, Man of La Mancha, Sergeant Pepper's Lonely Hearts Club Band and Song of Norway. Actually, most of them are still disastrous, so how odd to see Grease mentioned in their company. And gratifying, for some.

Briefly pausing to acknowledge the amount of non-American monster movies on the list, surely the result of revisiting childhood favourites and leaving disappointed, if The Golden Turkey Awards have a lasting legacy it's that Edward D. Wood Jr was crowned worst director of all time in its pages. Today, it seems he will be usurped by Uwe Boll, and one wonders if bad movie fans have ever had it so good, with more available to see than ever before, or if they're simply having it bad - is it as much fun as it was when the Medveds were compiling their lists? The modern equivalent of that is the Internet Movie Database's Bottom 100, a constantly updated list of the worst of the worst according to their readers, and in this post-Mystery Science Theater 3000 world, Manos, the Hands of Fate battles with the likes of Troll 2, Fat Slags and the latest pop star or T.V. spinoff for the lowest scores. However, there's little sense of the grand history of bad movie cults there, with most of the titles hailing from the twenty-first century.

Is there still that, "Oh you've seen that too? Wasn't it awful?" connection the more obscure titles enjoy and that Golden Turkeys brought out in enthusiasts? Films such as The Room and Birdemic managed to gain cult followings through their badness and persistence of their fans, but then there's the tiny budget rip-offs from such outfits as The Asylum who make terrible, mostly straight to DVD efforts in the hope short-sighted buyers will pick up their product by mistake instead of the actual thing they're inspired by. This is against the spirit of the unspoken agreement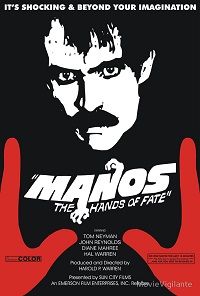 between the bad movie fan and the bad movie maker, and doesn't bode well when the self-consciously terrible takes over from the accidentally terrible - it's like deliberate camp, tricky to get right, and dependent on the motives behind it just how well it's achieved. When those motives are cynical, the fun is drained away.

Nowadays, the fan landscape has changed, sharply divided between lustily decrying your most hated films and embracing those which you feel are hard done by. This can be seen as the Medved (and MST3K for that matter) legacy of regarding exploitation and trash cinema, both big and low budget, as something to be shot down in flames, or alternatively looking to Michael Weldon's equally groundbreaking celebration of these works in his Psychotronic Encyclopedia of Film and how they were treated there. Perhaps we should learn to be more tolerant of the entertainingly low quality while appreciating the unlikely gems - what are called guilty pleasures - instead of knee-jerk and disparaging reactions at every turn? Should the Golden Raspberries be more of a celebration than a sneering attack on dreadful cinema? Let's not feel too embarrassed to embrace these works and save the bile for those movies which really deserve it; but don't be afraid to make the jokes, for all that. They're supposed to be entertainment, whatever the reason.