The Spinning Image (TSI): The part of April is a great role. Do you recognize parts of April in yourself?

I think there are shades of myself in all of the three female characters. I am quite similar to April, being free-spirited and forthright at times. In my early twenties I was like April in that I was desperate to travel. I love traveling.

TSI: Traveling is a great way to learn. Where did you travel that was striking to you and made you feel at home?

I loved Morocco. It's very exotic and different from anywhere I've ever been. I had an amazing day there in the high Atlas Mountains near Mount Tamadot, when I rode by donkey into a Berber village and drank some mint tea with a Berber family. It was exceptional.

TSI: Tell me more about April.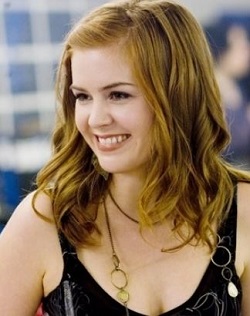 April is feisty and apolitical and she is Will's (Ryan Reynolds' character) confidante. She is also, despite being confident, someone who is afraid of love and the depth of her own heart. Through her relationship with Will, she develops the courage to express her true feelings and is inspired to find her true calling in life.

TSI: Why does she take so long to come to terms with her true self?

Because, when the movie begins, she is so young and is still grieving the loss of her father but with life experience she heals, learning who she is and what she wants.

TSI: Do you think women today follow a traditional society-imposed life or follow their own true calling?

I think what's great in this movie is that the three female characters portray what it means to be a modern woman - the difficulties of balancing a personal and professional life, or what it feels like to settle down young, like Emily. I think all these women are following their true calling.

TSI: What qualities do you find most appealing in the other two female roles?

I think that April's most appealing quality is her feistiness, Emily's is her sweetness and Summer's is her sassiness.

TSI: Do you find it difficult to find good roles for actresses?

I think there is a lack of quality roles for women in comedies. Most actresses get cast as the "eye-roller"/ "the serious one," while men in comedies get to do all the fun, silly stuff and muck around. Sometimes you just have to search hard for a role or create one for yourself.

TSI: How do you choose a script for yourself?

By knowing who the filmmaker is and what his vision is and, obviously, by the role and whether it seems challenging.

TSI: What stories appeal to you, real or unreal?

I prefer stories that are real and grounded, set in real life.

TSI: What was it like to work with your co-stars, Ryan and Abigail?

Working with Ryan was really fun; he's very down-to-earth and funny. It's rare when you and your costar have a natural chemistry, one that doesn't have to be manufactured. Fortunately we had that. Abigail is so talented and mature for her age. We only had a few scenes together but she is so talented that she blew me away.

TSI: On-screen you and Ryan show a genuine affection for each other, how did that happen?

I got to tease Ryan a lot, both on and off-camera, which was fun.

TSI: Part of this role is to act romantic, so how does it feel?

I think kissing scenes always feel awkward but there's just no way around it. But it's a part of the job.

TSI: What makes this film have an "old movie" vibe?

April and Will's relationship reminds me of the Spencer Tracy-Katherine Hepburn dynamic; the witty banter and sexual tension that crackles between them.

TSI: How was your experience of shooting in New York?

Shooting in New York was incredible. It's so multicultural and alive.

TSI: The film's nineties soundtrack is great. What kind of music do you like?

I have very eclectic taste in music. I like everything from Nirvana, which is featured in the film, to world music, to orchestral and jazz. For me, the nineties were about Oasis, because I was travelling around Britain when that band exploded onto the music scene.

TSI: Your mom is a novelist and you wrote a couple of books too. Do you still write?

I still write. I'd love to write more trashy chick-lit. At the moment I just rewrite my own lines, which probably annoys most directors – though, thankfully not Adam Brooks!

TSI: In shooting Definitely, Maybe did you follow the script?

Yes, because Definitely Maybe was such a well written story and the dialogue was so sharp, obviously, I wanted to follow the script. But Adam Brooks allowed us to improvise.

TSI: What is this film about?

This film discusses the idea of whether it's the "who" or "when" in finding your soul mate.

TSI: How is this romantic comedy different?

Unlike typical romantic comedies, Definitely Maybe is not formulaic or predictable and it spans a decade whilst being set against a political background. Also, the audience doesn't know who ends up with who until the very end, which makes it a sort of "romantic mystery comedy."

TSI: How are you going to approach sex education with your child?

Motherhood is personally my favorite subject but I don't like to discuss it publicly. I can tell you, however, that my friends who have kids believe that keeping the lines of communication open seem to benefit the child.