It's Halloween, what better time to delight in a couple of tricky treats by Alfredo Zacharias?!? Huh, you say you never heard of the man whose initials run the gamut from A to Z? Shirley, you jest! Any actor who's ever worked under the director will tell you he's a Mexican institution--or is that "belongs in a Mexican institution"? Whatever the case may be, Al has blessed his neighbors to the north with a double dose of fright films sure to put a chill in your chihuahua.

There are B-movies and there are B-movies. And there are bee movies. During the late Seventies' "killer insect" craze, Zacharias did his part to promote international panic and unfounded anxiety by helming a mopic based upon the imminent havoc a swarm of homicidal hive-dwellers were reportedly poised to wreak upon the whole of North America. Plumbing the abyss-like depth of his creativity, Al imaginatively entitled his 1978 epic The Bees. Don't you love this guy already? Wow, if only he could have coaxed distributors into pairing his pic off in a double feature with The Birds.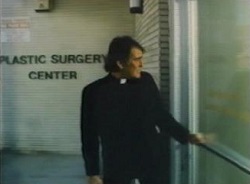 Of course, when you've got a high-concept title like this, you can't just use any old cast; you've got to hire the best actors limited money can buy. That, naturally, means the employment of Manor Mansion icon John Carradine, costar of such M-O-M favorites as The Mummy and the Curse of the Jackal and Frankenstein Island. I challenge any reader to name one single JC movie that isn't entertaining; and, if you do, I'll...well, ignore you. Carradine's cool, case closed.

With top talent like John aboard, Alfredo was able to lure Enter the Dragon whiteboy John Saxon to the project as well as tantalizing Angel Tompkins. Ah, from the moment I first saw Angel's Playboy layout, er, I mean performance, I knew some day we must chat at length--and we eventually did. (Nyah nyah.)

Okay, we've got a master, a hunk and a babe in the cast; what more do we need? Look closely at the politico in the Pasadena parade. It's future Prez Gerald Ford! And, no, he doesn't fall off the float. One final casting coup: a character called Alicia Encinas is played by--believe it or not--Alicia Encinas. Top that, Stanley Kramer.

With an ensemble such as the above, a feature would hardly need a script. But The Bees had one--penned by none other than Senor A. Zacharias. So, what's it all about, Alfie?

As you already know, the homicidal hornets are making one giant "sting" operation out of the Hemisphere. It's up to Dr. Hummel (Carradine), Dr. Norman (Saxon) and widowed-by-wasps Sandy Miller (Tompkins) to stop them. Along the way we/they encounter a Brazilian who talks like the Frito Bandito; assassins in the employ of the big bad U.S. Department Of Agriculture; wheeling-dealing, double-crossing Feds; and thick-skulled U.N. delegates. Unfortunately, the bees skip these bozos and kill hundreds of solid citizens.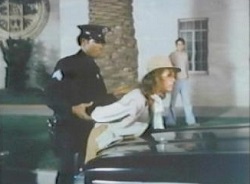 Before his assassination, Doc Heller has learned how to translate Hornetese into English. Does man use this knowledge to exterminate the flying foe? Hell, no; the humans are too busy bee-ing petty. As such, the stealth stingers tell the bipeds to buzz off and mind their Ps & Qs before the bees make 'em R.I.P. In essence, as in the best wrestling matches, the supposed villains win in the end! Quite a buzz, eh?

Alf's second sizzler is Demonoid, Messenger Of Death (1981), the spellbinding tale of the travels of a satanic curse from Mexico to Vegas to L.A. But this isn't your average hex: Zacharias' humbug primarily possesses the cursee's left hand, the victim floating in and out of his rational mind. This ingenious plot device creates the opportunities for bizarro scenes wherein: a fortune hunter dynamites his own mine--with his entire crew still inside it; a policeman pulls his pistol on a surgeon and insists the MD amputate the cop's arm sans anesthesia; a tortured soul intentionally laying his southpaw on railroad tracks so a choo-choo will chop it; and a disemboweled hand literally catching a train. You just don't find magical moments like these in the crap spit out by Hollywood, that's fo sho.

Don't take my word for the quality of AZ's "hand-iwork", lend an eye to Leonard Maltin's rave: "Insipid direction, a rotten script, and shoddy special effects get in the way of any suspense." Those words coming from a bloodwimp who rated E.T. higher than The Flesh Eaters translate to "everything necessary for superlative junkfilm enjoyment except women prisoners showering." Perhaps Al is saving the latter for the sequel?

Demonoid has a smashing final sequence which, having spilled the beans on The Bees, I won't reveal here. Once you've seen it, though, I'm sure you'll agree Samantha Eggar's performance is worthy of a big hand, Mr. Manor cryptically hinted.

Said sage of lethal lefties has been discontinued; nonetheless, it can be found if one scours long-established vid joints. Should you not unearth the heinous hand feature in time for Halloween viewing, there's another annual occasion equally appropriate--Palm Sunday. Ya get it? Tee hee, tee hee.

There's a boatload of junkfilm reviews--most illustrated in the crazy new COLOR medium!--at ManorOnMovies.com. You are invited.