Sincerely Yours (1955)

Tony Warrin is a pianist.

And if you flippantly pronounce that minus the final "t," he is liable to sock you in the schnozolla. See, Anthony's a stud with an adoring woman on each arm and plenty more where that came from, Buster. He's the cat who invented bling, the original "man of the hour, too sweet to be sour."

He can charm with "Chopsticks" or showboat with Chopin, delight with Debussy or go oh-so-virtuoso with Wagner, as we learn from the 31(!) tunes on which he tickles the ivories over the course of 116 minutes.

The keyboard concerto king's got William Demarest (My Three Sons' Uncle Charlie) handling booking and snappy repartee, smitten secretary Joanne Dru and glamorous girlfriend Dorothy Malone. His concerts are SRO and, generally speaking, he's got the world by the short and coilies.

Until he suddenly goes deaf.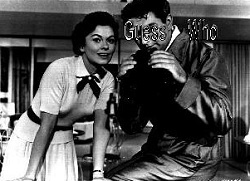 Hoo-boy this was not in Warrin's game plan. "Learn piano, headline concerts, two-time broads, make a fortune..." nope, nothing there about hearing loss. Soon, however, pathos turns to bathos, the sinking star's sulking growing so intolerable, even his most loyal friends are fed up. After a self-pity party that would make an emo singer look like Happy The Sunshine Fun Clown, Tony finally snaps out of his slump by devoting himself to lip-reading.

He also buys binoculars to peer out of his penthouse window and into the lives of unsuspecting strangers. Wily Warren not only sees people and knows what they are saying from 400 feet away, he also derives great joy by being a secret benefactor to hard-luck cases he regularly eyes. I believe there's a word for guys who pleasure themselves while covertly spying on others, but this is 1955, so it's probably not the word you think I think it is.

Instead of doing anything that Pee Wee Herman would later be arrested for, antsy Anthony gets his kicks by anonymously footing the bill for otherwise unaffordables such as a crippled kid's leg operation.

Serving as year-round Secret Santa enriches Ant's soul, but will Warrin ever regain his hearing and once again headline Carnegie Hall? Sure he will--as noted, this is 1955, when major studios assured Middle America that clean living always paid off in the end (unless, of course, you were a Communist.)

Ordinarily, I maintain a strict No Giving Away The Ending policy. However, the dramatic climax is irrelevant here, because what makes Sincerely Yours must-see is the casting, not the story.

Hmm, who would Warner Brothers get to play the babe magnet, someone who could convincingly convey the wide range of emotions called for in this challenging script? He'd have to be a man's man, appealing to the Little Old Lady set, comfortable with kids and believable as a guy who could juggle his love-struck aide and socialite sweetheart without coming across as a heel.

At the age of 30, Paul Newman had begun making a name for himself by '55. Neither yet rich nor Corinthian, Ricardo Montalban certainly had the correct balance of machismo and sensitivity, and the industry had high hopes for developing hunks Stuart Whitman and Rock Hudson. Or perhaps Sincerely Yours could be the third part of a tour de force triad for Marlon Brando following 1954's On The Waterfront and The Wild One.

With two-year-old Randy Savage too young to play the macho man, Jack Warner went in an, er, surprisingly different direction, awarding the Tony Warrin role to an entertainer who had never before starred in a motion picture.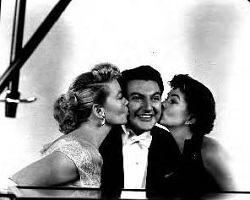 He gave the part to Liberace.

That's right, the irresistible ladies man turned self-absorbed sulker turned Peeping Tom was played by freakin' Liberace! Now re-read the above synopsis with visions of the, ahem, "somewhat effeminate" Mister Showmanship as the piano-playing playboy. Then you'll understand why I used the term "must-see."

Need more? Picture Lib performing an encore to an all-classical concert for stuffy bluebloods by hipping the snob mob to what wows the working class, cranking out a triple dip of "When Irish Eyes Are Smiling"--with a spontaneous sing-along by the entire Carnegie crowd--the football march favorite "The Notre Dame Fight Song" and "Tea For Two," finishing off the latter by breaking into a lively tap-dance sequence directly followed by a passionate liplock on Miss Dru!

That surreal sequence alone is worth the price of a DVD...should this film actually ever be released on disc. (Wake up, Warners.)

Of course you have to see the flick to fully absorb what a marvelous masterpiece of miscasting this truly was, to grasp how hilariously preposterous. No need to merely take my word for it, though. Scared-of-blood sissy Leonard Maltin raves "a ludicrous vehicle for Liberace." And Steven "Too Snooty To Even Review The Creeping Terror" Scheuer gushes, "Liberace is just as obnoxious in feature films as he was on his TV show." What more of a recommendation do you need?

Beside mine, I mean.


Placing Warrin's home base in Frisco may have been screenwriter Irving Wallace's inside joke, being Liberace was about as straight as a ski slalom course...though considering the oppressive nature of the times, he understandably wasn't about to commit career suicide by publicly coming out. In fact, he once sued a prominent newspaper for implying he was a homosexual---and somehow won the case!

In later years, when (some people's) attitudes were more tolerant and "gaydar" more prevalent, the Polish pianist remained officially mum on the subject of his private life, but did so with a playful wink. Rather than feign indignation that anyone would question his preference, Liberace had fun with his image, going even further with his already WAY over the top glitz level. How many other male middle-aged mainstream entertainment icons would even consider walking onto a Vegas stage in a pair of diamond-encrusted hot pants?

This was pure brilliance on the part of the Crown Prince Of Campiness. Uptight homophobes laughed at him; Lib laughed along with those laughing with him--everyone was laughing, and thus the tension was broken and the attention was placed where it belonged, on the music itself.

Bear in mind, younguns unfamiliar with the Liberace legacy, the man was donning minks and sequins two decades before Elton John did similar shtick in the Seventies, and the Fifties was NOT a period where non-conformity was encouraged or even accepted.

Sincerely Yours really was "a ludicrous vehicle for Liberace," although one could hardly blame the man if he took the Warrin role in an attempt to "straighten up" his image. He must have faced tremendous derision and death threats from a certain segment of society, yet smiled through the flak and apologized to no one.

It took massive stones to so thoroughly flaunt convention; and though I am a straight as a drag strip, having such ballsiness made Liberace one cool character, if you ask me.

And even if you don't.

Oh, and if the idea of an unseen entity from above bestowing miraculous gifts on the deserving strikes you as more than a bit Biblical, please be informed the original cinematic treatment of this tale was subtly titled The Man Who Played God (1932).

There's a boatload of junkfilm reviews--most illustrated in the crazy new COLOR medium!--at ManorOnMovies.com. You are invited.