Born in 1957, Lee Myung-Se studied film at the Seoul Institute of the Arts. After graduation in 1979, Lee worked on numerous films including OUR JOYFUL YOUNG DAYS (dir/ Changho Bae) as an assistant director. His first film GAGMAN is regarded as 'one of the most distinct debut films in movie history (Tony Rayns)'. The box-office hit, MY LOVE, MY BRIDE is about a newly-wed couple who are not yet used to living together and it is also about laughs and sorrows of the petit bourgeoisie.

His unique styles - theatrical set, cartoon-like images, homage to Hollywood classics, framing with windows - brought a new wave to the narrative dominated Korean cinema. Inside the set, he crosses over the fantasy and the reality and this was developed as the 'Myung-Se Lee style' through his movies.

His sixth film NOWHERE TO HIDE escapes the set and follows a tight chase between detective and criminal. It was not only a domestic success but also made his name internationally. Both audiences and critics were fascinated by the romantic murder scene and the duel scene, which looked like waltzes being danced

After NOWHERE TO HIDE it was proposed that he work in Hollywood, but after four years in the States, he decided to make DUELIST his comeback film in Korea – tuning up his own style of martial arts action.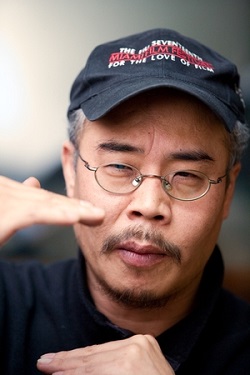 Director Q & A

While making this film, I thought of two words - movement and rhythm, and two paintings - 'Dance' by Matisse and 'Manhattan' by Mondrian.


Q: Thinking about the film's theme 'duel,' it seems to have various other meanings, expressed in colors, movements, situations, as well as a duel between the characters, of course.

A: A duel is a subject rather than a theme. A subject creates a style and then the elements are formed in a systematic way through the style. From a wider perspective, it is about my duel with the film along with many smaller underlining duels. While following the flow of the story, some parts became a duel with emotions, some became a duel with circumstances and some became a duel with movement.


Q: It seems the duel as the main plot and love as the subplot are at odds with each other, as duels are about collision or opposition and love is about embracing, unity and peace.

A: That depends on how you define love. Usually harmonious moments are thought of as love but battles, duels, hatred, conflict and affections are also parts of love. There's also love where a couple curses each other out, punching and kicking each other. Although you might think how that could be love, but when they wake up the next morning, caring for their bruises and making coffee, I'd like to call those aspects of love as well.


Q: Why did you frame the duel between a female detective and a male criminal?

A: Films are predestined to be the commercial art. It's easy for the audiences to be convinced by a concept like ROMEO AND JULIET. I wanted to combine both a basic plot for a commercial film and the story that I wanted to make in DUELIST. The reason I picked a detective story is that it is a genre that people could associate with best. I borrowed a familiar genre to attract the audiences so that I could earn the time to capture the emotions and movements. Although I made my film FIRST LOVE in the past, there isn't enough running time to express the emotions of anyone's first love. If it were up to me, I would have needed an hour and 50 minutes in a motel room to express their emotions.


Q: What challenges did you face placing the love story in a historical setting?

A: Instead of a historical drama it's better to look at it as a costume play or period piece. In a modern drama, we could think "why don't they just call each other with a cell phone to resolve things?" but in a historical drama, the characters are thrown into a deadlock situation since it wasn't time where people could quickly come in contact with each other. Since there's this type of restriction, even though it's an archetypal story, the audience can understand this point.

People are obsessed with drama because they are concerned about the screenwriting conventions of building stories. But actually every story has some measure of inherent drama. Drama doesn't consist only of people breaking down and betraying each other. It was most difficult for me to harmonize traditional story plots and still make the films I want to make. You
could look at DUELIST as the start or the advancement of this harmony. To put it simply, it's a drama of love.


Q: Some aspects of the film are so modern as to appear anachronistic.

A: I didn't ignore history. I just depicted it differently through imagination. For example, someone saw Namsoon's curly hair untied and called DUELIST a fusion period piece because her hairstyle is quite similar to today's style, but that's not true. Is it a fusion period piece if a character has curly hair? Did all the ladies of old times have straight hair or something? I'm sure there were curly haired women. I haven't ignored the times, but I tried to step across the
limitations of expression allowed by historical dramas and wanted to move one step ahead to show something else.


Q: You emphasize that the cast should move their bodies and sweat on their own. Why did you ask them to do the action themselves?

A: They did well as I expected. Dong-won Kang never used a body double in his scenes. He even ran and tumbled on his own even in shots where only a speck of him is shown from far away. I said to him a stand-in could act in his place but acting himself crowded in tightly among the people was important. Apart from one or two very dangerous scenes, Ji-won Ha did it all by herself. The audiences will notice how much sweat was put into this film. It's the same as a meal made with one's whole heart. Cooking talent depends on one's abilities of course, but actors doing their best, sweating and putting a lot of effort into it, is the basic ingredient. That's the mind of a master. I told the investors that my production company, production "M", stands for money but actually it means 'maître' meaning master.


Q How did you devise the musical design of the film?

A: Sound is a very important aspect for DUELIST. The music will substitute for the dialogue. I think we'll go with music score alone. Until now, there was no film music. There were just music used inside the films, but they weren't film music. What we'll make this time around is film music. I decided that we should make music only for film. Sound is also 'film sound'.


Q: Some people are saying that you configured DUELIST to appeal to different cultures outside Korea. Why is it that the Korean title means "Detective" whereas the international title is DUELIST.

A: I'd like to remove the Korean setting and also my identity as a Korean director. The reason I've made a film is to become close to all the audiences, not only the Korean audiences. What's so bad about being close to a family, a friend, neighbour, a Korean, an Asian, the world, and going out farther and farther? I've always selected general themes such as love, a battle, dueling and so forth and put them into films. It's not only DUELIST. I think people talk like that since DUELIST looks like a martial arts flick, and that it's a lucrative genre internationally. But in everyday lives, we indiscriminately mix up Korean and English. We do the same in today's trends with our lifestyles so why can't it be applied to movies as well?

I would like people to accept the film not just as a simple duel but also take in the feelings of love. All art has several layers. Even though the form is melodrama, inside are diverse layers such as amusement, education, and philosophy to name a few. My film MY LOVE, MY BRIDE, was harshly criticized because it was filled with too much yellow and red. But all the clothes and items of these colors are used now. Art shows that type of different world. We should keep moving, and advance. Art helps people open their eyes. My aim as an artist is to match my efforts to this cause as a film director.



Director's Filmography

1988 Gagman

"one of the most distinct debut films in movie history" - Tony Rayns, film critic


1991 My Love, My Bride

- Grand Bell Awards for New Director

- Blue Dragon Awards for New Director

- Critic's Choice Awards for Best Screenplay

- Awards of New Director at the Asia Pacific Film Festival





1993 First Love

– Blue Dragon Awards for Best Screenplay

– Special Jury Prize at the Asia Pacific Film Festival

"a bold psychological realism that reminds you of Alain Rene's later works" - Tony Rayns , film critic


1995 Bitter & Sweet


1996 Their Last Love Affair

"a light and concise work that is colorful and dazzling, which is made by a man who understands Yasujiro Ozu or Roberto Rosselini or at least Dode's Kaden by Akira Kurosawa" - Peter Jensen, 'Baseler Zeitung'

"the find of the 22nd Toronto International Film Festival" - Richard Harris, 'The Times'


1999 Nowhere to Hide

– London International Film Festival

– Palm Springs International Film Festival

– Sundance International Film Festival

– Rotterdam International Film Festival

– Goteborg International Film Festival

– Deauville International Film Festival

– Grand Prix and Awards of Best Actor, Best Director, Visual Effect

– San Francisco International Film Festival

– Fukuoka Asia Film Festival

– Grand Prix - Karlovy Vary International Film Festival

– Viennale International Film Festival

– Rencontres Internationales De Cinema A Paris

and more…

"NOWHERE TO HIDE delivers a giddy, awesome rush - that rare sense of discovery you feel when you come across a movie that's unlike any you've seen before" - Rene Rodriguez, 'Miami Herald'

"The Korean genre-jumble 'Nowhere to Hide' has so much visual stylization and so many high-velocity lifts – that it's out to create a new genre. One of the biggest hits at this year's Sundance film festival" - Elvis Mitchel, 'The New York Times'