In 1933 travelling life insurance salesman Edward "Stubbs" Stubblefield is shot dead and buried in an unmarked grave in the remote Pennsylvanian countryside.

Leap forward 26 years and that same remote countryside is now Punchbowl, city of the future! Brainchild of rich industrialist (and playboy) Andrew Monday, Punchbowl was developed by an army of scientist and engineers and features a robot workforce along with hover cars and all manner of state of the art technology. Of course, this is still only 1959 – we're not even talking swinging sixties yet!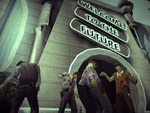 Now, where does this leave Stubbs? Dead and buried of course… but as the saying goes, you can't keep a good man down and it's not long before he claws his way out of the ground and begins his newfound career, that of brain eating zombie!

And what a career it is! Stubbs shows no shame biting chunks out of anyone he sees… I blame his parents! Finding his true vocation Stubbs sets about turning the entire populace of Punchbowl into brain eating zombies like himself, and this friendly reader is where you come in!

Unlike the untold games we're used to seeing over the years, the obvious twist to Stubbs the Zombie is that the game is seen from the other perspective – you are the zombie. You take control of Stubbs as he zombie-shuffles his way through Punchbowl in search of his true love and eating anyone that gets in his way!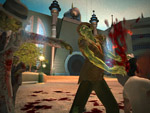 It might sounds like good fun for five minutes, but the game actually has staying power and works, not least because of its excellent sense of humour! Heads are opened to the screams of "Don't eat my brain!", or "Stop eating me!" and I lost track of the times I had a gun pointed at me before being told "Put that back!" as I munched on the freshly opened head of someone's friend. It doesn't wear thin and there are enough responses to bring a smile every time, even if it's just a blood curdling scream you hear as yet another arterial gusher goes all over the place.

So, with all this carnage you'd think Stubbs alone would soon be stopped by the police. Well, yeah, but as Stubbs kills, so the dead rise! Yep, in true zombie style watch any disfigured corpse on the floor and he'll soon get up and begin reeking havoc on your behalf… if you can't beat 'em! This throws a whole new strategy on the game, killing a person, zombie them up and then send them to their death (again!) whilst you sneak round the back of their killer and eat their brains… lovely!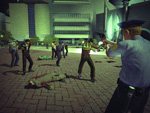 Stubbs doesn't just have his zombie hoards to help his out though, he has one or two of his own tricks tucked up his rotten sleeve. First up, his rancid guts! I mean, face it… if you'd been dead for 26 years you'd probably be able to send people into a coma if you farted in their general direction! That's not all though, pull out a chunk of your own intestines and you can hurl them as lethal grenades, and couple that with ripping your head off and using it as an explosive bowling ball you'll see that this game has its tongue firmly in cheek!

The best and probably most useful weapon has got to be your own severed arm! Rip this festering baby off and set him free to frolic in the hills! Well, hardly. Once running free you're in control and while the arm runs along on its fingers (the Addam's Family's Thing-style) you can climb walls, disappear in air vents and other previously inaccessible places and best of all leap onto an innocent's head and take complete control of their body! This is very useful and again absolutely great fun!

And that's what this game is all about. Fun! Don't take it too seriously, it isn't doing that itself so why should you!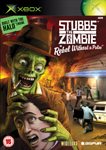 The sound is great and has plenty of attention to detail and has an excellent soundtrack featuring bands such as Cake, The Dandy Warhols and The Raveonettes to name but a few. The graphics are also in a undead-world of their own. Looking at the screenshots you might think they look a little misty, but this is the overall effect of the game, fifties pastiche!

With atmospheric graphics, a great soundtrack and enough in-jokes to keep those in the know happy, I somehow think this isn't the last we're going to see of Stubbs! I heartily recommend it and suggest you go out and buy it now… or die trying!

Stubbs the Zombie is released for PC, Xbox and Mac on the 10th February. Order it here!