camaraderie, n. spirit of friendly familiarity and goodwill between comrades
hellraiser, n. a rowdy, troublesome, or unruly individual

The stereotype of the lone celebrity hell-raiser is well documented. Thousands of column inches have been dedicated to our fascination with the 'success-excess-demise-confession-comeback' structure of the modern celebrity life. We revel in seeing our stars trudge off to rehab, delight in their tabloid confessionals. But whatever happened to those who thrill-hunted in packs? Evan Leighton-Davis hits the town (in his head) with some of them, and pays tribute to their camaraderie and hell-raising spirit.

Counterculture Kings (Jack Nicholson, Warren Beatty, Robert Evans, Dennis Hopper, Peter Fonda)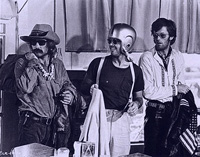 For a while, actress Brooke Hayward was married to Dennis Hopper in the 70s. Describing her estranged ex as 'violent and dangerous', she also remarked that 'I probably could have gone for half his cut from Easy Rider….but I didn't want him coming after me with a shotgun'. In an époque when actors and directors were taking power in the film industry away from the studios, men like Nicholson, Beatty and Hopper were in their element. Particularly when it came to women. Nicholson is said to have sparked up a joint every day during the 60s, and told Playboy in April 1972 that ''cocaine is 'in' now because chicks dig it sexually''. In 1965 Warren Beatty was dating the Helen-of-Troy-like Julie Christie, but still indulged his other pursuits. Namely chasing more chicks. His M.O? 'You get slapped a lot, but you get fucked a lot, too'.

For the others, whilst tail-chasing was of critical importance, kicks were still derived from other sources. By 1978, the average Hopper day consisted of 28 beers, half a gallon of rum and three grams of coke. Perhaps it all started to go wrong on the set of his 1971 film, The Last Movie. Given free reign after the phenomenal success of Easy Rider, Hopper took a bunch of friends to a remote Peruvian village to make a film about cultural imperialism. Instead, they ran around naked on LSD and mescaline, drank all day long, and refused to leave. Hopper declared himself a lesbian, had sex with lots of young women, gave interviews in which he said that 'our problem is our failure, our failure is our success' and kept a 'perpetual erection machine' – a bobbing silver shaft encased in a white plastic box – next to him at all times. No Hollywood production has been allowed back to Peru since. Taking lines of cocaine 'the length of a fountain pen, every 10 minutes', Hopper lost the 70s somewhere down the back of his mind. In 1982, as the climax to a retrospective of his art at Rice University, Hopper graduated to a league all of his own. While attempting a stunt descriptively titled 'The Human Stick of Dynamite', he strapped himself in a chair surrounded by 20 sticks of the aforementioned explosive, and nearly blew himself up.

The Rat Pack (Dean Martin, Sammy Davis Jr., Frank Sinatra, Peter Lawford, Joey Bishop)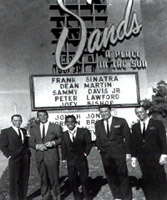 'You look like a Godamn rat pack' famously muttered Mrs. Humphrey Bogart, Lauren Bacall, when she was greeted by the sight of the debauched human vermin one night in Vegas. Possessed of egos bordering on the Napoleonic, the only people The Rat Pack couldn't control were each other, although as 'Chief Rat', Ol' Blue Eyes made a fair stab at it. Unlike The Roaring Boys, Sinatra et al weren't interested in the earthier locations of hell-raising like pubs and bars, their stomping ground of choice was The Sands Hotel and Casino in Las Vegas. And did they stomp. Throwing their collective weight around like they owned the place (Sinatra did in fact own a 9% share), The Rat Pack behaved with stunning degeneracy for over a decade. Always keen to mix politics and pleasure, after the cold war summit in the late 1950's, Sinatra declared that he and the guys would hold their own 'summit of cool' in Vegas, one which would last for seven bourbon-and-babe-filled years. Critic Ralph Pearl described watching their on-stage act in these heady days as 'eavesdropping on a stag party with binoculars'.

The group dynamics were complex to say the least. Frank was charismatic, Machiavellian and operated on the tautest of short fuses, 'Dino' was so laid-back he was virtually horizontal, Peter was insecure, Joey was bullish (the press liked to joke that only Joey could get away with telling jokes at Frank's expense), and Sammy, well, he was the baby of the party. 'For someone who could take orders, Frank could always rely on Sammy' wrote Shaun Levy in Rat Pack Confidential, 'Sammy was the baby of the rat pack, and that banal fact, more than race, size, taste, line of work, personal habits, common friends, money, sex or power was the governing factor in their relationship. Frank needed to be the patron as much as Sammy needed to be patronised'.

Ultimate proof (like it's needed) that all good things must come to an end, The Rat Pack eventually self-combusted in a fashion only they could. Dino descended into blanket alcoholism (eccentrically freezing his beloved booze and sucking on it like a baby would a Popsicle), Peter grew increasingly drug-addled and sexually depraved, and Sammy's chronic boozing did for him. Ironically it was Frank, the inspiration and instigator of most of the debauchery down the years, who was one of two (Joey is still alive today) last men standing. He passed away, aged 83, in 1998.

The Roaring Boys (Richard Harris, Peter O'Toole, Albert Finney, Oliver Reed, Richard Burton)

Arguably the finest collection of drinkers celebrity culture has produced, and (when they weren't in a pub) not a bad bunch of actors to boot, 'The Roaring Boys' took no prisoners when it came to immense alcohol consumption and earthy, animalistic behaviour. Although the antics of Messrs. Reed and Harris carry the most individual infamy, the likes of O'Toole, Finney and Burton would have most of us under the table in no time. The critic Clive Barnes summed-up their collective appeal when he said they were "rougher, tougher, fiercer, angrier and more passionately articulate than their well-groomed predecessors ... roaring boys, sometimes with highly coloured private lives and lurid public images.''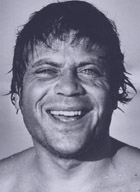 There is a veritable avalanche of infamous tales concerning The Roaring Boys. After one particularly boisterous night o' the tiles, O'Toole learnt that he and Reed had been banned from a restaurant in central London, for what misdemeanour he had absolutely no recollection. In 1973, 'Reed was apprehended by Spanish police following a brawl in a coffee bar where he challenged all-comers to feats of strength and bellowed 'leave me alone! I'm Athos of The Three Musketeers!' Banned from American hotels, he also felt an unwilling Susan George's tits on Ireland's Late Late Show, and infamously appeared drunk on Aspel Live, insisting that he perform 'Wild Thing' in one of TV's more hilarious moments. In 1981, he met 17-year-old Josephine Burge and claimed: 'she has tamed me'. A week late he wrecked a bar in Vermont. For his 1985 wedding he staged a 72-hour stag night with 25 best men and a coach showing non-stop footie 'n' porn.

The Brat Pack (Molly Ringwald, Emilio Estevez, Andrew McCarthy, Anthony Michael Hall, Judd Nelson, Ally Sheedy, Demi Moore, Rob Lowe)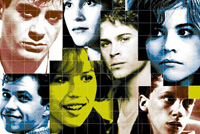 'Hardly hell raisers by the standards set by other crews in this article, these 80s teeny-boppers nonetheless somehow carved a niche for themselves in cinema history. Movies like St. Elmo's Fire, The Breakfast Club, St. Elmo's Fire and Pretty In Pink etched their seemingly squeaky-clean faces into the public consciousness, but for all their on-screen vitality, sordid tabloid headlines tailed The Brat Pack all the way to rehab. There was the Rob Lowe sex tape, Demi Moore love-spats and constant public gossip concerning drug use but the biggest revelation came from baby-faced Andrew McCarthy who claimed to be constantly smashed during the making of sanitised fluff-flic Pretty in Pink.

The Cherry Pickers (Errol Flynn, David Niven, John Barrymore, WC Fields, William Randolph Hearst Snr.)

'You can count on Errol Flynn', once quipped close friend and sometime housemate David Niven, 'he'll always let you down'. During the shooting of Dawn Patrol in which the hell-raisers starred together, Flynn and Niven shared a bachelor pad in Malibu they nicknamed 'Cirrhosis by the Sea', and used as a sanctuary along with fellow debauchees WC Fields and William Randolph Hearst to escape their overbearing wives.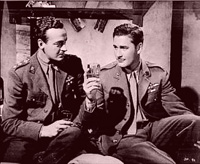 The Cherry Pickers antics would be like the parting of the Red Sea to tabloid editors today: you could compile an entire edition of Heat on one day in their lives. Flynn and John Barrymore used to get into jams involving off-screen sex and violence all the time, but they lived in an age when the mainstream press was respectful. They worked hand-in-glove with the studio press machines. The phrase "In like Flynn" originated as a coarse reference to Errol's powers as a seducer. In November, 1942, Flynn was charged with statutory rape, arrested and brought to trial, then acquitted. He was charged with having sexual intercourse with two girls under the age of 18. (He was 33 at the time). It was Flynn's belief that the Los Angeles district attorney had made him a scapegoat for Hollywood in order to discipline the film community. Jerry Giesler (Flynn's ace lawyer) considered Flynn an excellent witness and thought that his "gentlemanly demeanour throughout the trial had been an important factor". A new phrase was added to the English language: "In like Flynn".

David Niven recalled in his memoir Bring On The Empty Horses: ''One afternoon he (Flynn) said: 'I'm going to show you the best-looking girls in Los Angeles'. He stopped the car opposite the Hollywood High School. Out came the girls and they were an eye-catching lot with their Californian suntans, colt-like legs and high, provocative breasts. All were made up, and clutching their school books to their curves, looked 18 or 19. Flynn sighed. ''Pure San Quentin Quail. What a waste''. A desperate drunk in later life, he died in 1959, aged 50. Flynn's final girlfriend, Beverly Aadland, was just 16.

The Pussy Posse (Leonardo DiCaprio, David Blaine, Tobey Maguire, Harmony Korine, Lukas Haas, Jay Ferguson)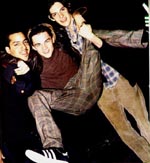 'Usually Leo has in his contract that they have to give him X-number of plane tickets so he can have his friends come and hang out,' Jonah Johnson, DiCaprio's personal assistant on Titanic told the press back in the hazy summer of 1998. At this time, DiCaprio backlash was beginning to bubble ominously at the surface of New York's celebrity social circuit. Whilst setting off bombs a la Mean Streets and tossing grapes out of a hotel window at Paparazzi hardly sets a quantum leap in degenerate male behavioural standards, assuming that 'no' means 'yes' got the posse into trouble at the time. They badgered Showgirls star Elizabeth Berkley so incessantly that when her boyfriend Roger Wilson confronted the boys outside an LA diner, things turned ugly and Wilson was struck. No charges were pressed however.

The Frat Pack (Vince Vaughn, Owen Wilson, Ben Stiller, Jack Black, Will Ferrell, Luke Wilson, Hank Azaria)



The Frat Pack, in case you're wondering, are a group of thirty something comedians who like each other's work so much that they tend to work together almost every time someone points a movie camera at them. Members of the club include Vaughn, Wilson, Ben Stiller (whose own team-ups with Wilson are legendary), Jack Black, Will Ferrell, Luke Wilson, and Hank Azaria. Pack movies include Dodgeball, Starsky & Hutch, Anchorman, Mystery Men, Old School, and Zoolander – so these guys are pretty much at the forefront of the US comedy revival.

So far, there's been nothing salacious about the The Frat Pack. No trips to rehab, no women of the night, no hotel-trashing for us to feed on. However, if the rest of the crews in this feature are anything to go by, it won't be long…






For many in the performing arts business, addiction and substance abuse is a real struggle. The pressures the industry places on them can be hard for some to deal with if they don't have a great support group around them. Some are able to seek treatment by going to Morningside Recovery Center or another rehab facility. Addictions effect people everyday. It doesn't matter if they are a celebrity, a store clerk or politician, the treatment they receive should be met with the same care and quality no matter their social status.