Hollywood and mental illness have always been controversial bedfellows, with the characters they portray often descending into psychopathic caricatures – just think Hannibal Lector. In a light-hearted piece, Evan Leighton-Davis looks back on 10 of the most entertaining (and often harmless) nut-jobs the silver screen has to offer.



R.P. MacMurphy (Jack Nicholson) - One Flew Over The Cuckoo's Nest


'Want me to take a shit on the floor? Would that be crazy enough for ya?'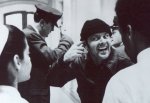 More randy sociopath than out n' out loon, 'Mac' is the ultimate social loose-canon. Capable of devising appalling/ingenious scenarios, ever-ready with a quick witticism and off-the-scale charismatic, MacMurphy is nonetheless almost completely unhinged and totally irresponsible. When he first enters the asylum it's a paragon of order – ruled over by the mechanically ruthless Nurse Ratched. When he leaves however, it's a war-zone. Billy's dead, Ratched's in a neck brace and Scatman Cruthers is out of a job. A whirling dervish of chaos and, in his own utterly charming way, totally nuts.



Jeffrey Goines (Brad Pitt) - Twelve Monkeys


'You know what crazy is? Crazy is majority rules.'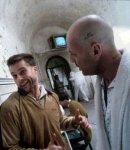 'For all I know', Pitt's Goines says to Bruce Willis' beleaguered time-skipper Cole, 'you could be c-c-c-crazier than a loon!' Some might consider that an ironic and somewhat hypocritical remark, considering the twitching, wild-eyed Pitt behaves more like a mixamatosed rabbit than The Most Beautiful Man Alive™ in director Terry Gilliam's head-fuck masterpiece. Still, it's entertaining stuff. At the beginning of the ward scene, a guard asks Jeffrey to show Cole around – 'how much you gonna pay me?' demands Pitt. '$5000, wired to your account as usual!' enthuses the sympathetic guard. Cole, who's clocked up more time-travel miles than Bill and Ted, and has been sedated with all manner of potent chemicals, looks baffled at this exchange. As well he might.



Zed (Bobcat Goldthwait) - Police Academy 2


Sgt Larverne Hooks: Oops, I've got the wrong keys. I'll be right back.
Cadet Zed : Hey, that's no problem.
[Zed hotwires the police cruiser using his mouth while Sgt Hooks looks on in horror]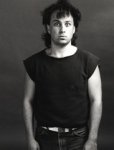 There's a scene in Police Academy 3 that encapsulates in one brief moment the sheer insanity coursing through Zed, one of the new recruits at the academy. The rookies are being put through a gas-attack drill, in which they must calmly put on their protective masks, after one of the supervising officers has hurled a canister in through one of the portacabin windows. As instructed, the new officers all file out, masks on, as their names are checked off the list. 'Where's Zed?' asks one. Cue much worry and distress. Suddenly, the door to the cabin smashes open, to reveal Zed, gleefully maskless and happily inhaling as much toxically-charged air as possible. 'I'll just be a minute!' he shrieks, before slamming the door shut to wallow in this sauna of death.



Sarah Connor (Linda Hamilton) - Terminator 2: Judgement Day


Dr. Silberman : I'm sure it feels very real to you, Sarah.
Sarah Connor : On August 29th, 1997, it's gonna feel pretty fucking real to you too. Anybody not wearing 2 million sunblock is gonna have a real bad day. Get it?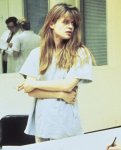 It's fair to say that James Cameron gave Sarah Connor a character arc over the course of the first two Terminator films. Initially appearing on our screens as an innocent, frivolous young fast-food waitress more interested in her 80s perm than the extermination of the human race in The Terminator (1984), her emergence on-screen in T2 bears little resemblance. Furiously performing pull-ups, her Kelly Holmes-like biceps covered by a mere Rab C. Nesbitt wife-beater, face shrouded by sweat-drenched hair – this ain't no waitress. 'This one's an interesting case', the slippery Dr. Silberman tells a group of visiting doctors when they reach Connor's cell, peering at her through a guinea pig peep-hole. Little does he realise.



Stephen MacClannough (Sean McGinley) - Braveheart


'I didn't like him anyway: he wasn't right, in the head.'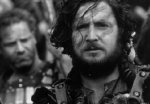 MacClannough: Hahahahaha….him? That can't be William Wallace, I'm prettier than this man!
MacClannough: (Looking Heavenwards, as if to God) Alright father, I'll ask him.
MacClannough: If I risk my neck for you, do I get to kill the English?
Hamish: Is your father a ghost, or do you converse with the Almighty?
MacClannough: In order to find his equal, an Irishman is forced to talk to God.
(Heavenward) Yes, Father.
MacClannough: The Almighty says: don't change the subject just answer the fuckin' question.
………….
MacClannough: Stephen is my name. I'm the most wanted man on my island, except I'm not on my island - more's the pity.
Hamish: Your island? You mean Ireland?
MacClannough: That's right. It's MINE.
Hamish: You're a madman…
MacClannough: (nodding vigorously) Hahahaha
Wallace: Hahahaha
Hamish: Hahahaha

Need we say more?



Rupert Pupkin (Robert DeNiro) - The King of Comedy


'Better to be king for a night than a schmuck for a lifetime.'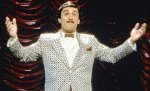 'Pitkin? Popkins? Mr. Papkat?' Contrary to the beliefs of celebrity Jerry Lewis' assistant, DeNiro in fact plays the ridiculously-named Rupert Pupkin, an aspiring comic (weirdo) obsessed with the aforementioned talk-show host. Pupkin talks to cardboard cutouts in his makeshift television studio. He spends his days incessantly attempting to arrange meetings with his hero. He still lives with his mother. It's all standard stuff on paper but, as they say, seeing is believing. Utterly delusional, reasonably dangerous but ever-cheery and optimistic, Pupkin should be the poster-boy for today's celebrity-obsessed generation.



Lisa Rowe (Angelina Jolie) - Girl, Interrupted


Lisa: Lady, back off!
Mrs. Gilcrest: Was I talking to you?
Lisa: No, you were spitting on me, so mellow fuckin' out!
Mrs. Gilcrest: Don't you tell me what to do.
Lisa: Look, she gave your husband a rim job. Big fuckin' deal! I'm sure he was begging for it, and I heard it was like a pencil anyway.
Mrs. Gilcrest: Why you - how dare you!
Lisa: Some advice, okay? Just don't point your fuckin' finger at crazy people!



A perennial escapee and as blunt as a beach ball, Jolie won an Oscar for her portrayal of a woman so ballsy you'd think she were a man. Angie's performance is helped no-end though by an off-screen persona that is, well, off-the-beaten track to say the least. She's swapped vials of blood with by now ex-hubby Billy Bob Thornton, thrown quotes like 'you're young, you're drunk, you're in bed with knives, shit happens' to the press, and admitted childhood dreams to be a funeral director. It all makes Lisa Rowe seem rather tame by comparison.



Photojournalist (Dennis Hopper) - Apocalypse Now


'One through nine, no maybes, no supposes, no fractions. You can't travel in space, you can't go out into space, you know, without, like, you know, uh, with fractions - what are you going to land on - one-quarter, three-eighths? What are you going to do when you go from here to Venus or something? That's dialectic physics.'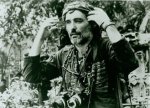 Lunacy, in both it's on and off screen guise, has always entwined with the life of Dennis Hopper. In 1982, as the climax to a retrospective of his art at Rice University, Hopper attempted a stunt descriptively titled 'The Human Stick of Dynamite', in which he strapped himself in a chair surrounded by 20 sticks of the aforementioned explosive, and nearly blew himself up. In Apocalypse Now though, Hopper was operating a little lower down the lunacy ladder. Playing the unnamed 'photojournalist', Hopper twitches and rants at the bemused Martin Sheen, all-the-while gibbering about 'godamn monkey bites'. In a crazy role, during a crazy shoot, in a crazy époque, Hopper took the biscuit.



Lancelot du Lac (Nicolas Clay) - Excalibur


'Pestilence! Pestiiiiiilence!'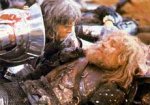 Once the clean-shaven apex of Arthur's otherwise hirsute knights, things go tits up pretty sharpish for the lake-dweller when, in a spectacular case of failing to keep his snake in its armour, Lancelot bangs the King's wife in what may well be the most picturesque dogging site in the UK. The outlook does not look good for Lancelot's mental wellbeing when, post coitus, he wakes to find Excalibur driven between him and his new lover. 'The king without a sword! The land without a king!' wails the fallen paragon of virtue, before scampering off, still in the buff, into the woods. He appears later on at the head of some sort of disease-ridden druids' procession, sporting decade-long facial growth and a wild mane of grey hair. It's some make-up job. 'All of you will die!' he cries, 'the knights made themselves God! And Christ has abandoned us!' 'Righty-oh Lance, righty-oh.


Ace Ventura (Jim Carrey) - Ace Ventura: Pet Detective


'If I don't take my medication, I tend to get a little cranky. Take care now, bye-bye then.'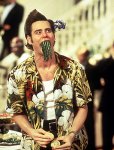 Chews n' spits sunflower seeds. Dresses like there's a permanent eclipse. Bends over and speaks from his rear. Catches bullets in his teeth. Stresses every word. Doesn't need Viagra. Solves 'pet crimes' for a living. That Ace Ventura, he's such a sane chap. His lunacy peaks, appropriately, in a mental asylum, where he 'fakes' gridiron trauma to investigate another player who lost his marbles, Ray Finkle. Dressed in the only-slightly-contradictory Hell's Angels boots/pink fluffy skirt/gaudy Hawaiian shirt combo, Ventura bounds maniacally around the institute, yelling 'I'm open!' at an imaginary quarterback, before delivering (in super slow-mo and rewind) an inch-perfect peel-away move. 'How long has your brother suffered from mental instability?' the kindly doctor asks Courteney Cox. 'As long as I've known him' comes the reply, and she ain't kidding.


And those crazy kids who didn't quite make the cut…

Leonard Lowe (Robert DeNiro) Awakenings
D-Fens (Michael Douglas) Falling Down
Henry Sagan 'Parry' (Robin Williams) The Fisher King
Daffy (Robert Carlyle) The Beach
Hannibal Lector (Anthony Hopkins) The Silence Of The Lambs
Madmartigan (Val Kilmer) Willow
Charlie Cheswick (Sydney Lassick) One Flew Over The Cuckoo's Nest
Martini (Danny DeVito) One Flew Over The Cuckoo's Nest
The Joker (Jack Nicholson) Batman
Marquis De Sade (Geoffrey Rush) Quills
Martin Riggs (Mel Gibson) Lethal Weapon
The Riddler (Jim Carrey) Batman Forever
Andy Kauffman (Jim Carrey) Man In The Moon
Castor Troy (Nicolas Cage) Face / Off