The Spinning Image (TSI): Are there cultural differences that either the director or actress noticed between the screening of The Isle in Korea versus it's screening last night here in Park City, Utah?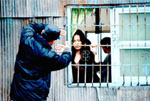 Kim Ki-Duk (KK): With the Korean audience I felt that only about 30% of the audience fully understood the movie. Last night was the opposite; more people seemed to understand the film with more depth.

Suh Jung (SJ): I'd agree. People last night seemed to understand the film better.

TSI: Do the fishing communities pictured in your film actually exist?

KK: There used to be more of them, not so many now. And the ones that exist now are not as picturesque as the one in my film.

TSI: What was Jung Suh's original reaction to the script?

SJ: The first time I read the script I felt a closeness to the character and my only thought was "this was written for me – I have to do this character."

TSI: At yesterday's Q&A, after the screening, there was mention to how the film was attacked by feminists in Korea. How did you respond to their criticisms?

KK: It's very understandable from a Korean point of view. Right now, just the mere appearance of a prostitute in a movie is frowned upon. I believe Korean society needs to improve and develop its ability to have a discourse about individuals and even life itself.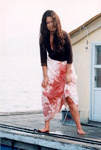 TSI: In the United States we can watch films depicting animal cruelty and tell ourselves "it's only a movie" because of established laws and regulations. If I dog is kicked out a window in a mainstream comedy like There's Something about Mary, we know it's not real. But in The Isle the audience is actually watching a real frog get skinned, real fish get mutilated, and so on. It's very disturbing and seems to place an obstacle to the films reception, or maybe I should say distribution, to other countries. Thoughts?

KK: Yes, I did worry about that fact. But the way I see it, the food that we eat today is no different. In America you eat beef, pork, and kill all these animals. And the people who eat these animals are not concerned with their slaughter. Animals are part of this cycle of consumption. It looks more cruel onscreen, but I don't see the difference. And yes, there's a cultural difference, and maybe Americans will have a problem with it – but if they can just be more sensitive to what is acceptable in different countries I'd hope they wouldn't have too many issues with what's shown on -screen.

TSI: Question for Jung Suh: How do you feel that The Isle compares to Kim Ki-Duk's previous work? Since 1996 he has aggressively released one film a year and much of his work has screened at film festivals around the world.

SJ: Actually before I met him the only movie of his that I saw was Wild Animals. And I was really moved by the imagery and expressions within that film. But I didn't even know he'd directed that film when I met him – so it seems like fate. Now I've seen all of his films and I think that The Isle stands out as very different. Sometime in the future I hope he can rise above the anger and inner pain of South Korea and its people and society, and make a movie that is not as visceral. He's told me he'd like to.



TSI: Unlike other foreign territories that find their local film scene usurped by American films via an almost monopolistic control of studio distribution policies, Korea seems to be enjoying a strong film scene where, for example, the locally-produced thriller Swiri actually outsold Titanic.

KK: Well, American movies repeat themselves endlessly. What's interesting is that many mainstream Hollywood movies have been flopping in Korea whereas the big-budget Korean films have been enjoying larger crowds. But The Isleis a low budget film, and in Korea such films do not enjoy wide audiences but rather only marginal success among hardcore fans. Still, I feel good about the fact that The Isle was picked out at the Toronto Film Festival to screen here at Sundance, despite six or seven other Korean films showing there that had much higher budgets.

TSI: In ballpark U.S. figures, what was the budget for The Isle? It looked to have at least several million behind it…

KK: $50,000 – but this was possible only because we all worked without pay and for a part of whatever it takes at the box office.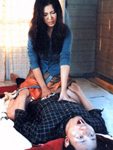 TSI: Watching The Isle made me think of another film by a very distinctive director who does incredible work on low budgets that defy genre and features incredible compositions and imagery, both beautiful and savage – have you seen Audition by Japanese director Takashi Miike?

KK: I saw Audition at Toronto and that movie made me realize that there is someone else out there like me. We are two of a kind.

TSI: Since you work with such low budgets, would you ever consider shooting on Digital Video?

KK: The thing about Digital Video is that the image is flat. I'd use them only as a small part of the film – never 100% of it. Actual film has an organic look that is much more satisfying.