The Spinning Image: Species is out 13 September as a fantastic two-disc special edition DVD and I'm talking to the star of the movie, Natasha Henstridge, who plays Sil, a human/alien hybrid that goes on a murderous rampage. Species was your film debut. How did you get the part of the alien Sil?

Natasha Henstridge (NH): I'd been a model and was doing a lot of TV commercials and I asked my agent to start sending me out on film auditions, and my third one was Species. It all happened pretty quickly.

TSI: How did you feel when you heard you got the part?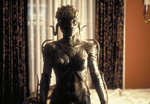 NH: I remember calling people saying, I'm going to do a film! A real film! And my agent came up to my apartment with a bottle of champagne and we were like jumping on the couches.

TSI: Did you find any resentment in the movie industry about the fact that here you were, a model, muscling in on a role that other more experienced actresses had been turned down for.

NH: I wasn't like Cindy Crawford or Naomi Campbell, I wasn't on that level. I did well as a model, but I wasn't a household name that could draw headlines like, the model turns actress. People really first knew me from Species more than anything.

TSI: Were you nervous or excited about making your first movie?

NH: I was so excited. You know, the beauty about being new and debuing in a film is the expectations aren't that high. And of course I gave it everything I had and I tried to research as much as I could, as much as you can an alien. I mean, how do you research that kind of character? So I was really having fun and didn't realise the pressures that were involved.

TSI: How nervous were you about the large number of nude scenes you had to play?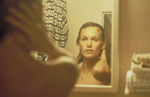 NH: I wasn't actually. Strangely enough I didn't think twice about it. Granted there was a couple of times when I was on set and they'd blocked off an entire city street and I was running around naked, so yeah there were some wierd moments. But it really was not an issue for me at all. It only became an issue after the film came out and there was so much attention drawn to it. And the media was just all over the fact that there was nudity. Of course they're trying to get people to see the film. But I thought the nudity was appropriate for the film. It didn't occur to me that it was going to be such a big deal.

TSI: Do you have a personal philosophy when it comes to screen nudity?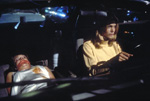 NH: I've never been real prudish when it comes to that stuff, it doesn't affect me. My mother's much more prudish about that kind of thing. I didn't get that gene for some reason. Although after Species I was a little naive and I did some films where I think the nudity was absolutely gratuitous. You know, when they're panning down from your face to your breasts you know something's not right, this is not about telling the story any more. So I think I've learnt a lot since then.

TSI: In Species the alien Sil uses her sexuality as a weapon. Are women in real life justified to do the same?

NH: I think women have a tendency to use their sexuality as a weapon. They realise some of the power that it has over men and they go with it. I think it's human nature. I have two children and I know a lot of friends with little girls and at four years old they're already flirting. It's just so innate. So I think that can be human nature.

TSI: Do you think Species is saying that females are the deadlier of the two sexes?

NH: I think there are a lot of men who would probably agree with that. I don't know whether that was what the film was trying to get across, I just thought it was a very cool movie in the way that women really responded to it. I think it was very empowering for women. I remember being in a theatre and when the guy got too sexually aggressive with me in the bathroom and I pretend for a moment, ok, you'll have it your way, and then my tongue goes through his head, the whole audience cheered – yeah!

TSI: I guess along with Ripley in the Alien series Sil ranks as the most powerful female character in sci-fi movies. Although unlike Ripley she's acting on the side of evil.

NH: I don't think she knew she was on the side of evil. I never ever intended or really tried to play the character that way. Everything she does in the film is an instinctual thing.

TSI: So how do you play a character that is totally un-human?

NH: I think that what I was going through naturally, being fresh to the film business, being a new actress, it was like a new world for me, I was alien to it, and so I think somewhere that showed on film. I was just trying to find my way as well, and that's exactly what Sil the character was doing.

TSI: Can you talk about the special effects that were involved with the Sil character.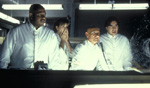 NH: There were a few prosthetics and a little bit of make up here and there, but mostly it was computer generated stuff, which was interesting, being in a set and they're literally stopping you in the middle of the scene and measuring and putting up tape and marking the room. It was kind of fun to see a film after the fact that's got a lot of CGI because you really don't know what you're getting until you see the final product.

TSI: Species has such a great cast. What was it like working with acclaimed actors like Sir Ben Kingsley and Michael Madsen?

NH: Ben was cool, because he can be very reserved with actors, but I think because I was such a newcomer he took me under his wing a little bit and we had a lot of fun together. I remember driving around the Warner studio with him on the bicycle handlebars, just cruising around the lot. We had a really good time. And Michael's a wild man. He's a crazy guy. For one of the scenes he didn't want to use a stunt man and ran over the camera with a car. So he added quite an energy to the set. Everybody was just great and very supportive of me.

TSI: You also share a love scene with Alfred Molina, who is hot property now after playing the villain in Spider-Man 2.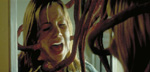 NH: My first ever screen kiss was with Alfred Molina, although they eventually cut it out of the film. It was very funny and he was very supportive, and yet I think he was more nervous than I was because his only other on-screen kiss at the time was with a man, Gary Oldman in Prick Up Your Ears. We talked about that and he was very nervous and I kept asking, do you really kiss? How do you kiss on screen? What's the etiquette? I don't know how to fake kiss. How do you fake kiss? We kissed in an elevator and the doors would close and everybody was cracking jokes because we didn't open them for a while, and we'd laugh and make noises. It was fun.

TSI: When Species came out back in 1995 it was a big hit wasn't it.

NH: It was a real sleeper. I remember getting a phone call the weekend it opened and it made something like $17 million, and that was huge then. And I don't know about any of that film lingo and they just kept calling me saying, $11 million, $14 million, $17 million. They were so excited by the whole thing. And within four days my life had changed. A lot of people had seen the film in that first opening weekend and immediately the recognition of that was kind of shocking in a way.

TSI: So playing Sil in Species really did have a big impact on the public and on your life?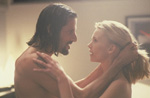 NH: It was life altering in the way that all of a sudden I now officially had a film career, and yet I wasn't ready for it at all. And the fact that people now recognised me. Previously I was used to doing whatever I wanted, being the observer of people and loving that, now all of a sudden I was the one being observed. It was strange. And I got a little paranoid about it for a while.

TSI: I suppose you got your fair share of strange fans.

NH: Some of these fans believe so much in what they see, it's kind of scary. And you know the ones that are believing that much in what they're watching are a little not right, you know. I got a lot of strange letters. The one that stands out the most is this fan who was schizophrenic and he talked about it a lot in his letters, that he hadn't taken his medicine. He'd tell me literally his life story. And he kept reiterating in these letters, don't worry I'm such a huge fan I won't show up on your doorstep in Los Angeles. And the more he said that, the more nervous I got. It was like, if you hadn't said that, things would have been fine. Now it's getting weird. There have been a lot of odd things like that.

TSI: Looking back on the making of Species, what stands out in your memory?

NH: Us actors sometimes say, the best part of getting a movie is the day you get it and the day you wrap. But that's not the case at all with Species. I was so excited and wide-eyed and had so much fun doing that film. It was a dream come true. And the fact that it really did change my life, not only professionally, but also personally because I moved out of my apartment in New York. Literally when I started Species I packed up and moved out to California and I still live there. And it's just been an amazing ride ever since.

TSI: Are you surprised that 10 years later people are still talking to you about Species?

NH: It's really kind of surreal. But it's a bit of a cult classic now and it's so great that this special edition DVD is coming out. I did a commentary for it along with Michael Madsen and director Roger Donaldson. And there's some behind the scenes documentaries and interviews and lots of other cool stuff on there too.

TSI: Why do you think Species has endured and people still remember it today?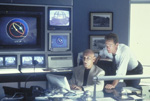 NH: At the time it came out it was actually pretty original. People really loved that strong female character, mixed with the sci-fi element. And the fact that the story of this human/alien hybrid that's the result of a top-secret government experiment is sort of believable. In science fiction movies, I think what makes them work is the seed of possibility that it might actually be true. It also dabbled a bit with genetics, which is now so important but back then was just sort of beginning to be spoken about.

TSI: And your success in Species led to you being voted number one in a top 50 sexy sci-fi poll in fantasy magazine 'Femme Fatale'.

NH: I was, nice. That's hot. I love being known as best sci-fi babe. And you know what, better than not being known for anything, right.

Species: Special Edition is now available on DVD.