Monty Python's Flying Circus was a low budget comedy show that aired on BBC television in a late night slot, starting in the autumn of 1969, but it did not stay there as it quickly gained a fanbase from those hardy souls who stayed up to watch it and through word of mouth spread the news that this was some really funny material. The thought that something so famous, so influential, began as essentially a cult programme in an age when hardly anyone had access to a video recording device (maybe Bob Monkhouse taped it) lends it an air of fascination from the off, but after a few episodes it became clear the BBC had a hit on its hands.

Not that it was successful with the older audience, as this was a show written and performed by twentysomethings whose dedication to irreverence as the world emerged from the hippy era of the sixties into a far less certain landscape of the seventies meant its chief appeal was to the younger generation. You really need to arrive at Python at a tender age to see its allure, as it took potshots at all sorts of authority figures that would be precisely the targets you would want to see taken down at that age, heralding the youth movements of later in the decade, and proving subversive and influential decades later.

Never universally popular, even today, when its classic status is assured, it has ironically hit an elder statesman of humour status that its origins would never have been comfortable with, and has landed it with criticism as a result, making it fashionable to bash it a bit, just as the series would send up its objects of disdain back from 1969-74. Even John Cleese, ever-self-critical, looked down on the work that would be part of his considerable legacy, though Michael Palin in contrast expressed great fondness for it - so who was right? We have to accept that with so many sketches not every one would hit the mark, now or in its original broadcast.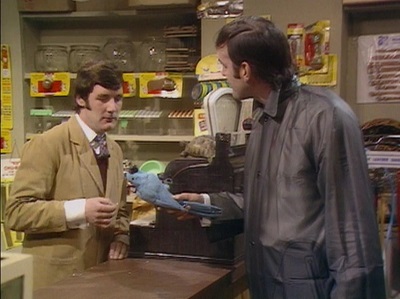 For the fiftieth anniversary of Python, which Graham Chapman did not live to see, his final work being an Iron Maiden video in the late eighties, British label Network released a box set of the entire four series, not only entirely uncut but also fully restored. While Terry Gilliam, the team's animator, had bought the whole shebang from the BBC, subsequent releases and repeats had been on increasingly worn copies and with edits for time and good taste meaning the running times had not been complete for some years, but in 2019, at last, the programme was restored to its former glory and able to withstand the scrutiny of fans and newcomers alike.

In series one, which was released standalone on Blu-ray for those who did not wish to splash out on the complete box set all at once, there were contained within some of the most celebrated sketches, not merely of Python, but of all television comedy. The Dead Parrot Sketch was so well known that it became an albatross around the team's neck (unlike the Albatross Sketch), but watching it afresh you may not realise or remember it carries on far longer than you might expect, given their lack of enthusiasm for punchlines - indeed, the whole thing can be regarded as an attempt to break out of the traditional straitjacket of sketches needed punchlines at all.

There were running jokes, a nod to traditions, but they were bizarre, like the knight in armour hitting characters with a dead chicken, or a sixteen-ton weight crushing others; fair enough, this was probably for reasons of economy as much as being funny, but much of the humour arose from the sheer attacks on conventionality, with Eric Idle and Terry Jones the other performers, making a cast iron group of talents, and it is entertaining to see them all on the same wavelength, some of it hilarious in simple terms (Jones trying in vain to change into his swimsuit) or just a massive mickey take (Chapman's Army General interrupting skits for being too silly).

The soon-to-be accustomed subjects of lampooning current affairs and magazine programmes (how often do we see the cast greeting us from behind a desk, and that's not even counting the line "And now for something completely different"), anybody with even a whiff of authority, and the crushing boredom of mundane, everyday life they divined the absurd in were well established in this first series. It may not feature all the most famous sketches, but you did get Hell's Grannies, The Funniest Joke in the World, The Restaurant Sketch (with the dirty fork), The Lumberjack Song and less-heralded gems such as the policemen communicating in daft voices and Confuse-a-Cat. What Andy Murray thinks of the tennis-playing Scotsman extended bit is unrecorded. The obvious enjoyment the team drew from being this ridiculous, and the enjoyment the audience gained from discovering them, justifies the subsequent admiration.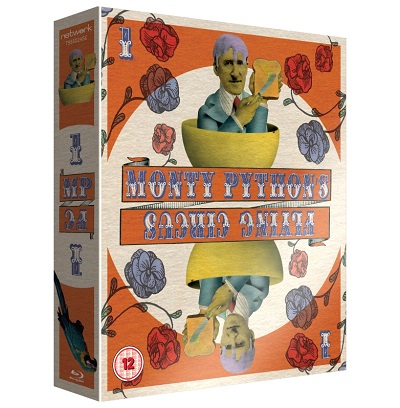 [Network's Series 1 Blu-ray box set has every episode, restored and complete, and with these features:

Sex and Violence: Reinstated content, studio outtakes
Full Frontal Nudity: Studio outtakes
The Ant, an Introduction: Studio outtakes
Untitled: Extended Ron Obvious filmed material and clean end titles footage.

Every series are also available in one limited edition set. Click here to buy from the Network website.]