As the mid-eighties moved into the late eighties, there were some things you could rely on, maybe not your investments, assuming you had any, but Austrian film star Arnold Schwarzenegger was a sure thing at the box office. As the action genre evolved into the one style that would come to predominate without fail as the future approached, Arnie (as he was affectionately called, if maybe not to his face) was churning out the hits, which was more than could have been said for his great Hollywood rival Sylvester Stallone, who was labouring under post-Rocky IV doldrums with Cannon's arm wrestling epic Over the Top.

Cannon would have killed to have Schwarzenegger onboard as a headliner for one of their movies, but the bodybuilder was a canny businessman, and perceived that they were at heart a low rent organisation, whereas other studios could guarantee him a place at the top of the movie charts with every release. It was only really until Last Action Hero that his crown began to slip, and he started to believe he was not so much an iconic man of onscreen violence delivery, but actually a hilarious comedian, born of the laughs he garnered from his adoring fans who had showed up to watch the likes of Twins and Kindergarten Cop.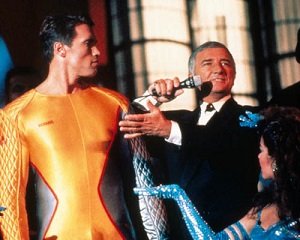 But it was the threat of aggression that gave him his edge, so you would laugh as Schwarzenegger in the same way you would humour the school bully or the bloke in the pub who could turn nasty after one too many drinks. This made two of his choices curious, come 1987, as he made The Running Man and Red Heat, the former in which he played a rebel pitted against the totalitarian American government, and the latter where he was a Soviet cop in a buddy movie carrying on oblivious to the fact the Cold War was drawing to a close. Now we live in political times that may have echoes of those but are very different otherwise.

This renders both titles redolent of nostalgia for a simpler time, which if you were living through them seemed anything but simple, but 'twas ever thus. The Running Man, as everyone knows (or should) was a radical rewrite of a Stephen King novel from five years before, penned under his Richard Bachman pseudonym, and while it kept the anti-establishment motives and plot, really the star was more convincing as part of the status quo who could use him for their strongarm tactics, whether those authorities were killer computer networks or black ops or simply the monolithic Russian Communist system.

Therefore, The Running Man is a real curio to posit Schwarzenegger as a freedom fighter, but perhaps more appropriate to its decade, he does this fighting on a death-dealing gameshow televised from sea to shining sea. Introduced by real gameshow host Richard Dawson, trading on his smarmy reputation with aplomb and the best thing in the movie as far as performances went, the hero is a former police helicopter pilot who ends up framed for the massacre he tried to prevent. He escapes, Maria Conchita Alonso blows his cover, and they both wind up on the titular gameshow along with conspirators Yaphet Kotto and Marvin J. McIntyre.

Casting director Jackie Burch earned her fee on this one, bizarrely putting Fleetwood Mac drummer Mick Fleetwod under old age makeup as, apparently, himself, leader of the resistance and having famous rock star... son Dweezil Zappa as his sidekick. Also, the killer celebrities our protagonist had to combat included the enormous opera singer Erland van Lidth and best of all, blaxploitation fixture Jim Brown, who on descending from the heavens with a jet pack and a flamethrower in a shiny catsuit and skunk hairdo, gets the reaction "Jesus Christ!" from Maria, which prompts Ahnold's best one-liner in the whole movie, "Guess again!"

Ah, those one-liners. Aping the originator of the action hero's flippancy on murdering a foe, James Bond, Schwarzenegger may not have eclipsed the British spy's dry wit, but he had a damn good try, and often with real clunkers, as in The Running Man, though dialled down for Red Heat. You imagine he had a team of gag writers like Bob Hope's, all punching up his dialogue with the hackiest material possible, but Red Heat did at least try something different, thanks to director Walter Hill's guiding hand. The Terminator had seen the leading man make his lack of expressiveness a bonus, and that was kind of the case with the Russian role.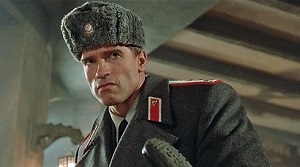 Hill was all too aware of the issue with Schwarzenegger as a lead: he was such an unusual specimen that you had to make excuses for his presence in his movies. The Terminator, that's fine, he's a robot, but Commando, he's plainly not American with that accent, he may not even be human judging by the way he executes about a hundred people in that movie, but the fact remained a suspension of disbelief was necessary. His other blockbuster of 1988, Twins, made him a clone raised in a laboratory, the epitome of an eighties high concept project, and as that was a family friendly item (in theory), it made a lot more money than Red Heat.

I mean, the star still shot people in it, but it was in a nice way, so there was not so much to be offended by (Twins is such a weird film - Kindergarten Cop, his other family hit, seems almost normal in comparison). In Red Heat, he was not playing nice, not at all, and once again his career savvy came into play with who he worked with, Hill being an action auteur whose great love was Westerns. Though it was the East that he devised as an admittedly clever notion to explain Schwarzenegger's presence in America, as he played a Russian who does his best to track down drug dealer Ed O'Ross across the Atlantic in Chicago.

Hill started his story with one of Arnold's finest sequences, an inspired bit that allowed him to show off his finely-toned body among a bunch of other sculpted forms, in a cavernous mixed-gender sauna where he is looking for information as to O'Ross's whereabouts. After placing him in this oddly camp, fetishist context, Hill proceeded to have the practically naked hero grapple in the snow with a villain, doubling as a fight scene you're guaranteed not to see a celebrity of his standing try elsewhere, and a chance to admire a sequence of sheer physicality into the bargain. But does the rest of this manage to live up to it?

To be honest, Hill got a little predictable once the Soviet lawman arrives in the big city, similar to Clint Eastwood in Coogan's Bluff, a template used surprisingly often ever since (though younger by decades, the director was a contemporary of Don Siegel, the action thriller pioneer whose film that was). This being the eighties, a buddy movie is on the cards - 48 Hours had been a huge hit for him six years earlier, and if it ain't broke don't fix it would appear to be the mantra he was aiming for; he would directed a carbon copy sequel to it in 1990. The buddy here was Jim Belushi, ostensibly a comic actor but with a tendency towards action.

Schwarzenegger and Belushi have not gone down in history as a classic double act, but you know what? Had Red Heat not been overshadowed by Twins that year, you could totally see how a sequel or follow-up production with this pair would have been perfectly acceptable, they sparked off each other pretty well, and with Arnie in restrained emotions mode (and unrestrained violence mode) the contrast was enjoyable. With intriguing quirks (O'Ross has teamed up with black supremacists to flood white America with heroin) and a decent amount of laughs (the watches at the end is a really smart, low key joke), maybe it could have benefited from more action - the bus chase at the finale almost makes up for it - but it is well cast with Peter Boyle and Gina Gershon among the performers, and its ideas of how to handle Schwarzenegger were a lot more intelligent than in The Running Man. No gem, but underrated all the same.

[Red Heat is released on 4K UHD, Blu-ray and DVD, fully restored, with the following features:

Arnold Schwarzenegger - The Man who raised Hollywood
Political context of "Red Heat"
East Meets West - Featurette about Carolco and Red Heat
A Stuntman For All Seasons - Tribute to Benny Doblins
I'm Not A Russian But I Play One On TV - Interview with Ed O'Ross
Making Of
Original Trailer + Spots.]