In the early nineteen-seventies, the influence of psychological horrors and thrillers, basically the sort of suspense piece where the menace is driven by madness or uncontrolled impulses, began to grow more explicit. Of course, this was all the fault of Alfred Hitchcock, whose Psycho in 1960 had revolutionised the genres, and indeed cinema, and even he was not immune to the effects of the style, as in 1972 he would make his own version of these with Frenzy, his most blatantly horrible excursion. Everywhere else it seemed filmmakers were following suit and crafting nasty, troubling efforts designed to send the audience away feeling bad about the world.

Two British entries in this new tradition were And Soon the Darkness and Fright, the former from 1970 and the latter from the following year, which did reasonably well to stand out amongst a deluge of such material, much of it from Italy who had taken these ideas and run with them in the giallo format. But the Brits had a way with the tense and unpleasant, setting out to unnerve and make the viewer feel vulnerable by depicting characters, often young women, who were plunged into perilous situations: essentially laying the groundwork for what would become the slasher movies of the late seventies and eighties.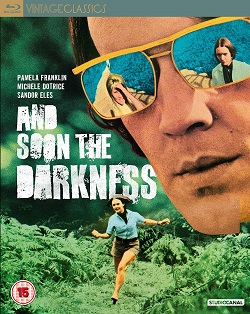 And Soon the Darkness was a project instigated by some of the men behind the popular sixties television series The Avengers, including writer and producer Brian Clemens and director Robert Fuest. The gimmick here was that the horror took place not in crepuscular gloom at all, but in broad daylight, rendering the title ironic as well as ominous, as two nurses (Pamela Franklin and Michele Dotrice) are one week into a cycling holiday in rural France and after a quarrel are separated, with tragic results. As Franklin discovers, this stretch of road has become notorious because a tourist was murdered there a few years ago, in an unsolved case.

This meant we were in for a whodunit, but also a cat and mouse chase as Franklin tries to avoid the killer who she suspects has struck again, but thanks to the language barrier cannot make her fears known to anyone who might be able to help her. Well, possibly: a spinster expat schoolteacher (who may be a lesbian) gives her a lift and mutters about the crime, though more significantly Sandor Elès is another visitor to the region who is suspiciously cagey about his motives for being there. Is he genuinely conducting an amateur investigation of his own, or is he actually the culprit and has Franklin and Dotrice on his list of potential victims?

A sign that the times were changing was that the film made no secret of the intent to rape from the murderer, that mix of sex attack and killing very prevalent in this decade as the serial killer became big news in real life, and fiction began to imitate them. Fuest managed to cheat the premise a little by getting darkness into his film nevertheless, be that in the bushes of the surrounding forest, or inside rundown buildings or caravans, but it was those brightly sunlit, wide open spaces you would remember, bringing an agoraphobia to the paranoid atmosphere, the paranoia stemming from the fear someone is watching you who you would rather was not.

At this point in time, Clemens was producing and writing the hit anthology series Thriller on television, which featured a starry cast, usually in an isolated house, being terrorised in some way. Fright was not penned by Clemens, but by Tudor Gates, though you have to wonder if he was a big fan of Thriller since it was like an extended episode with more intense violence (oh, and no American guest performer) as Susan George is the college student who shows up at an old, dark country house to babysit for the couple (Honor Blackman and George Cole) who are parents to a three-year-old boy (actually the son of the director Peter Collinson, oddly named Tara).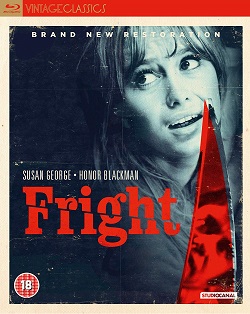 Collinson had enjoyed a major hit in his homeland with The Italian Job, but for some reason thereafter considered himself something of a second or third division Hitchcock, directing a bunch of horror-thrillers where, yes, young women were menaced by madmen. Quite what drew him to these after proving he had a gift for comedy is anyone's guess, though it could have been he was simply taking whatever jobs he was offered and got into a rut, but it had to be said Fright and his next film, Hammer's Straight On Till Morning, did display a knack for presenting mental aberration as something to be feared and even loathed.

The plot here was drip-fed to the audience over the course of the first half of what was over with in under an hour and a half, but after a while we get the idea: there's a maniac outside the house, and Susan is trapped in there with the kid. If that sounds familiar, it is because it was lifted for better known horrors like When a Stranger Calls and most famously of all, John Carpenter's Halloween, among any number of imitators (Wes Craven's Scream owed it a debt too, for its first, Drew Barrymore-frightening act at least). While Blackman and Cole are at a restaurant with John Gregson (one of British cinema's most reassuring presences), Susan is getting jumpy.

We work out that the maniac is Ian Bannen, Blackman's psychotic ex-husband, from the nanosecond he appears in a potential red herring role, and he really goes to town with it - cast members attest how committed he was to the crazy - but don't expect a sympathetic study of mental illness, as while Bannen was playing the ex as a pathetic, deluded man, he's not above rape and brutality to go with it. Also present was Dennis Waterman (who coincidentally is in the credits alongside Cole a few years before they would team up for hit television series Minder), he played the boyfriend with his sights set on his girlfriend's virginity whether she's ready or not, and pays the price.

Susan George had entered her late sixties to mid-seventies heyday as a leading lady, and you can tell this led into her most famous part in Straw Dogs; in the seventies her allure was such that even now (male) reviewers won't waste much time before getting to their "Phwoar missus!" admiration of her, yet that undervalues her talent as an actress and interesting screen presence. She was not the first to be overlooked for her ability thanks to physical attractiveness, and she won't be the last, but she was truly committed to finding the strength in what could have been a whimpering victim character, and it's thanks to her and Bannen that Fright makes the impression it does, combined with Collinson's emphasis on claustrophobic tension. Tudor Gates' screenplay was pretty basic stuff, but with a sharklike intent on getting to the titular sensation so you can understand why it stays in the memory, much like And Soon the Darkness does, and worth a comparison.

[Both these films have are released on Blu-ray by Studio Canal in fully restored versions. Extras are two audio commentaries and a Kim Newman overview on And Soon the Darkness, and a Susan George interview, Newman back for another overview, and an image gallery on Fright.]