2019 represented the seventieth anniversary of British Transport Films, and though the unit had been more or less disbanded in the eighties, it left behind a legacy of short pieces that illustrated and highlighted specific areas of British life for decades. Under the guidance of much-respected Edgar Anstey, the output has been beloved of railway enthusiasts and nostalgists alike for all this time, and here is what is on the BFI's 13th volume of these collections on DVD, On The Right Track, fourteen remastered films.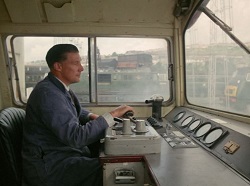 First up, from 1964, is We're in Business Too! which as the title suggested detailed how to improve the business aspect of British Rail, in the form of seemingly endless meetings and training exercises. We are offered vox pops from rail users (the lady in the glasses is a natural) which are interspersed with officials who rather stiffly tell the viewer what the situation is - not enough people know about the benefits and features of rail travel - and what the solution is - a series of staff discussions on how to inform them, though maybe they could have started with not interrupting passengers when they're trying to read their newspapers.

British Rail is Travelling from 1969 promotes the variety of styles the service can provide, including very excitingly for the day, a hovercraft. Sadly we don't get much more than a clip or two of one of those, but this eight minute effort is also keen to show off how up to date they were with a plasma torch used on the rails for maintenance, and a computer designed to render the driver's job that bit safer.

The Class 86 Locomotive, the year after, was the epitome of the industrial training film, with no music, and indeed no sound aside from the calm, steady tones of the unidentified narrator who methodically proceeds through the technological improvements this class of engine, including excitingly a device to prevent wheel slip, both automatic and manual. If you're of an adventure-seeking bent, you may be expecting the vehicle to leave the tracks at some point in a tension-filled action sequence, but no such event occurs, it's all oddly soothing, just the facts: they didn't even splash out on colour film stock.

Also from 1970 was Careful Charlie! which in effect was a public information film, or nearest equivalent, aimed at rail workers. In cartoon form, the eponymous hero is shown to be most conscientious in his everyday life - outside of work, that is, for once he gets to his job on and around the tracks, he promptly becomes a hazard to himself, and others. Running through the typical accidents, such as trying to pick up too heavy objects, or smoking around flammable material, we see Charlie basically die over and over, punctuated with the lessons we are meant to take away. Using humour to make a serious point was always a favourite with PIF creators.

Again, 1970, and People in Railways was keen to emphasise that British Rail was a modern, thrusting and capable organisation, so here was a selection of clips to demonstrate precisely that, from the drivers to the engineers to the signal staff and so forth. Yes, there was that clip of the hovercraft again, but also laying extra-long tracks to replace the old ones, a man speaking on two telephones at once, and the word "containerisation" used to describe what was now happening to freight, which may or may not be a made-up word. The impression was of a go-getting service that looks oddly quaint with the perspective of the passing of years.

Having a Fresh Look, once more from 1970, was essentially an expansion and variation of British Rail is Travelling, but this time with increased focus on the science that kept the service running. Therefore the plasma torch and the cabin computer were back, but also more in depth looks at what happens when the rails become stressed and what to do about it, or how paint can be developed to preserve the vehicles for longer, stuff like that. What was interesting from a social point of view was that now the laboratories we were given access to were shown to have a large female staff of scientists and mathematicians; previous B.T.F. items did not tend to depict too many women, but now they were making inroads into the B.R. ranks.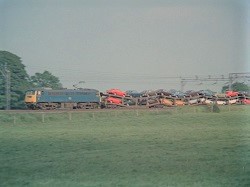 In 1972, and the last on disc one of this set, Solutions? was a seven-minute piece without narration showing a hellscape of seventies traffic problems: roadworks, congestion, basically the sort of affair that has never gone away, but here presented as a problem the railways were the ideal, yes, solution to. When the trains appear, we get jaunty music, services running on time, contented passengers, truly it is a different age!

What's Tops in 1974 was more of an instructional film, though the unit could not resist offering a colourful presentation, and not just because it was in gleaming colour either, as it was plain to see they were proud of their locomotives and wanted to show them off, just as they went into the minutiae here of keeping the thousands of freight wagons rolling across the country. This went into details of code numbers and various other jargon, and how the whole system had been successfully computerised - something else they were proud of, with the building-sized machine using technology that would now fit into a mobile phone. These days this would appeal most to model railway enthusiasts.

Rubbish By Rail from 1977 was what that title indicated, a short (six minutes) effort showing how the nation's waste products were handled, largely by squeezing the refuse into smaller blocks and dumping them at sites that are presumably still in operation, assuming they had not been filled to capacity. Nowhere is recycling mentioned, just that the rail system is essential in dealing with the mountains of garbage created every hour, as it is today.

The Stage is Yours harked back to the sort of BTF travelogue that they used to make back in the fifties, which makes it all the more unexpected that it was produced in 1979 given its nostalgic look at various aspects of Britain that are utterly identifiable as such. From a parade in Edinburgh down to the Lawn Tennis Championships in Wimbledon and stops off in between for cricket matches, happy families at play and visits to castles, this was undeniably evocative, and yes, there was a hovercraft once more, framed alongside the Intercity 125 (of course) and Concorde as the future of travel happening amidst this tradition.

Like The Class 86 Locomotive, 1980's The 75 Tonne High Capacity Crane was every bit the industrial film, although at least the students and trainees watching it were served it up in colour and with a smattering of music and sound other than the narrator. But this was a strictly the facts account of how to operate the titular machinery, which was on tracks, in case you were wondering what this had to do with the railways. A vision in canary yellow it was about as personality-free as you could imagine, miles from Thomas the Tank Engine.

Track 125 was yet another paean to the big development in high speed rail travel, this time aimed not at passengers but at businesses seeking to move their products in large quantities around the country and unwilling to use lorries on the road network. This 1981 film was made to look terribly dynamic, with a veritable barrage of shots of the trains involved in a manner that asked, nay, demanded those businesses, how could you resist our service?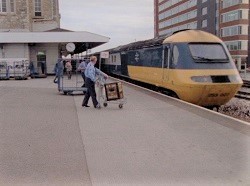 On the other hand, Promises promises... from 1982 asked why were customers resisting their service, even with their snazzy new Intercity 125s, and found the answer in blaming the staff. This was very much aimed at them, warning them that carelessness and lack of communication was making the trains late, so it was time to buck up their ideas or face becoming a third class travel option behind the roads and the air (cheaper flights were proving more attractive for internal trips). This didn't pull many punches, it may not have outright called their employees idiots, but that was the tone with very little honeyed words of encouragement, it was more, "Is this any way to run a railroad?!"

Last on the set was also from 1982, and it saw the B.T.F. moving further afield to alight upon a network on the other side of the world for A New Approach to Hong Kong. After guiding us round the archaic rail service on the island and elsewhere, it proceeded to delve into how British industry assisted in bringing it up to date with all the benefits of the nous of the network back in Blighty. There were plenty of shots of the colony as it was in the early eighties, and fans of their cinematic output pondering on what life was like there back in the eighties would be well served with this. You do hope the citizens no longer use the train tracks as a footpath anymore, of course.

The B.T.F. collections are some of the B.F.I.'s biggest sellers and Volume 13 was another solid instalment fans would not want to miss. First pressings included an illustrated booklet, but the films were the main attraction.