Although Manor On Movies originated earlier, my first national pro bylines came in martial arts magazines. Once you start to cappice the arts, it's pretty tough NOT to put Bruce Lee on your Heroes List. That would be akin to taking up the guitar but failing to be impressed by Jimi Hendrix (born November 27th in Seattle -- same as Lee!)

Count me in as one who developed a strong admiration for Bruce. I've got an Enter The Dragon tracksuit and Game Of Death nunchakus; two framed lithos of Lee have hung on my bedroom wall for decades; when ghouls opened a "Bruce Lee Theater" locally -- playing nothing but third-rate garbage, none of which contained a single frame of Bruce -- I contacted widow Linda Lee so her suits could run the creeps out of town; and as a vid shop employee, I refused to rent customers the despicably titled Bruce Lee Fights Back From The Grave.

Why, I even hung around a notorious gin joint called the B&L (you know, as in Bruce & Linda) Tavern until the state shut the dive down... albeit there was absolutely no correlation between haunting that particular asylum and my interest in jeet kune do... except, perhaps, in the number of punches thrown per night.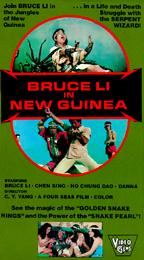 As in the case of Hendrix, Dr. J, Bruno Sammartino et al, I'm no fanatic, but obviously take those on my Heroes List pretty seriously. Having gone through all the above to establish that, I give you this issue's feature presentation, Bruce Lee In New Guinea.

HUUUUUUH??? "But, Stately, how can someone who professes to be a staunch defender of 'the Dragon's' legacy tout such an obvious rip-off?" I'll tell you how: because this pic is so enjoyably goofy, I can't be offended by it!

Bruce Lee In New Guinea stars Chan Sing, and concerns the adventures of anthropologist Wong Lee on Snake Worship Island. So much for truth in advertising. But why quibble? It's not every day one witnesses a jilted suitor declare "Princess, you're a slut!" or a man in a gorilla suit defending bare Oriental bathing beauties. (Mmm, naked Chinese chicks.)

Wong Lee and his buddy Chin Sehk journey to S.W. Island (no relation to S.W. Manor) to study its people and their martial arts. There, they discover the nice Snake tribe has come under the rule of devious bullies from the Devil Sect, their main meanie being the Great Wizard (no relation to the Grand Wizard), a kung fu killer with a poisonous pinkie ring.

Pretty Princess Ankawa finds Wong unconscious, a victim of the Wizard's venomous right hook. Cleverly counteracting the deadly drug, Ankawa slips into the sack with the fallen fighter. I'd like to see Dr. Quinn M.D. top that.

After several doses of Ankawa's antidote, the World's Happiest Patient must leave the isle for a while. Upon his return, Princess A. presents him with a surprise "Welcome back" package -- their illegitimate son! In a completely unpredictable finale — I mean, you would NEVER have guessed this was going to happen -- Wong whips the Wiz, making Snake Worship Island a safe place for Wong Junior and potential fast food chain investors.

SELECTED SHORTS: I can't blame Wong for taking a shine to Ankawa. Dolled up in her leopard skin miniskirt and matching platform boots, she has the appearance of a leftover groupie from the last Mott The Hoople tour. (Mmm, babes dressed in slutwear.)

Although Bruce has dozens of noteworthy scenes, one in particular is a real standout. The Wizard's dimwit son places a curse on the baby by attaching a tiny snake to the kid's face. Rather than waste a couple hundred yen on makeup, the filmmakers superimposed a squiggly Magic Marker line to represent the reptile. This innovative technical effect is most convincing when the line remains in the same place onscreen even though the child moves his head.

And what's the film's superextratoocool bonus? Videos and DVDs in this genre are readily available for $4.95 or less. Taking the title's initials into account, that means you can get "BLING" for under a five-spot--thousands of times less than your favorite hip-hoppers lay out!!!



~



Incidentally, if you're in the mood for an intentionally funny martial arts offering, get an eyeful of Kung Pow: Enter The Fist. Clever Caucasian Steve Oedekerk, clearly very familiar with martial arts period pieces, not only did the old "Overdub with laugh-laden dialogue" routine, but also used modern technical tricks to place himself in the heart of the storyline (and add visual gags like a Hooters sign over the entrance to a 19th century Chinese establishment.)

The integration between Oedekerk's 2002 footage and the original is so seamless, I'd bet many viewers didn't even realize what they were witnessing; and the tone is affectionate rather than ridiculing.

Best of all, Kung Pow is nutty enough that even those not familiar with so-called "chop-socky" films should get a gaggle of giggles out of it. In fact, I strongly suggest tracking down both kickathons for a rib-tickling (and -cracking) double feature. Otherwise, I may have to give you the mysterious dim mak delayed death touch.

Oh, you heard the death touch is only a myth, something shilled to suckers in the ads on inside covers of comic books, next to the sea monkeys and X-ray specs? Maybe you think this stuff is all a big joke, a bunch of ancient Asian mumbo-jumbo to mock and deride. Sure, you can write off dim mak, ninjutsu and the like as so much "kung-phooey." But do you R-E-A-L-L-Y want to take that risk...especially considering we know where you live?

There's a boatload of junkfilm reviews--most illustrated in the crazy new COLOR medium!--at ManorOnMovies.com. You are invited.