The United Kingdom has, since the Victorian times saw P.T. Barnum and Buffalo Bill's shows imported, been fascinated by entertainment from the other side of the Atlantic, sure it's sometimes looked down on as chintzy or trashy, but the fact remains our American cousins have a handle in the business we call show that few in the Old Country can match without blatant imitation. In films, however, while it can be useful to have a Yank accent in your work for that extra glamour and cross-ocean appeal, they don't always get treated in the manner that could be regarded as, well, in any way grateful for their presence to boost the takings at the box office. In fact, sometimes they can be treated pretty roughly.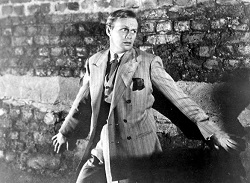 For every Fred Astaire finding love and dance in Jolly Old England in A Damsel in Distress, or Bonar Colleano finding a warm welcome across the land for his tragically cut short run of domestic successes, there was the experience of Richard Widmark in Night and the City; no doubt Mr Widmark was proud of his endeavours in what has latterly become one of his most lauded movies, but his character cannot catch a break. You can imagine how he came to be in this position: travelling to London with his girlfriend Helen (Gene Tierney, similarly traumatised by her stay here) in the hopes of becoming a big shot in a small pond, sort of bringing the American Dream over to where that might dazzle the simple folks and capitalising on it in the process. However, what he does not twig is that he is in a film noir.

Therefore nothing Widmark could do in this London of nightclubs, double decker buses and flower sellers can change the way he is going to be trapped in what should be his personal land of opportunity. The idea is simple: wangle his path into the wrestling world, not as a performer but as a manager, and to do so he has to get both backing and arrange a fight that can make him a lot of money. If you saw British wrestling in the nineteen-eighties and lamented that Big Daddy and Giant Haystacks gutbarging one another had taken the place of what it should have been back in the seventies heyday, then Night and the City would both have you noting 'twas ever thus, the art had always been more pantomime than athletic prowess, and have you sympathise with the ageing wrestler who wants to return to Greco-Roman style.

Widmark thinks he can legitimise his new client's yearnings by staging a bout with his discovery, and gets the money from nightclub owner Francis L. Sullivan who mysteriously doesn't want any publicity for his collaboration, nor his name on any documentation. Too late our hapless hero discovers why, thanks to Sullivan's shaky belief that Widmark was having an affair with his wife, Googie Withers, and wants to destroy him, but also because the promoter comes across as the kind of character who is asking to be crushed under heel like a cockroach. Herbert Lom as a rival, established manager sees to that as Widmark hightails it through London bombsites and landmarks alike, much as Dana Andrews would flee through the woodland of Night of the Demon in 1957. The point was clear: Britain can be hostile to outsiders.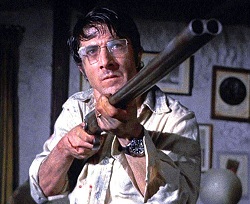 In the sixties, that meant, for instance, Stefanie Powers tangling with a maniac in Fanatic, but the seventies one-upped those shockers with a tale of angry nerd empowering when Sam Peckinpah offered the world Straw Dogs in 1971. It was immediately controversial for its depiction of violence, including sexual violence against the lead female character played by Susan George, who was given a little lip service to her subsequent trauma but the real meat on the bones was making star Dustin Hoffman into a he-man. Though the ending was slightly less notorious than the rape, which sees the victim almost getting used to the idea (an old boyfriend is her attacker) before she is raped by someone else, the whole thing painted a vision of rural Britain that was, to say the least, upsetting and alienating, not to mention deeply unwelcoming.

The plot was that newly married couple, American Hoffman and English George, returned to her former stamping grounds to settle down, only to find her old haunt was rife with a criminality so inherent in the community that just about everyone we saw there was a potential murderer. Meanwhile Hoffman went about his business of mathematics on his drawing board as if that was any substitute for being a real man: you could practically hear Peckinpah scoffing during these scenes where he busied himself with research. Certainly the local yokels think he's pathetic, and begin a campaign of intimidation from almost running his sports car (actually his wife's) off the road to hanging their pet cat in the wardrobe and worse, as we see when he is sent off on a hunt while the old flame of George's arrives back at their cottage and commits his crime.

That idyllic Britain of beautiful landscapes and a warm and friendly wave from the residents of the nearby sleepy villages could not have been further from Straw Dogs, as this lot were frequently boozed up, took every advantage they could, and their smiles concealed a dimly understood contempt for any foreigner they might encounter. This was all the excuse Peckinpah needed to have his hero get medieval on their asses in the final act, as George was reduced to damaged property of her husband and David Warner was given refuge after accidentally killing a girl, leaving us with nobody to sympathise with until you realised Hoffman's revenge tactics against the bunch of bastards who made him so unwelcome was who we were intended to admire, purely because he had turned to violence in pursuit of asserting himself. Didn't get that with Bill Bryson.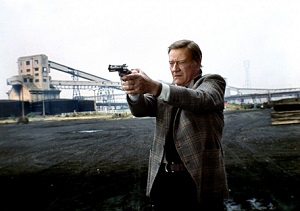 Possibly the most famous American of the twentieth century made his way to Britain too: step forward, John Wayne, who in the 1975 twilight of his career decided to dust off an old concept and make Brannigan. He was the titular cop, very much in the wake of Dirty Harry, who travels from Chicago to London in search of mob boss John Vernon who has settled there on his way to South America (why not just go to South America, then?). But like ships in the night, they miss each other when Vernon is kidnapped by some other bad guys, and in convoluted fashion the plot maps out, well, maps out London, ensuring The Duke had ample time to take in various sights of the capital while undertaking his investigation. This meant lots of culture clash material, plus for Brits the chance to see some well-kent faces in incongruous situations.

Obviously any situation featuring Wayne in the United Kingdom was going to look incongruous since he was best known for cowboy pictures which are generally set in the Old West of the United States, yet while Brannigan did his best to be genial, there are some times when an American in London just has to throw Sir Tony Robinson into the Thames, punch Lord Richard Attenborough in the face, tussle with Brian Glover and beat him despite the fact you're 67 years old with a heart condition and Mr Glover was a professional wrestler. And Attenborough was playing a good guy! He calls The Duke "You big sod!" Since Wayne's fans would not put up with him straying too far from his formula, a barroom brawl was included for comedy purposes, where he set about beating up the denizens of a local pub as if this was Dodge City or something.

But perhaps his most seventies endeavour was to commandeer a yellow Ford Capri for a car chase with henchman James Booth, who has been dogging his tracks ever since Brannigan arrived, Booth in a Jaguar as was the law with bad guys on British television of the era. Somehow, presumably because the Tourist Board was keen to cram as many landmarks into the film as possible, they end up at Tower Bridge - and it's opening! Booth jumps his Jag over the small gap, but by the time Wayne reaches him it's a case of doing an Evel Knievel stunt to send the Capri soaring through the air to land safely on the other side. If this is the kind of thing Americans have to put up with on their visits, be they tourists or otherwise, then at least they had John Wayne to show them how it was done: be polite, but you might need your gun.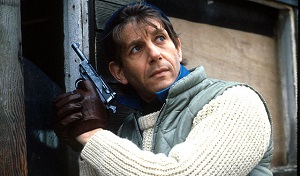 In the eighties, there was only one film that summed up the American experience in Britain, and that was Local Hero which made a hit of spinning the charms of a Scottish coastal village in the way that only Bill Forsyth could. Not much to complain about there, as Peter Reigert and Burt Lancaster found out, it was as if Brigadoon had been transported to 1983. But another film released that year had a far more dour conception of what life was like for a visiting American, one that failed to find an audience at the time yet has gone onto cult status: Slayground. Our visitor? Peter Coyote, not exactly A list like Gene Kelly or Lancaster, despite having appeared in the biggest movie of the previous year, E.T. The Extraterrestrial, but a distinctive-looking presence in character roles. Here he started in New York State and wound up in Blackpool.

With a jaunt to London along the way. Coyote was playing a veiled version of the anti-hero of Donald Westlake's Parker novels, not that fans of that series were happy about what the filmmakers had done to the source here. The film began with a colossal error in judgement when a powerful businessman's young daughter was killed in a road accident that was partly the fault of Coyote's armoured bank van robber for hiring a young and irresponsible getaway driver, then is hunted down for the rest of the running time, by which point he has looked up an old pal in Blackpool, played by comedian Mel Smith in a serious role. If you knew Smith's work on television, you would be aware of how off-kilter it was to see him get no funny lines whatsoever, and the lengthy finale in a carnival turned into the titular Slayground demonstrated the sinister side of a Brit holiday institution.

There was a phrase Judy Geeson revived in Brannigan, told to her character by relatives who lived through the Second World War, that the G.I.s who were exported to the United Kingdom to fight the Nazis were "overpaid, oversexed and over here". This was explored in John Schlesinger's 1979 wartime romantic drama Yanks, where Richard Gere was indeed all those things, but decades later there was another war movie which featured some resentment towards the Americans, only this was set in the far-off future year of 2020. This was the science fiction fantasy Reign of Fire, which took the same themes as Yanks and applied them to a time when dragons had made a terrible return to the planet after Christian Bale's mum drilled below London and found a cavern there which was home to scaly, flying, fire-breathing nasties.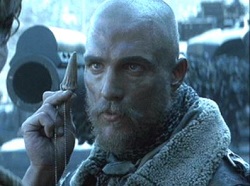 That had happened in the not quite as far off year of 2008 (Reign of Fire was released in 2002), but it posited Britain would be a desolate wasteland by the time the twenties arrived, and not for the reasons actually supposed in the run up to that year. The dragons were responsible for devastating the world, and Bale led a small group of survivors in trying to keep humanity alive by growing crops in a region of Britain where the menaces had not blighted the land, but it looks like they will have a visitor soon enough. Yes, another dragon finds their encampment, but also our Yank Matthew McConaughey, who arrives in a tank with a bunch of his countrymen (and helicopter pilot Izabella Scorupco, who may or may not be playing an American, it's difficult to tell) with the grand idea that they can end this terror for good.

McConaughey led a cast that also included Gerard Butler, using his original accent, but although the Hollywood star didn't show up until the film was almost a third of the way over, he made his presence felt by bringing down a reptile with his tech - yeah! U.S.A! U.S.A! But he has a bigger plan to venture to London and destroy the alpha male which has spawned all this pestilence, which doesn't go quite as well as he would hope, as the reception in Britain veers between resentment from the natives and outright destruction from the dragons. Only one thing to do: a guerrilla mission, and here McConaughey found his trip failed to pay off in the manner he hoped, since - spoilers! - he ends up getting eaten by the big bad yin (no, not Gerard) in a heroic mid-air, axe-wielding leap.

So is that the way we welcome our American visitors? Humiliate them, fleece them, attack them, call them big sods, and have them devoured by monsters? IS IT? EH?! Fortunately, we have Richard Curtis films like Four Weddings and a Funeral and Notting Hill which are nice to Americans - watch those, Princess Meghan, don't bother with the above. As for the hardier souls among the potential expats and tourists, sure, watch a few of the local entertainments and see yourselves as others see you, but don't be put off by the xenophobia of some of the British movies, as mentioned, Brits are fascinated by Americans, so it's unlikely to be as bad as the fictions. There's always Restless Natives from 1985 where your holidaymakers are not only embraced, but the whole impetus for getting the plot off the ground. Call it a cultural exchange - the Special Relationship.