Horror and science fiction movies were as popular as they ever had been in the nineteen-eighties, particularly the ones out of the United States where state of the art make-up and visual effects were being implemented left, right and centre. But what of the tone of these films? While the previous decade had been deadly serious about its horror flicks and featured a sincerity about their science fiction premises, in the eighties, once John Landis's An American Werewolf in London arrived in 1981 it became apparent there was another important element that would generate interest at the box office: a sense of humour. By the mid-eighties, cult pictures such as Re-Animator and Return of the Living Dead were coining it in, and filmmakers really needed to include a laugh or ten.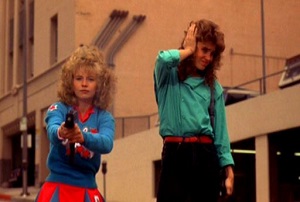 In a trend not seen since the forties, comedy horror was the in-thing for the genre, and as science fiction suited the era down to the ground with its obsession with the shiny and new, combining all three aspects in one melange was a neat way of snaring an audience, in theatres and well as the newfangled home video. One of the major hits among the target audience of young folks who they were so often aimed at was 1984's Night of the Comet, a film that evokes pangs of nostalgia among those who were there or caught it on its television broadcasts. The fact it went AWOL for a long stretch thanks to rights issues only made it seem more precious as the internet era dawned, and those TV showings and VHS tapes were treasured (and pirated online).

Now the problems have been ironed out, it's possible to see Night of the Comet legitimately and those nostalgic feelings are well and truly validated: how more eighties can a movie be that starts with a man haggling over the price of a pair of deeley boppers? He wants them so he can look like a tit as the latest comet flies by the planet and everyone celebrates, but what nobody knows is that in The Day of the Triffids-style, being exposed to the, er, cosmic rays or whatever will reduce you to a fine red dust. Luckily for teenage sisters Catherine Mary Stewart and Kelli Maroney, they happened to be sheltered from the effects, the former because she was having a liaison with her deadbeat cinema projectionist boyfriend in the steel (for safety) booth.

Maroney survives because she had a fight with her stepmother and spent the night in a bin (or something), and now, as Stewart wakes up to a very different world, she realises all is not right when she ventures out of the building to find said boyfriend has been torn to pieces by a mutant. That's correct, not a zombie: if you have been exposed to the comet and have not been turned to dust, you will be a monster-faced, violence-crazed maniac instead. Not that we see many of these menaces, director Thom Eberhardt wasn't made of money you know, but we do see enough to know the sisters are in danger and must seek safety - but where can they go? How about the radio station which is still broadcasting? They've left a tape running, but the girls can get a message out.

One person who is already there is another survivor, played by Robert Beltran (best known as the co-lead in the most beloved of the Star Trek series, Star Trek: Voyager), and he like them is keen to be assured there are other signs of life out there who don't wish to kill him. Night of the Comet was sold as the Valley Girls go shopping at the apocalypse movie, and there was certainly some of that here, as well as some amusing lines and character bits, yet there were unexpectedly atmospheric scenes of contemplation, no matter that these were essentially frivolous characters, they had an inner life too. When the authorities show up, represented by Geoffrey Lewis and Mary Woronov emerging from an underground base, it does get serious, but largely this was an adventure.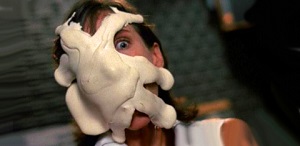 The following year, science fiction and horror's capacity for satire was explored by - who else? - Larry Cohen in 1985's The Stuff, one of the anti-consumerist genre pictures that arrived in the wake of George A. Romero's Dawn of the Dead back in 1978. While too scrappy to be as accomplished as that, The Stuff certainly had its sights set on the eighties' propensity for following fads like pigs led to the slaughterhouse, splashing their cash on anything they had seen advertised on television or had the decade's equivalent of gone viral, be that movies, music, leisure, politics or indeed food, as was the subject here. That said, the titular Stuff was a stand-in for all sorts of mass brainwashing to believe whatever the latest, shiniest, most supposedly liberating idea was just peachy.

The joke being that no matter how liberating this new product was (never worry about mealtimes again - just eat more of this comestible revolution!), it was actually tying you down to a way of getting your precious time and money, or fooled into following a particular movement that was more about doing the manufacturers' good than yourself. You may observe Cohen had concocted a premise vague enough to be all conspiracy theories to all people, and it was true in his typical guerrilla tactics to get the requisite amount of footage there was a patchwork tone to much of the shenanigans here that was exposed when any extended sequences clunkily segued into the next, but there was, as often with this writer-director, an audacity.

Imagine at the height of Reagan's America that a collection of supposedly pulp movie makers were taking on the social concerns of the day? You don't have to imagine it, it happened, and a few of them included jokes too. Cohen was blessed with the presence of one of the great weirdo actors of his era, Michael Moriarty, sporting a terrible wig and doubling up as daring hero and sardonic explorer of the bizarre landscape Cohen had plonked him down in: quite a lot of his lines sound improvised, and you can believe they were just that. Accompanying him in his industrial espionage expert role was reporter Andrea Marcovicci and a little boy, Scott Bloom, who had seen his family taken over by the Stuff in a consciously fifties paranoia sci-fi manner.

Simply switch the Stuff eating its consumers from the inside out until they were mere husks of soulless followers of their new God with the Pod People from Don Siegel's Invasion of the Body Snatchers, for instance, and you could see where Cohen's influences lay, though his gaudy milieu of eye-catching packaging and insidious advertising jingles was so eighties it hurt. At the time, British critic Barry Norman listed The Stuff as one of his top ten worst of the year, but it was the case with a lot of this this sort of comedy that the mainstream often didn't get the joke, and with horror and science fiction you could observe the same. But if you were on the correct wavelength, you would be well aware of what was sent up, and how powerless you were to change it.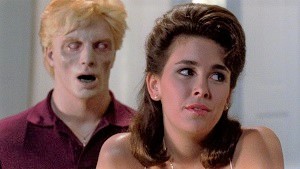 If the early years of the twenty-first century were about looking back to the eighties, then the eighties had a similar preoccupation with the fifties, as seen in the above and another cult favourite from the year later, writer and director Fred Dekker's 1986 Night of the Creeps. Despite its unexciting title, many fans of this decade's horrors hold it close to their hearts, not least thanks to it being difficult to see down the years after its lack of circulation since its VHS release (it had a theatrical release too). This meant bootlegs of it were much sought after for quite some time, though like Night of the Comet, the rights were sorted out and Blu-ray came to the rescue to distribute the cult item properly to eager collectors.

It began with a sequence straight out of a Charles Band flick (his oeuvre was not always as lucky with their theatrical opportunities) as a space alien is chased by two similar, ray gun-wielding authorities and tried to stop it releasing a canister from their starship. They fail, and it ends up in fifties America, black and white just like the movies Dekker used to watch on television as a kid, where it breaks open and infects a hapless student with extraterrestrial slugs. Oh, and there's a mad axe murderer wandering about who chops up the student's girlfriend, who also happened to be the beloved of a rookie cop. He has never gotten over that night, and now it's '86, he has a chance to get his own back on the beasties that ruined his romantic life.

Meanwhile, we were plunged (in colour now) into what on the surface looked like a cliché-ridden frat house comedy, but in Dekker's hands what was unpromising on paper transformed into a real gem, with laugh out loud jokes to offset the good old rubber makeup effects. This was the movie that went down in history as featuring the exchange: "I have good news and bad news, ladies. The good news is your dates are here." "What's the bad news?" "They're dead." And the quality of dialogue was that offbeat and humorous throughout, obviously relished by a mostly young cast, aside from Tom Atkins as the now-bitter rookie turned detective, for whom this was such a great experience that he named Night of the Creeps as the favourite of all his films.

The other stars were Jason Lively and Steve Marshall, uniting against a hostile world as dorm buddies - and Marshall of interest as he played a non-stereotypical disabled character, one of a number of details that indicated this was not your usual horror comedy, despite superficial appearances to the contrary. The girl Lively has his heart set on was Jill Whitlow, another performer who didn't make that many appearances and for whom this project is probably the one that shows them at their best; just when you think she's an uninspired dream girl cypher, she straps on a flamethrower, among other antics. Even though this essentially descended into a bloodbath, the sense of fun was infectious as those zombiefying slugs, making it a perfect example to show the untutored how enjoyable eighties horror could be (Dekker would make The Monster Squad next, another much-appreciated, once-neglected cult chiller). Who can resist a film with the credit "Special appearance by Dick Miller", after all?

[Loads of features on Eureka's Night of the Creeps Blu-ray, as you can see below:

Limited Edition O-Card slipcase [First Print Run Only]
High-definition remaster of the director's cut
Original stereo soundtrack and 5.1 surround audio options, presented in PCM and DTS-HD MA respectively on the Blu-ray
Audio commentary by writer / director Fred Dekker
Audio commentary by actors Jason Lively, Tom Atkins, Steve Marshall and Jill Whitlow
Thrill Me: Making Night of the Creeps - an hour-long series of video pieces on the making of the film featuring new interviews with cast and crew
"Tom Atkins: Man of Action" featurette
Video Interview with Fred Dekker
Deleted Scenes
Original theatrical ending
Trivia track subtitles
Theatrical trailer
PLUS: A limited-edition booklet featuring a new essay by critic Craig Ian Mann [First Print Run Only].]