Black Shampoo (1976)

"Mister Jonathan," as Jonathan Knight (John Daniels) is known to his beauty salon staff and patrons, is in great demand... in the sack. In fact, when MILF Mrs. Simpson comes around looking for some chocolate filling for her vanilla pie, the stud stylist is already occupied, boffing blonde Mrs. Phillips in the back room.

Fear not, horny honky honeys. JK has decided to make house calls, stopping by the Simpson chateau with his trusty blow dryer in hand. Wouldn't you know it? As it oft-times happens to most of us men, while Jon is sitting by poolside waiting for his curvy client, her two barely legal daughters strip out of their bikinis and start seducing the hunky hair-care cat.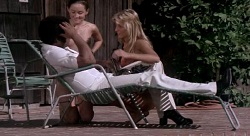 Don't you hate that, fellas? You're just trying to do an honest day's work, and bare teenage tarts begin double-teaming you, expressing their desire for a threesome. I, for one, always grab the phone and dial 911.

The following Olympic year. Anyway....

Mom eventually shoos the sluts away, indicating her intentions of much more than a trim via mounting the man reverse cowgirl, to show the girls the correct way to hump the help.

Okay, the posters led viewers to believe this was going to be a blaxploitation pic along the lines of Super Fly TNT and Hell Up In Harlem. But with four nude white women longing for Jonathan's johnson within the first 18 minutes, clearly this is a softcore porn take on Shampoo, with an African-American in place of Warren Beatty. After all, Black Shampoo is a mid-Seventies release, a boom period for T&A-filled, R-rated drive-in draws.

All of which flies right out the window when Jonathan turns his attention to new receptionist Brenda St. John (future Days Of Our Lives regular Tanya Boyd), a sepia sweetheart. Now Knight is all about candlelight kisses and full-moon swoons, a playa no mo'.

So, this is not a soft sex romp but rather a love story, a one-time hedonist no longer looking to add notches to his headboard, having met that special someone. Good for you, Jonathan. You're not getting any younger, and there are a lot of communicable diseases out th - uh-oh.

Looks like Brenda has history with local mob boss Mr. Wilson, who wants his concubine back and dispatches his head henchman, Mr. Maddox, and two goons to fetch the frightened female. Told not to harm her, Brenda refuses to bolt with them, promising to phone Wilson later. Once the place is closed, they trash the joint, Jonathan being absent on both occasions.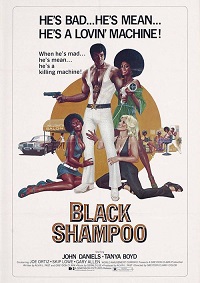 Furthermore, Wilson decides to aduct Brenda! Surely this is when Jonathan breaks out his heretofore-hidden arsenal, hell-bent on bloody revenge, like every wronged buttkicker pushed beyond the breaking point. Remember, the poster reads "HE'S BAD... HE'S MEAN" and shows him holding a large pistol.

We are finally going to get that action film we anticipated at the start! Time to uncork that king size container of whoop-ass!!! When Jonathan catches up to him, Mr. Wilson is going to wish he was back to being bugged by Dennis The Menace.

Yeah, about that. True to Manor On Movies policy, no spoilers will be forthcoming. I'll just note that it's foolhardy to make any presumptions about what's next to come in this one.

Which is exactly what makes Black Shampoo so immensely enjoyable.

One minute, the Twentieth Century Schizoid Movie features excellent wah-wah guitar and clavinet funk up in your ear. The next, it's "Quiet Storm with female vocalist and wind chimes" time. Another, Jonathan is upset about Brenda's predicament. The next scene, he is attending a festive outdoor party shoehorning in footage of more babes in the buff.

Brenda and Jonathan make sweet soft-lit love to appropriate sensual music. Immediately cut to a salon scene wherein Maddox tells one of the, er, "flamboyant" male stylists "You're a tough little faggot," before kneeing him in the nuts.

Black Shampoo is a cinematic stew. Every time you sink your spoon in the bowl, you come up with something different.


With the talent involved, that's not a surprise. Co-writer and director Greydon Clark, helming his second feature here - on a two-week, $50,000 limit - learned the craft previously working as an actor in Satan's Sadists (1969) and Dracula Vs. Frankenstein (1971), both directed by Al Adamson.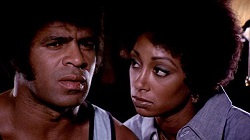 The fact Greydon studied under the incredibly inept Adamson yet still knew which direction to point the camera is a true tribute to Clark's aptitude. But it is also Manor On Movies policy to never denigrate; so, forget you read that.

Also in Satan's Sadists and several other biker films was William Bonner, playing Maddox in our feature presentation. However, an examination of the credits reveals Bill billed as - ready for this? - Jack Mehoff, the pseudonym he used once before, in 1972's The Adventures Of Flash Beaver, a softcore skin flick spoof with a laugh track(!)

Tonya "Brenda" Boyd would follow up Black Shampoo with a role in the family treasure Ilsa, Harem Keeper Of The Oil Sheiks (also 1976) before getting her break in mainstream television. Prior to becoming a soap opera star, Tanya guest-starred in a boatload of network TV hits, including What's Happening and Good Times. Dyno-mite!!!


Could Black Shampoo be made today? One can only imagine the uproar over Jonathan's stylists reinforcing every gay stereotype under the sun. And there's also the matter of the scene with Wilson proclaiming "I'm gonna give you the thrill of your lifetime, you fucking little faggot" before sodomizing one of them with a curling iron.

True to its unpredictability, and despite what the above might suggest, Black Shampoo is no pit of homophobia. The two gay men are very sympathetic characters, only the heavies disrespect them, and Jonathan absolutely could not give a fudgesicle about their orientation. They are his friends, and that's that. Quite unusual (and commendable) in 1976.

Oh, and our main man John Daniels, ironically enough, has a really terrible 'fro. Nothing personal, brother, but it looks like three arthritic blind people cut it at the same time then all stormed off upon reaching a stalemate over how to finish it.

Say, did I mention the first fornication may be the least convincing sex scene viewers will ever giggle at?


For the finest in ALL genres, please check out the reviews at ManorOnMovies.com.