Pop Art was a movement that began in Britain in the nineteen-fifties, but such was its obsession with American culture that it was only a matter of time before those artists across the Atlantic adopted it as their own. The titan of this style, emerging in the sixties and emblematic of the entire development, was Andy Warhol, the purposefully blank creator of paintings of soup cans and repeated screen prints of celebrities like Elizabeth Taylor, Elvis Presley and Marilyn Monroe (she was a familiar obsession with the pop artists). He made everyday objects and stars alike into products to be taken at face value, and when he moved into film, he treated his new cast like the everyday objects he had captured on canvas.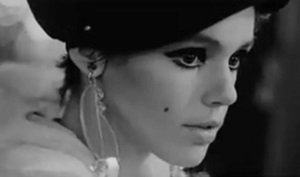 There was a 1969 episode of the BBC arts programme Release devoted to the great Australian critic Robert Hughes travelling to New York ahead of an exhibition at the London Hayward gallery to tell the viewing public - or perhaps warn them - what they were in for. Roy Lichtenstein's massive recreations of comic strip panels and Claes Oldenburg's larger than life recreations of everyday objects made an appearance, as casting the apparently mundane into a new light where you were forced to reassess them, either because of their scale or location, was very much a part of the Pop Art way of seeing the world. But Warhol made an appearance too: it seems Hughes was expecting an interview, when what he actually got was to sit in on a press conference.

This was to announce Warhol's latest project, judging by the presence of Jane Fonda she was anticipating a starring role, but hogging the limelight was Candy Darling, the latest, transvestite addition to the Superstar stable, making violence-themed pronouncements on what this film was to be about as the hangers-on laughed sycophantically. If you were not of a cynical frame of mind, you would take this as face value and think this Warhol was a pretty great guy, offering chances to the marginalised to generate celebrity of their own, so what Fonda was doing there, as an already established star, was anyone's guess. But the truth was that Warhol's Factory was exactly that, a production line churning out gauche art and performers who didn't really perform.

One of those Superstars was Edie Sedgwick, a rich heiress who had been one of Warhol's most prominent discoveries, and her path from a kind of fake stardom to a very real degradation was sadly all too typical of those Warhol took under his wing, often to bolster his own brand rather than out of any genuine kindness. She had suffered a troubled childhood, so was drawn to the damaged folks who gravitated around Andy, and soon found herself with a camera pointed at her as she appeared in faux-feature films like Poor Little Rich Girl (knowingly titled), Kitchen (basically a shot of said room with various Superstars wandering in and out) or Lupe (a biopic of Lupe Velez, a now-forgotten, one time cult star who succumbed to suicide).

The fact that Warhol thought it was amusing Edie should star as a self-destructive celebrity like Velez should offer some idea of what he felt about her, and by around 1966 they were not on good terms, with Sedgwick suspecting she had been well and truly used by Andy who hoovered up her fortune in various acts of self-promotion - of his own self. This brought about the commencement of a film called Ciao! Manhattan in 1967, which was partly intended by her friends and cohorts to secure her fame away from Warhol and prove she could stand on her own two feet. She could not, of course, and her addiction to drugs, usually heroin, was overwhelming; over the next few years she was checked in and out of mental institutions in an attempt to get straight, but it never took.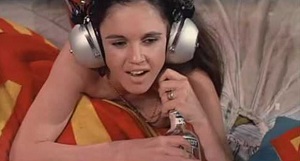 The other reason Edie was cast was that she was available, yet as the shoot rambled on shapelessly she fell over the brink of her addictions and the film had to be abandoned. When three years later she re-emerged from a string of hospitals and special homes, she was keen to finish what had been tried at various times to be completed by directors John Palmer and David Weisman, as like Warhol they wished to be in the movie business, and Edie was still famous after a fashion. This did make you ponder if there was a ghoulish quality to their endeavours to grab more footage of their lead, as while she remained undeniably photogenic and had a way of drawing the eye whenever she was onscreen, the scenes of her in 1970 were dispiriting in ways unintended.

You assume, anyway, as by the time the seventies had dawned, the famous cropped hair had been grown out, she had had silicone implants which she was evidently keen to show off (presumably the scars under her breasts where they went in were less intentionally shown off), and her demeanour was, to put it mildly, druggy. Whether she was acting that way for the cameras or if she really was out of it was hard to tell; she did have periods of sobriety, but she would always lapse away from them eventually, and watching her lolling around half naked in the bottom of an empty swimming pool, burbling about whatever the screenplay demanded was not the most edifying of cinematic experiences, especially when you knew where she was headed thanks to a caption at the start.

Indeed, the whole patchwork of Ciao! Manhattan was distinctly druggy, purveying a lifestyle that the participants may have been kidding themselves was fun, yet was doing irreparable harm to them, as all the while Warhol sought out his next willing victim. The Factory turned a lot of people onto addiction while he managed to rise above it, his artistic reputation never in much doubt, yet look at the wreckage he left behind him and you may surmise history has been a lot kinder to the Pop Art guru than was wholly necessary. Take Paul America, another Superstar who became Sedgwick's on and off lover: he is in the film too, in the '67 scenes and his life was equally as tragic as hers, all thanks to Warhol's glamour by association and manipulation of the vulnerable.

As a film, Ciao! Manhattan was confusing when it was not dejected, little wonder when it had been created out of bits and pieces dreamt up practically on the spot whenever various cast members were on hand. Wesley Hayes was adopted as the entry point character, a flying saucer-obsessed Texan drifter who finds Edie (playing "Susan") hitchhiking and barely coherent, those breasts exposed in a manner that was not erotic, more wretched, as they would be throughout the colour footage (the sixties stuff was in black and white). But he was not much help, as everyone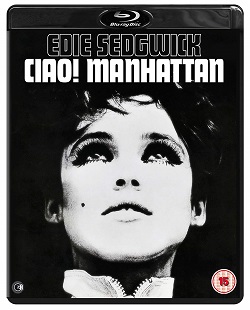 here came across as wrapped up in their own exclusive headspace with patchy moves to engage the audience, only our sympathy for Edie keeping us watching. It was like witnessing a car crash in '67 and coming back years later to find the victim was still trapped in the wreckage. Edie Sedgwick was dead before the premiere in 1972, of an overdose of prescription medication. It was probably suicide. She was twenty-eight years old.

[Ciao! Manhattan has been released on Blu-ray by Second Sight in a pristine restoration that makes Edie's scenes look as if they were filmed yesterday. The extras are an audio commentary with the directors and Hayes, outtakes with narration, interviews with key figures, and the trailer.]