Orson Welles came to make his last completed and released film F for Fake well and truly stung. A couple of years before it came out, in 1971, esteemed critic Pauline Kael had released her much-read and much-discussed essay Raising Kane, about the making of Welles' acknowledged masterpiece from 1941 Citizen Kane. Plenty had been written on the subject of what was often called, sometimes glibly, the greatest film ever made, but Kael took a different tack, arguing that although Welles was widely credited as the "genius" auteur behind its creation, he was actually nothing of the kind, and had merely piggybacked on the talents of others to assemble and bolster his reputation as the Boy Wonder who got it so right with his debut.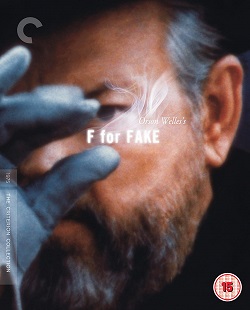 This reputation took a hell of a knock as a result, and given Welles was floundering in his professional career with a string of unfinished projects and many more that never got off the drawing board, it made sense to posit he was not the man he would have had us believe he was, and there were plenty who unquestioningly agreed with Kael's conclusions. Yet there were many more, people who were around at the time he made Citizen Kane, who disputed her research and accused her of having an axe to grind that had nothing to do with honest criticism of the work, or indeed the man credited with it. Eventually, Kael was exposed as having poorly or even dishonestly represented the film and its production, but the damage was done.

In the wake of the controversy came F for Fake, where Welles, ever the obsessive film editor, took a bunch of footage already in existence, much of it about Elmyr de Hory, a French forger of paintings, and added bits and pieces of himself to fashion an essay in film on the subject of successful charlatans. The none-too-well hidden agenda was to cash in on Welles' recent troubles and say, okay, you got me, I am in fact every bit the charlatan you said I was and here's the proof; but then again, I am an excellent charlatan, therefore in my way I am as talented as I was originally claimed to have been, so you can take that away from this pseudo-documentary as well. Opinions were divided, with some claiming it was more proof Welles had lost it.

If he had ever had it in the first place, and his arse covering here did come across as if he had lost his faith in his accomplishments, which no matter how many knocks they took, objectively remained remarkable in many cases. The pity of it being, anyone who was happy to refute Kael would be troubled to see that Welles' final effort as director was going to be him essentially saying, ah, fooled ya! You could read all sorts of musings over the value of art over entertainment and at what point they met, and there were times in this where Welles was questioning the taste of those who were self-proclaimed experts in just those fields, understandable when the most famous critic in America had recently cut him down to size.

When he wasn't rearranging the documentary about Elmyr, he went off on a tangent about Clifford Irving, an admirer of the painter but more notorious as the struggling writer who had committed the hoax of the Howard Hughes autobiography, an act that forced the reclusive millionaire out of his exile from the limelight to refute the idea he had anything to do with him. That Irving fooled a large amount of the gullible is more evidence for Welles that he was onto something, calling into question that anyone knows anything of worth about any book, painting, film or whatever, since all of it is merely opinion, and a consensus is all that allows us to reach the conclusions as to what is a masterpiece and what is simply trash.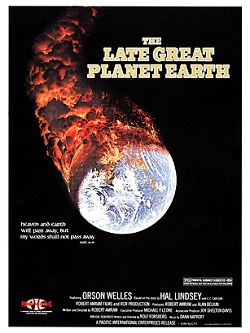 But Welles would soon find himself, on the strength of his apparent authority here, reduced to securing gigs that made the most of his resonant and unmistakable voice, heading the documentaries of others that were often as keen to make stuff up as he had been, or at least rely on information that stood on shaky ground. Thus if you headed to your local picture palace for a while in the nineteen-seventies and eighties, you might be subjected to the lower half of the double bill being a Welles-narrated documentary on termites (Mysterious Castles of Clay), Nostradamus (The Man Who Saw Tomorrow) or the possibility of life on other worlds (Who's Out There?). Perhaps the nadir of this was the book adaptation The Late Great Planet Earth.

The besteller was a 1970 tome of prophecy stating the End Times were upon us, all worked out by evangelist Christian Hal Lindsey, and the consequent 1979 film was part of the cycle spearheaded by Chariots of the Gods, those pseudo-factual features that were designed to put the wind up the audience for an hour and a half before they promptly forgot about them shortly after. Just as well when this prophesied 1982 was the year it would all kick off, and the abundance of signs we were fast approaching Armageddon were too much to ignore. Naturally, the world is still here, though so are the prophets telling us the end is near, suggesting they will be with us for as long as the billions of years it takes for Planet Earth to actually be destroyed.

But Orson wasn't, he was well out of it by 1987, leaving his thoughts on his participation here sadly unrecorded. Part of the cult of Welles now resides in the gap between his aspirations to make artistic statements and the garbage he wound up doing to be able to put his by now sizeable dinners on the table, which means by this point more kids have seen him drunkenly stumble through his outtakes for an advertisement for French Wines than have watched Citizen Kane. A pissed up Orson would have been a tremendous improvement to The Late Great Planet Earth, unless he already was as he burbled his way through Biblical quotes in some part of the Californian desert passing for Israel in the pre-Christian era; it would explain a lot.

Really, though there was a spot of original filming of supposedly accurate depictions of prophets having their visions, like disciple John and his inspiration for The Book of Revelation, in the main the directors had access to a huge amount of stock footage, not unlike how Welles had assembled F for Fake, though nowhere near as creatively amusing in this case. If you wanted to see evidence that the apocalypse was on the way, like the European Common Market having ten member states or the Reverend Moon recruiting in America - old news, basically - then this pandered to Lindsay with shots of 'splosions and lots of them, climaxing in an orgy of military hardware going boom, Welles' services having been dispensed with at this bit.

There were far too many relics like this littering the great director's career, and you can't blame them all on Kael's character assassinatation, but she can't have helped: this was why he was reduced to acting opposite Pia Zadora in Butterfly during his final decade, after all. In that respect, F for Fake was better than plenty of those factual and "factual" efforts, as it had Welles' controlling hand, which may have been guiding second hand footage around the rubble of a once-promising career, but had enough of a twinkle in the eye to suggest he was enjoying himself, and it did showcase Oja Kodar, his latest, proud discovery. Remember him this way. Or maybe as the voice of a robot planet in the eighties Transformers cartoon, it's up to you. He was in The Muppet Movie, too, let's not dismiss that, do him this service.

[Criterion have released F for Fake on Blu-ray in the UK, and here are the features:

Restored digital transfer, with uncompressed monaural soundtrack
Audio commentary from 2005 by co-writer and star Oja Kodar and director of photography Gary Graver
Introduction from 2005 by filmmaker Peter Bogdanovich
Orson Welles: One-Man Band, a documentary from 1995 about Welles's unfinished projects
Almost True: The Noble Art of Forgery, a 52-minute documentary from 1997 about art forger Elmyr de Hory
60 Minutes interview from 2000 with Clifford Irving about his Howard Hughes autobiography hoax
Hughes's 1972 press conference exposing Irving's hoax
Extended, 9-minute trailer
PLUS: An essay by critic Jonathan Rosenbaum

It's worth getting the disc for that lot alone.]