Many eclipses ago, I and my two bandmates crashed a pre-opening party at a Main Line shop selling nothing but electronic keyboard instruments.

Long story medium, I ended up playing a drum while the guest of honor twiddled knobs and threw switches on the Moog synthesizer to which it was wired. Not particularly noteworthy - until you take into account the guy fiddling with the dials was Dr. Robert Moog...as in the inventor of this fairly new instrument!

My dear friend Bobby's chief competition at the time was the makers of something called the ARP synthesizer. ARP happens to be the initials of Angry Red Planet, which also happens to be this issue's feature presentation.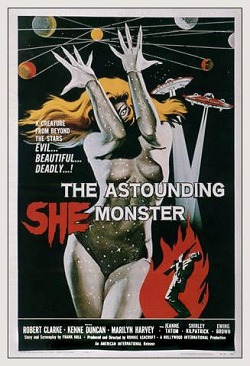 No, wait. I already reviewed ARP. It's time to move on to the next junkfilm classic on the alphabetized initials list, The Astounding She Monster aka ASM.

Glancing at its astounding poster art, a top contender for Greatest U.S. Sci-Fi Movie Artwork Ever honors, you'd never know ASM was a miniscule-budget black-and-white film being written while shooting was in progress.

Until you've seen the movie.

In the world of Manor On Movies, the above are assets, leading the mind to wander and wonder how much better a flash-in-the-pan such as, say, Gone With The Wind could have been if pared down to 62 minutes on an $18000 budget (both, ASM stats), in breathtaking non-color, with Clark Gable et al not seeing a script until the morning of each shooting day.

Perhaps someday the multiple flaws in the Civil War snoozefest will be corrected via a do-over by true professionals, and the entertainment universe blessed with something like Madea Does Dallas or Sharknado 10: Blowin' In The Wind.

We can always hope. In the meantime, let's get back to our interplanetary interloper.

Accompanied by his collie, geologist Dick Cutler (Robert Clarke) otherwise lives alone in an isolated cabin in the wooded section of Parts Unknown. Because it's 1957, he does NOT stalk and slash horny teens looking for kicks nearby.

Ah, but, in a more densely populated part of the county, nasty Ned Burdell (Kenne Duncan) and his criminal cronies Brad Conley and drunkard Jeanne Tatum have decided to snatch conveniently single socialite Margaret Chaffee, figuring the filly's filthy-rich family will cough up lots of loot for Marge's safe return.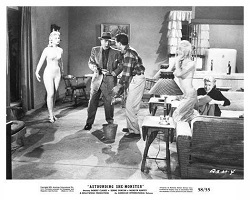 You will never EVER guess where the kidnappers and their captor wind up. Not in a thousand years. No way. Completely out of the question.

Hightailing it in search of a hideout, the crumbs and their captivating captive burst into - wait for it - Cutler's cabin, holding the rockhound at gunpoint, lest he tries any funny business, see? Egan the collie appears unimpressed.

Perhaps the pooch has a premonition of what is in store for the human quintet. In the woods, not far from the fivesome, lands an (alleged) spacebabe - and, my oh my, does she put that older guy on My Favorite Martian to shame!

ASM (Shirley Kilpatrick), in a sparkly spandex spacesuit that appears to be spray-painted on, has more curves than the entire Yankees pitching staff. There's only one itty-bitty problem preventing any of the men from pawing the voluptuous vixen - for the sake of welcoming our newest arrival, of course. One touch from her irradiated fingers turns an Earth creature into a cadaver, as was the case for a bear who gave her a scare.

Making no effort to do anything crazy like, oh, I don't know, communicate with the recent arrival, Cutler and the other cowards plot to kill the va-va-voom visitor and vamoose. And Earth(weak)lings wonder why civilizations from other worlds have a big red "NOPE" rubber-stamped over this planet, on their maps of the Milky Way.

As is Manor On Movies policy, no spoilers will be dispensed here. Not that one needs to be a Tesla to correctly assume what becomes of the baddies and the babe. Nevertheless, ASM is a total treat, despite not being much "on paper."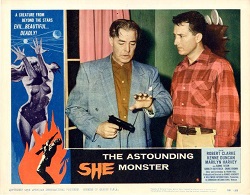 The sizzling She Monster, shot through a lubricated lens to add an otherworldly glow, owns every second of every scene she's in. In one sense, the She Monster is a five-foot-four (very) female Godzilla: Most everything else is filler, the viewers' anticipation building for each returning glimpse of the Face That Runs The Place.

So what if s/he snuffed a few people in the process? Served them right for messing with the monster rather than granting a wide berth. And in the case of the ASM, three of the five foes are baddies, practically making her the heroine of the picture.


In fairness, there is plenty of fun in the Astounding She Monster "filler." Which isn't unexpected when you learn the illustrious Ed Wood was an uncredited consultant (and likely wrote the hilariously snotty narration.) ASM director Ronnie Ashcroft would later serve as assistant director on Ed's 1959 spectacular Night Of The Ghouls - also known as Revenge Of The Dead - which, coincidentally, costarred Kenne "Nat Burdell" Duggan.

ASM has even cultivated a mythology in the years since its release. Did you know, according to legend, Shirley's costume was so tight, she couldn't close the zipper in the back? That's why she is only ever seen from the front, and backs out of every scene!

In fact, it even says so right in Robert Clarke's autobiography, "To 'B' Or Not To 'B'."

Only one slight hitch to the ultra-cool story. It's not true. Get a gander at about the 44:35 mark of the movie. On the plus side, this creates a wonderful excuse to pay even closer attention to the outtasite outer-spacechick.


Shapely Shirley Kilpatrick, a "men's magazine" model, may very well be the sexiest titular "monster" in (non-porn) film history - and the most misunderstood.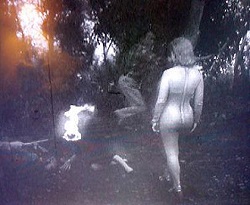 Okay, so she offs a measly few people and animals - all aggressors, I might add-- with a mere touch of her fingertips. That doesn't mean she does it intentionally. Given she has a grand total of zero lines of dialogue, we never know any of her intentions. For that matter, we don't know for certain she's even an alien, never seeing her depart a spacecraft.

Could be the Astounding One is a mute showgirl charged with deadly radiation by a mad scientist living just down the road from Dick Cutler.

But, no, Cutler, just go right ahead and attack the poor sweet innocent blonde, you stinkin' spacist (© SWManor). Some "man of science." What if she came to Earth to pass along a miracle tool beneficial to all mankind, like one that would completely erase our minds of Adam Sandler? You set out to destroy the last hope of billions. Way to go...Dick!

There's a boatload of junkfilm reviews--most illustrated in the crazy new COLOR medium!--at ManorOnMovies.com. You are invited.