Along with Doctor Who, which was on the other side, The Avengers is one of the most iconic television series to emerge from Britain in the nineteen-sixties, and in effect lasted for the whole decade, starting in 1960 when it was named Police Surgeon. Patrick Macnee was the star most associated with the series, but he was not the lead when it was renamed The Avengers in 1961, as top-billed was Ian Hendry, who would see his career boosted by it and leave after one year to take on a cinema career which did very well for him, though his battles with the bottle would eventually sabotage that and lead to his premature death in middle age. Macnee, meanwhile, lived to his nineties, despite an over-fondness for Scotch himself.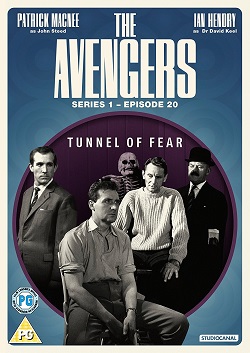 The Avengers would be must-see viewing across the British Isles, and eventually the world, as it had a novel (for the sixties) idea at its heart: two secret agents who were a male and female couple, but not a romantic one. They may have flirted, but their relationship was strictly platonic, and once Hendry had left Honor Blackman stepped in as Cathy Gale, essentially a role written for a man but played by a woman, and a capable woman at that - she often rescued Macnee's John Steed from the various scrapes he got into. It made her a star, too, and when she left to make James Bond movie Goldfinger, Diana Rigg took over as Emma Peel, creating if anything even more of a sensation. She saw the series turn from black and white to colour, and also left to make a Bond instalment.

Linda Thorson as Tara King was the last agent to be paired with Steed for the last year of the sixties, which though retained its popularity in the United Kingdom, waned in the all-important North American market without Rigg to provide an attraction, and the series was cancelled after one hundred and sixty-one episodes, a remarkable achievement. It had been created by Sidney Newman, who had also created Doctor Who yet in the same way it had taken others to see the potential in his ideas, in The Avengers' case Brian Clemens and Albert Fennell, who revamped the programme and indeed brought it back as The New Avengers, with Macnee accompanied by Joanna Lumley and Gareth Hunt, though while that was a hit it was more a dry run for The Professionals.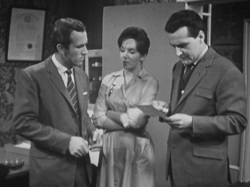 These sixties series proved just as popular down the decades with new generations thanks to regular repeats on television and distribution on disc or streaming - or rather, the ones co-starring the women did, as Hendry's run was somewhat compromised by most of his episodes being broadcast live, therefore recordings became scarce, and for a long time it was believed only two episodes and the odd fragment survived. Then in 2016 a collector was revealed to have in his possession the 5th of August 1961 entry Tunnel of Fear, and vintage television fans' hearts were all a-flutter, especially when it was released on DVD by Studio Canal, who own the rights to every series of The Avengers, in 2018 in tip-top condition, with various extras to sweeten the deal.

Watching this in comparison to what would arrive shortly after was instructive, as while the Emma Peel years would embrace a most eccentric style of science fiction to go with the equally eccentric sense of humour, here there were mere shoots of indication of what would grow to be a television great with its own distinctive, practically unique manner. Its setting at a fairground was a very Avengers place to hold the adventure, certainly, and the pre-credits sequence saw a scene that would have slotted in neatly with any of the succeeding episodes as a man in a three-piece suit and bowler hat takes a seat on the ghost train, which makes its journey and appears from the other side to reveal the gent has disappeared, leaving only his umbrella behind.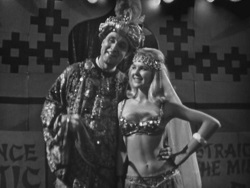 We then, once Johnny Dankworth's original theme had finished playing, settle on the offices of Hendry's David Keel, a doctor who offers to patch up the fugitive who has just stumbled in, allowed access by the series' first female regular, Carol Wilson, played by Ingrid Hafner who is often forgotten in the show's history, probably because she was a rather stock sidekick character. She only appears in the first act of this episode, anyway, as soon Keel and Steed have jaunted off to that fairground on the trail of the injured man (Anthony Bate), who drove away in Steed's car when the agent was chasing his enormous dog (!). The rest of the plot saw our intrepid duo trace the man's mother (Doris Rogers), who runs a stall at the establishment.

This also offered Macnee the chance to ham it up enjoyably when he went undercover as a carnival barker, replete in Arabian Nights clobber and backed by a bevy of bikini-clad beauties in a rather cynical ploy to keep the lads tuned in. Here they naturally discover evidence of espionage and what happened to the bowler-hatted gent from the introduction, who Bate's wronged man turns out to have known. In truth, this was somewhat convoluted, but the breezy air, assisted immensely by Macnee's suave joie de vivre (he is both hypnotised and in possession of an explosive cigarette here), gave strong indication why TV bosses at ABC stuck with this, knowing they had a winner. Only his lack of sharp outfits indicate things were still at a nascent stage for Steed (Patrick Macnee's suits NOT designed by Himself at this point), and if Hendry was the solidly dependable investigator in contrast, you can see why this combination was a hit with the public.

[The extras on the Studio Canal DVD of The Avengers: Tunnel of Fear are as follows:
Big Finish Audio Play Series 1 Reconstruction - Tunnel of Fear
New Interview with John Dorney - writer of the Big Finish episode
Ulster TV interview: Ian Hendry (1962)
Ulster TV interview: Patrick Macnee (1964)
Reconstructions - Series 1 – Slideshows
Series 1 surviving scripts
64 page booklet.]