I remember it like it was the day before yesterday. Having returned home after a long pensive walk on the beach (yes, they have beaches in Philadelphia--shut up), I called my parents into the kitchen, explaining, "Dad, Mom, you may want to take a seat before I tell you this."

Then came The Talk, one I am certain many of you have nervously suffered through as well.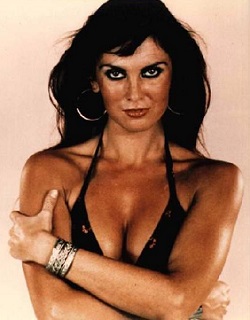 "I know you've had questions or perhaps doubts, and I'm sure there are family members who will never believe it, but…." And that's when I took a deep breath and courageously broke the news, lifting a heavy weight perched upon my shoulders since age 12, when I first became aware of my orientation: "I want you and, for that matter, the entire world to know, yes, I am a heterosexual."

Please, please, readers, sit back down. And while appreciated, all that applause isn't really necessary.

Taboo though it may remain in some circles, I am not ashamed to admit, despite the public ostracism and diminished employment opportunities sure to follow, I find the female form quite enticing.

Which is why I draw fellow outed "straights'" attention to the following shapely-spacechix double feature.


First up is a science-fantasy film I have little doubt virtually everyone you know has enjoyed immensely since it turned the motion picture industry on its ear upon its Seventies release.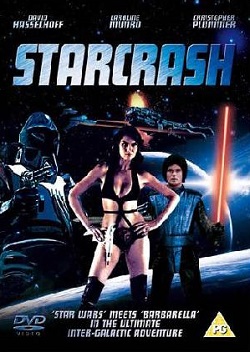 Theres the then-wow-inducing opening shot giving the appearance a massive spacecraft is passing just over the viewer's head; the comic-relief robotic sidekick with a funny accent; laser-sword combat; a surprise father-son dynamic; a climactic explosion-filled attack on a mothership; and, a thoroughly evil heavy bent on planetary destruction. I am referring of course to the iconic Seventies masterpiece... Starcrash.

Never mind Battlestar Galactica and all the other films and TV series "inspired" by the short-lived Star Wars fad--this is the one with the highest hokum rating.

You know you are in for an unforgettable viewing experience when top billing goes to a former child evangelist, in this case Marjoe Gortner. Most Famous At The Time cast member Christopher Plummer looks thoroughly embarrassed; villain commander Joe Spinell seems to have had his lines overdubbed by one of those actors who lends his voice to European gladiator movies; and in a small but pivotal role is an unknown David Hasselhoff, his bouffant and excessive mascara giving him the appearance of a stowaway from the SS Fire Island.

But the real draw here is the leading lady, curvaceous morsel Caroline Munro--still a stunner these many moons after her turn as a Bond Girl.

The bountiful British bombshell, forever barely winning the battle to keep her pulchritude contained in skimpy costumes, has a very earthy sexuality, supercharged by "Im undressing you with my eyes" peepers. My name is Stately Wayne Manor and I approve of this message.

Frankly, I think the Starcrash star has significantly more natural sexiness than that more famous actress whose name--strictly by coincidence, mind you--rhymes with "Caroline Munro." In fact, I believe a small cadre of Caroline Clones could end war, hunger and pestilence (and maybe even petulance) across the entire galaxy. Who wants to fight, eat or pestilize when they could instead bask in the seductive glow of Ms. Munro?

Hate to be a Robert Downer, Jr, but there is one downside to Starcrash--not the iconic movie itself but rather the way it was merchandised once home video took hold. Baywatch having become an international sensation in the interim, unscrupulous vidco PR shills "fibbed a little," giving the unaware the impression that "the Hoff" was Carolines co-lead, unceremoniously shuttling Mr. Gortner to the back of the box and replacing his image on the video package artwork with that of David H!

Youch, imagine having the honor of starring in a timeless classic bound to be cherished by generations for centuries to come, only to find some pretty-boy upstart in a supporting role is gathering all the glory

Then again, Marjoe worshipped a JC other than John Carradine, so it served him right.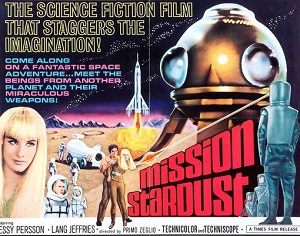 The second feature in our dazzling duo is Mission Stardust (1979). Though few sci-fi films from the colder climes of Europe make it into the English-language market, the ones that do are often fascinating, due in part to the directors stronger emphasis on the visual aspect (than their peers in the remaining Caucasian countries.) Thats not unusual when isolation makes imagination a necessity rather than an option.

To put the pictures primary appeal into one sentence, Mission Stardust's robots are so damn awesome, they nearly steal the show. Note the use of "nearly."

Lords and Layabouts, I give you the main attraction, a shapely and horny astronette portrayed by alluring Essy Persson, who made quite a name for herself that same year with the lead in I, A Woman, one of the scandalous imports in the wave of erotica that would set the stage for hardcore sex films to become part of mainstream culture during the Seventies. I also approve of that message.

Essy's character, Thora, is one Lady Stardust you'd be delighted to have put your spine out of place, and cheerfully proclaim afterwards "Wham bam, thank you, ma'am"! (Yeah, I know those are actually lyrics from Suffragette City, but work with me here, okay? Same album, so close enough.)

Appearing in a platinum wig and spacesuit that apparently was spray-painted on--with two white circles not the least bit subtly drawing ones eyes to her, um, Upper Girly Parts--Thora is the sort of alien who will make me GLADLY sell out the human race once the invasion fleet arrives to enslave those who refuse to bow to their new mistress.

Okay, I was going to do that anyway. But still, having a teasing temptress as an empress is faaaaaaaaaaaaar better than answering to some snot-slobberin' skull-gobblin' supersized hobgoblin.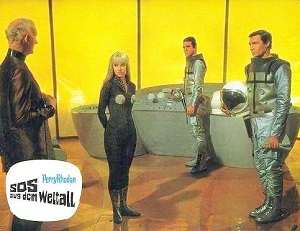 Don't know about you, but I would be out there with a placard reading "Thora, I Adore Ya" the moment her craft touched down. And if she questioned whether my allegiance was to Earthlings or a space race, I'd roll up my left sleeve and show her the "I Dig Uranus" tattoo. [graduation gift from Sir Mix-A-Lot]


"But, O King Of Columnists, what about storylines? You haven't written a single word about them this time."

Plot, schmot. It doesnt matter when the dames are this delicious. You want plots? Go buy a graveyard.


As always, this and dozens of other reviews with PHOTOS appear at ManorOnMovies.com. YOU are invited!