Cinema has always had a suspicion of the art world, even poor old Vincent Van Gogh in the guise of Kirk Douglas in Lust for Life struggled for recognition from the establishment who could not recognise his genius, something we in the audience are invited to perceive for ourselves, thus underlining the notion that what we can see in creative work is far more valid than anything the tastemakers would be able to understand. Indeed, as taste is so subjective what, we could ask, gives the critics and buyers the justification to proclaim one painting or sculpture better than the other? Was Brian Sewell really any more acute than the man in the street when it came to deciding how one daub could be worth millions, while another was the efforts of a talented amateur? Or even, an untalented amateur, or worse, an untalented professional?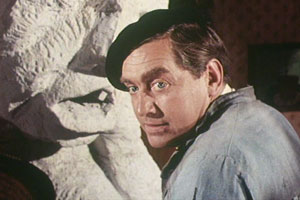 Look to how artists are depicted in fiction, as opposed to Charles Laughton finding the soul of Rembrandt, and the seeds of that suspicion were sown early. Take Lionel Atwill in The Mystery of the Wax Museum, whose creations may be carefully manufactured, but are also the evidence of utter madness since he uses dead bodies as the basis of them, a premise that would endure through to Herschell Gordon Lewis' Color Me Blood Red or Boris Karloff in Cauldron of Blood, or even Mike Raven in Crucible of Terror, the idea that such impulses could be perverted into madness, murderous madness at that, was a potent one. But even if the artist was not compelled to kill, cinema wasn't entirely convinced by their antics, exhibit one being a film that plenty of genuine artists like a lot, the Tony Hancock comedy The Rebel where The Lad Himself was moved to take up his brushes and express his muse.

Going on the premise that inside even the most mundane of men there beats the heart of a potential talent, and then calling that into question for comedic purposes, Hancock and the writers of his hugely popular radio and television show, Ray Galton and Alan Simpson, set about dismantling the art community by placing him in the middle of it. He begins the film in a caricature of the dutiful businessman, taking the train every morning with a host of identically-dressed commuters, bowler hats and brollies to the fore, but after being sent into a frenzy by the monotony of it all, attacking his boss (John Le Mesurier) in the process, he decides to up sticks and head to France, Paris in fact, where he feels he will be appreciated. But early on his pretensions are exposed for the sham they are by his landlady (Irene Handl) who is horrified at his unintentionally monstrous sculpture of Aphrodite at the watering hole ("Oh, you poor man!").

However, on arriving in the French capital it becomes clear who the targets really are, those who genuinely believe Hancock has a point and his work is as valid as theirs. He wanders into a café on his first evening there and meets a group of art students, specifically Paul Massie, who make claims like any art loses its worth the moment mere money is brought into the equation, but Massie likes the cut of his jib and invites him to stay with him in his studio. The joke being, Hancock's paintings are absurdly awful and Massie's are of real worth (funnily enough, they were all painted by proper artist Alistair Grant), but the students believe it's the other way around since Hancock talks the talk. At yet another remove, however, we note even that talk is a load of rubbish and you'd have to be pretty naïve to buy into it, which rendered the film's depiction of the unavoidably pretentious followers of fashion not only scathing, but rather bleak as well, since if they cannot know the difference between the good and the bad, what chance does anyone else have? That said, there is one character who can do so, and he was the agent played by George Sanders.

When Massie returns to England, Sanders arrives at the studio to see what the buzz was about and recognises his work as of high quality, but is under the mistaken impression that they are Hancock's (another dig at the blinkered society it shows up). He does however prove he has some sense when he rejects Hancock's doodles outright, much to his consternation, but you can see where this is heading as our hero becomes the toast of the upper classes who snap up the artworks because they believe them to represent great wealth, and as they can afford them, they are status symbols, something the film gives very short shrift. From the blue haired beatniks who lament about people all looking the same when that's what they do, to the rich who hope for prestige by association with the creatives, nobody was safe in The Rebel, which appeared to voice what most people were thinking about the whole kit and caboodle: it was a farce.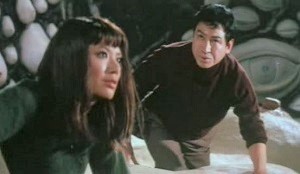 But that was more modern art that was their target, the idea that if you didn't understand it, then it must be really good. The idea that artists are in fact a bunch of pervs using their vocation to get a good look at naked bodies under the guise of capturing them in oils or clay or whatever is a prevalent one, and one film would seem to encapsulate that more than many others. Take a look at Jacques Rivette's La Belle Noiseuse, a four hour epic of intimacy between a painter (Michel Piccoli) and his model (Emmanuelle Béart), placing the process under such an electron microscope that we get to understand the motivations for both of them in pinpoint detail. Then take a look at the flipside of that, and the theme that most of the great unwashed would adopt as a reasonable interpretation (or so the anti-culture brigade would have us believe): Japanese director Yasuzô Masumura's Blind Beast, where the sculptor in question is an absolute raving deviant.

Masumara wasn't going to leave it at that, so his film contains various shadings between the relationship between the artist (Eiji Funakoshi) and the model (Mako Midori) he kidnaps to be part of his grandest project yet, but what most audiences would take away from watching it would be that the creative impulse had driven at least three people - the sculptor's mother (Noriko Sengoku) was the only other character - utterly insane. We are introduced to the madman when he is feeling up a statue of Midori at a gallery showing adorned with bondage-style photographs of her, once again steeped in the idea of artists being sexually a bit off, and she witnesses him getting his jollies not realising he cannot see. When her regular masseur is off sick, a blind stand-in arrives at her apartment and, yes, you're ahead of me, he's actually Funakoshi, and he and his equally twisted mother proceed to chloroform and drag her to their warehouse.

Now, this warehouse contains some of the most memorable set design ever witnessed in a horror film, as the vast walls are decorated with representations of female body parts, from eyes and ears to legs and breasts, as the sculptor believes he can introduce a new form of art into society where touch has replaced sight. This hasn't stopped him objectifying women, he simply does so with his hands instead of his eyes, a spot of social commentary brought in by Masumara, here adapting a story by Edowaga Rampo, the Japanese master of horror literature, though it's his view of those who devote their lives to manufacture of objects supposedly pleasing to the eye that was most telling - presumably that would include filmmakers as well, but that was ignored as the artists were exposed here. By the end of the film, the model - who was accused of association with fine photography purely for greed and fame - is displaying a spectacular case of Stockholm Syndrome and the mania has proved infectious, not to mention sadomasochistic.

But ever since Marcel Duchamp unveiled a public urinal in 1917, signed and renamed "Fountain", it is the modern art world that has borne the brunt of the criticism that nobody involved really knows what they're doing, and if they do then it's one big joke at the expense of those who take it seriously, the movies have been only too happy to promote that opinion. Interestingly documentaries became more important here, with such efforts as My Kid Could Paint That, a story of a small child whose paintings became possibly fraudulently held up as masterpieces, or more pertinently the film endorsed by radical graffiti artist Banksy, Exit Through the Gift Shop, which invited us to wonder if anyone we saw in it was genuinely on the level or not. As a spoof of both that sort of conundrum-courting there came in 2016 the Bristol-based mockumentary The Art Bastard Show, which purported to follow three talents from that region of Britain as they set about preparing for a new exhibition its organiser claimed would take attention away from London at last.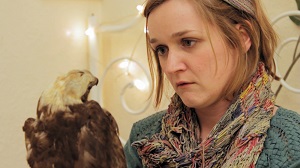 Naturally, none of this goes to plan as the supposed solidarity between the members of the scene as chosen by the curator is practically non-existent. To sum up three variants of the modern art world as viewed from the early twenty-first century, we were presented with a conceptual artist, whose main medium is masking tape and is selling balls of the stuff for thousands of pounds because there is a secret object inside; a folk artist who specialises in taxidermy and takes her inspiration from long wanders in the local forest; and a graffiti artist calling herself Vaj who is obsessed with women's genitals and placing stencils of them across the Bristol area, completely illegally. This last was obviously a spoof on Banksy, though she promotes herself as the first female graffiti artist which may be correct, but it gives you an idea of how pointed the satire was in a film that, as it lasted just under an hour, would not have been out of place on BBC Four.

But not as a comedy show, as a serious documentary, as the arena it depicted was worryingly convincing, at least from an outsiders' perspective, as those on the inside may have found it cutting a little too close to the bone. You could observe that by studying their subject as closely as they had they were having their cake and eating it too, since without the basis in the real thing The Art Bastard Show would not have rung quite as true, but there was nevertheless a grudging affection for at least two of its characters. On this evidence, they had no time for the conceptual, not on this basic offering at least, as that artist is exposed as an exploiter of anyone who takes him at face value, but the folk proponent was gentle and sweet, if somewhat off her head, and the graffiti sprayer did have her own integrity and philosophy behind defacing buildings, plus she shows up the conceptualist as the sham he is by the end. Yet after all this, after over a century of modern art being sent up something rotten in movies both serious and spoofy, we were never any the wiser at how to react to it without some expert guiding us, and we would accept or reject their advice as far as we saw fit. As long as no real artists were resorting to murder, we could probably live with that, the artists did make life more interesting.

Click here to watch The Art Bastard Show for free.