Split into four films, American Epic highlights a slice of American music history seemingly lost until now. The first three films take place in the 1920s spanning the United States from New York to Oahu and tells stories of 10 diverse musicians and families in an era when U.S. record labels explored rural America to find new audiences for music, and recorded various forms of folk, blues, country and regional songs. The talent represented completely different cultures and styles including Hopi Indians, Mexican Americans, and Cajuns.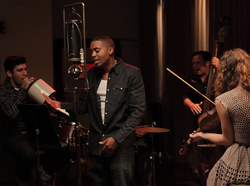 The final film spotlights the rebuilding of the original record recording machine used to capture the songs of these musicians and recreates sessions today to what those sessions would have been like with all of the machinery.

At the 2016 Sundance film Festival, I sat down with director Bernard MacMahon to discuss American Epic.

Q-In combining the elements of film and music how do you best blend the two mediums?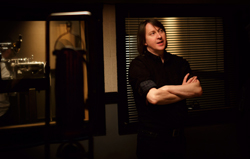 A-Film is my favorite medium because it is the ultimate blending of all of the arts. It's a blending of painting, perspective and structure, canvas in the framing of an image and your composition. Dialogue as in the theater. Music is the fundamental ingredient in filming. Most films take the score out as it is driven by the music. You look at a film like Dances with Wolves and you remove John Barry's score if you were to do that then it would be really interesting to watch how that film played. Directors work with the score and the score if often the engine that is driving the film. Its basic work that great art that combines all of the skills of the other arts all into one. This is probably one of the best vehicles you have for doing this.


Q- A documentary filmmaker once told me that editing was the most important part of their film. What was the most important part of your film?

A- The story. The pure story. Being as open to the true story as possible. Doing everything in one's power not to take the elements you found and to not build your own truth out of it. But to seek and seek and seek until you feel that you have the absolute truth. That to me is the most important thing. The greatest pleasure, and editing is crucial in this, is when the finished film ends up resembling the story boards that you make a year and a half ago even though you have forgotten about that story board.


Q- When people see this film 50 years from now what do you hope that they will get from it?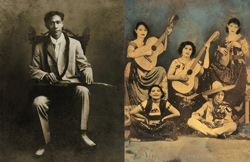 A- It's been my sincerest hope and endeavor that people watching in 50 years time will get exactly the same thing out of it as people watching it now. Except what I would like to imagine may happen is that in 50 years time we will be able to look back on this film and also see the full arc of what is happening now after it has taken place. I imagine that history will repeat itself.

Q- If you could have included someone no longer living who (or what group) would that have been?

A- This period of American history has been until now virtually a complete mystery. We know about as much about Troy or Atlantis as we do about this period. No photographs survived, no film footage survived until we started putting this together.

I would probably talk to one of the recording engineers that was involved in these sessions who met many of the different artists. Perhaps someone like Elmer Raguse who was present at many of these recording sessions and who would have met a lot of the artists but who also knew a lot of the mechanics of how the thing was done, what they were doing, what they did, why they did it. Someone who had a perspective on the whole thing.

Q- Besides this film what music documentary do you think made the biggest impact on society?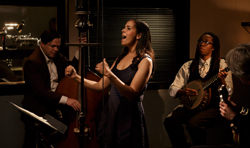 A- Some of the early rock 'n roll film that nobody really talks about anymore. Like Rock Rock Rock! with Little Richard and people like that in it. These are 50's films that would feature some of these musicians like Jerry Lewis, Little Richard. These movies, I don't think that they are ever screened now, but they were watched by millions of people, thousands of films started bands and a small number of them started bands that became popular like the Beatles. Those films were the only medium that a lot of these people saw this music so we forget now that people flocked to the cinema to see this kind of stuff.