As with the Western, the demise of the movie musical was overstated for they continue to be made to this day, but there was an undoubted decline from somewhere in the nineteen-seventies as productions attempted to outdo each other and supply spectacle, bigger tunes, bigger setpieces and bigger emotions. It's telling that one of the biggest musical successes of the decade was Cabaret, which was not aimed at family audiences and by delivering a grimmer side of life leavened by ironic commentary from its songs, it came across as a lot more substantial than the bloated mega-musicals that happened along in the wake of one of most major in the style, The Sound of Music. Yet while audiences flocked to see Julie Andrews for three hours as a wholesome nun, they certainly weren't interested in her interpretation of Gertrude Lawrence in Star!, and neither did they have much time for seeing stage success Hello Dolly! on the silver screen.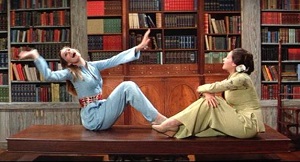 As for Song of Norway, forget it, but at this point in the early seventies, it seemed as though there was still time to salvage the classic showtunes-packed musical, that was until super-producer Ross Hunter threw his hat into the ring with a 1973 version of the Frank Capra fantasy favourite from the thirties Lost Horizon. It sounded fine on paper: an all-star cast, lavish sets and beautiful locations, a score penned by Burt Bacharach and Hal David who had been one of the most successful songwriting partnerships of the sixties, but somehow when it landed in front of audiences, they turned their noses up at it. The reasons were manifold, for a start it was cheese central, with the plot centring around a mythical land called Shangri-La where the ageing process is slowed to a crawl apparently depicting the sort of idyllic emptiness a Scientologist or Unification Church promotional film would have been comfortable in trumpeting.

Once the band of outsiders make their way to the paradise on Earth, amid the mountainous regions of Tibet, the whole story stalled to take in those musical numbers, of which there had been none for the first forty minutes, but boy did they make up for that as Peter Finch and company wandered their way around various singing and dancing extras (some very camp indeed) and joined in too, finding the love that they had not before they had arrived. The trouble being, Bacharach and David were well and truly at the end of their tether by this time and their score was perfunctory, just for the salary muzak at best, with Liv Ullman miming to such clunkers as The World is a Circle as little kids frolicked about her, leaving only those who insisted on the blandest, least offensive entertainment finding anything worthwhile in it, and if there was a hefty dose of seventies self-help, self-actualisation message making present, the vaguer the better, then that would be splendid, thanks.

The sad thing was, as Ullman observed when Lost Horizon swiftly departed cinemas leaving little but a feeling of indigestion of the mind - and a lot of backers without a substantial return on their investment as promised - the production had had a lovely time making the film, yet somehow while you could discern everyone involved were enjoying themselves, that didn't translate to the audience who sat bored through second hand sentiments and routines, assuming they even attended in the first place. But the fact was the world was moving on, and what was expected in music had moved on with it, therefore the pop musical or rock opera was more fashionable, with Jesus Christ Superstar or The Who's Tommy the sort of thing the younger moviegoers were more interested in, not something that developed the universal appeal Hunter and company were aiming for. That there was a TV special to advertise Lost Horizon was fitting, as the entire thing looked like one of the decade's variety shows somehow escaped from small screen to Panavision.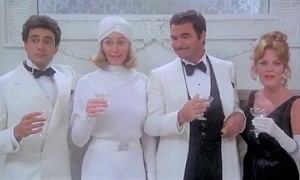 As if that wasn't bad enough, the era had worse in store with a deliberate tribute to the old time musical in Peter Bogdanovich's At Long Last Love in 1975, if anything an even bigger flop than Lost Horizon that continued the trend of stars embarrassing themselves when asked to sing and dance (to Cole Porter in this case). That the director thought it was a good idea to have them all sing live made you thankful for the art of dubbing, but really this was more proof the world was moving on, and while music was still welcome in the movies, the contemporary audience was seeking contemporary tunes, which brought us to John Travolta's double whammy in 1978, Saturday Night Fever and Grease, all showcasing originals and supplying the world with huge singles and album sales, not to mention masses of radio and television exposure for the most preferred hits. Obviously, a new trend had descended on the movies, but at what cost?

Meaning, a plethora of movies tried to leap aboard that bandwagon only to topple off with alarming regularity. The Wiz, a black version of The Wizard of Oz, was a disaster when it moved from stage to screen with a curiously downbeat presentation and Diana Ross far too old for her role as Dorothy (Michael Jackson was plastered with makeup as the Scarecrow, of course), though at least people bought the soundtrack, as they did with Olivia Newton John's roller disco follow-up to Grease, Xanadu - but hardly anyone went to see the movie, at least an improvement on Olivia's Toomorrow from the start of the decade where nobody bought the music either. Linda Blair had a go at popularising the potential of such an establishment in Roller Boogie, another dud, and The Bee-Gees (with Peter Frampton) tackled a collection of Beatles songs in the dreadful, blatantly opportunistic Sgt Pepper's Lonely Hearts Club Band, whose profligacy was only matched by its conceptual hopelessness, though again, the soundtrack sold better to an extent.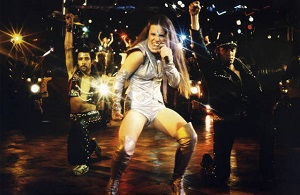 One thing all these films had, well, most of them, was that in years to come they would turn into cult movies, but no rock musical quite had the journey from despised relic to obsessed over artefact than Menahem Golan's The Apple did. Supposedly based on another failure, The Rocky Horror Picture Show (itself the epitome of the rediscovered cult movie) and was barely released in 1980 (reportedly the premiere audiences threw their free copies of the soundtrack at the screen in disgust), it was mentioned in whispers by those few who had actually witnessed it until the twenty-first century when special screenings built a following, and the craze for reviving Cannon-produced movies came into being. It was intended as a religious parable with popular music, but the religion was confused at best, not to mention thoroughly tacky in execution and the plentiful music was tackier, threatening to be catchier than it actually managed, detailing a threat to mogul villain Mr Boogalow (Vladek Sheybal) in the shape of wholesome singers Bibi (Catherine Mary Stewart) and Alphie (George Gilmour - who understandably disappeared from view immediately afterwards).

Boogalow gets Bibi in his clutches in typically Faustian fashion while Alphie rejects him and gets stuck in a dystopian hell until he falls in with a band of hippies in the last act. He also gets landlady Miriam Margolyes in his clutches as he cops a feel in one scene that would stand out as utterly misjudged if it wasn't set in the rest of this completely hamfisted attempt to woo the youth market; you've rarely seen something so wholly garish and patently, wastefully expensive that nevertheless kept you glued to it simply to see what fresh lunacy they'd invent next. Filmed in Berlin to take advantage of futuristic architecture - and generous tax breaks - it was packed with none more 1980 dancers, a bizarre preoccupation with stripping the male leads to their skimpy underwear and a whole interlude with transvestites that segued into a song called I'm Coming where chanteuse Grace Kennedy made it plain what she wanted to do with Alphie. When religion reasserted itself at the end, the effect was bemusing to say the least.

So that's what the upstarts were trying, but in among your The Music Machine or Can't Stop the Music, was there room for something more... traditional? Should we have been looking to Disney? They had been attempting to keep the family interest alive in the genre with such works as Bedknobs and Broomsticks or Pete's Dragon, but while all the disco and rock and pop musicals were happening, they teamed up with Paramount to make a version of the famed Fleischer Brothers' cartoon Popeye. Or rather, they didn't, as everyone was expecting them to base the would-be blockbuster on that, but the production instead went back to the E.C. Segar comic strips of the twenties and thirties to draw their inspiration. So with the television cartoon The All-New Popeye Show on rotation across the world, and voiced by just about original actor Jack Mercer to boot, when the movie was released it was met with bemusement - what had they done to the famed sailor man? Why wasn't he as the general public would recognise him?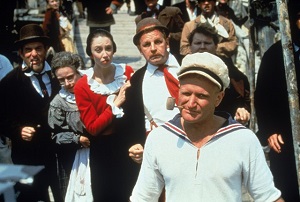 Perhaps they would have been better making a cartoon feature instead - was anybody clamouring for a live action Popeye? - but they cast rising star Robin Williams to mutter away in the title role, and hired respected director Robert Altman for the helm. He brought in the genuine casting coup, Shelley Duvall as Olive Oyl, a perfect incarnation of the classic character both physically and vocally, and when your Popeye movie was stolen by Olive then you could see there were problems. In actual fact, unlike many of the films in this article, the results were not a total wash-out, as it did make a small profit, just not enough to justify the investment of two studios, and like these others it had generated a cult appreciation. That said, it's really not that great, Altman was all wrong for this, his heavily improvised style suffocating what should have been light and airy not to mention action-packed, which it was not, more keen on framing Harry Nilsson's songs which had some charm (He Needs Me turned up in Paul Thomas Anderson's Punch Drunk Love), but had no showstoppers and were upstaged by the famed theme at the end.

From then on, big budget musicals were assuredly on the wane, with only one last gasp in Annie two years after Popeye. Again, this seemed like a sure thing, based on a stage success and the appeal of watching juvenile performers had been proven with Bugsy Malone in 1976, Paul Williams' incredibly catchy score lipsynced to by the young cast. But there was something overbearing about the idea this time, with overacting from just about everyone in the cast, and shrill little girls are not going to endear themselves to many potential audiences. The film failed, as did efforts such as Olivia Newton John and John Travolta's reunion Two of a Kind and Travolta on his own in the ludicrous Sylvester Stallone-directed sequel Staying Alive, so it seemed as if the big screen musical was more or less relegated to gimmickry like Cannon's Breakin' movies. But on stage, business was booming, and it was only a matter of time before that would develop into other areas; when Disney made their animation comeback in the nineties with The Little Mermaid and Beauty and the Beast, audiences got more used to the idea of characters singing, with Chicago winning an Oscar early next century. And yet, there is still resistance (Sweeney Todd's advertising infamously didn't mention it), and for that we can blame the mistakes made decades before.