By the nineteen-eighties, the popularity of horror fiction was well-represented in both books and film, and one tended to feed upon the other as producers and studios hungry for ideas would raid the publishers for material. This had resulted in big hits like The Shining and The Howling, but there were also a number of titles which did not catch on, at least not straight away, and The Keep was one of those. Director Michael Mann sought to follow up his success with the crime thriller Thief with a complete change of direction by trying his hand at chillers, and on reading F. Paul Wilson's excellent 1981 novel, he knew he had something that could be really special, not just some crowdpleasing special effects fest but a picture with a message and point of view that offered it far more depth than most of its rivals.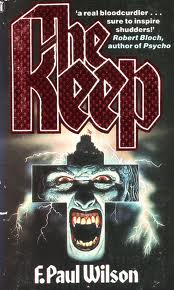 You probably know the rest. After shooting, the film came apart in the editing room and Mann was so displeased with the end result that he disowned the whole project, which received a perfunctory release and critical and audience confusion as a reaction. However, whether it be the quality of Wilson's source or the downright oddness of what it brought about, it did find a following on video, and once Mann was making waves on television with Miami Vice it was reassessed as the efforts of a major talent that had been unfairly treated, neglected even. It wouldn't be the first horror movie to try and class up the genre, as there were versions of Peter Straub's Ghost Story with its respected cast, Angela Carter's fairy tale retellings in The Company of Wolves, or Alan Parker's slick recreation of William Hjortsberg's Angel Heart (or Falling Angel as it was originally called).

Indeed, Mann himself took Thomas Harris's intelligent, meticulously plotted serial killer shocker Red Dragon and turned it into Manhunter once his television success was giving him the chance for more freedom in his choice of work, though ironically that, like The Keep, took a while to settle down as a cult favourite even if the director's style was as much in evidence. With the Wilson novel, the author's scholarly approach to a yarn of the evil of the Nazis meeting an evil far more ancient and even more dangerous had been tempered by a pageturning delivery that sustained a riveting read, but with the movie, which he disliked as much as the director did, Mann dressed it up in his moody visuals and so much dry ice that the results were steeped in early eighties pop video imagery as much as they were anything of the source's musing on myths and the definition of evil.

In addition, there was the sound of the thing, for Tangerine Dream already by that point spread themselves thinly as far as their soundtracks went, and a sticking point with the film's fans ever since as those synths fixed the action squarely in the eighties despite telling us this was 1941 we were watching. An orchestral score might have made the drama more, well, dramatic and be less distracting, though with electronic horror movie music making a comeback in the twenty-first century, albeit in the John Carpenter mode rather than the Tangerine Dream one, it could be The Keep's keening keyboards' time had come. But that wasn't the only issue, as the cast were deploying a range of accents and you don't know distracting until you hear Sir Ian McKellen as a Jewish Romanian professor of history drawling in an American cadence.

Gabriel Byrne's German accent needed some work too, at times sounding posh English, but the fact that many of the cast, including Robert Prosky as a local priest, spoke in American tones just didn't sit well with the rest of it. Which brought us to Scott Glenn, the most baffling character for audiences back then, playing a mystical warrior with purple contact lenses who sets off to do battle with the demon Molasar once it is set free from its prison in the titular keep. He was offered so little explanation that he could immediately have sex with the sole female character of any note, the professor's daughter (Alberta Watson) who looks after the old man, within seconds of meeting her and we were meant to take that in our stride; some would query they didn't care how mystical he was, they would prefer a nice meal first.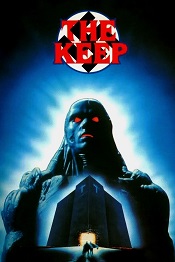 Or even conversation. Mind you, these attempts to conjure a sense of mystery in the horror fiction of the era didn't always come off, more suited to the page. When Disney gave Ray Bradbury's classic Something Wicked This Way Comes a go in the eighties, the consequences were something so lyrical that nobody would be scared of it, hence a bunch of reshoots to beef up the terror angle, which even then fell rather flat when they stuck out like the proverbial sore thumbs. Clive Barker, the decade's big new name, struggled with a couple of poor incarnations of his scripts in Rawhead Rex and Underworld until he enjoyed a hit with Hellraiser, taken from his novella The Hellbound Heart, unleashing Pinhead and a slew of sequels on the world, paving the way for horror to be rebranded "dark fantasy" for the more pretentious reader.

When Hellraiser's exquisite torture-accessing Lament Configuration Box was a joke on Scooby-Doo cartoon Mystery Incorporated, you knew Barker was part of the pop culture landscape after all, though not as much Stephen King, whose books and short stories were snapped up in a way that many popular writers were not - even Barker's apparently movie friendly Weaveworld languished on the shelf whereas lesser King works like Children of the Corn, Silver Bullet and Cat's Eye made profits at the box office. Carpenter himself directed King's killer car opus Christine as a job for hire, but made a very decent fist of it, and at this point material such as rabid dog thriller Cujo or icy zombie family ruminations Pet Sematary were cementing the author's name as synonymous with the genre both on screen and in the bookstores.

Compare that with Shaun Hutson, whose brazen pulp Slugs was adapted to the screen in Spain to be one of the most unintentionally ridiculous shockers of the day (exploding head of slugs scene intact, if you wondered), or James Herbert, who saw his groundbreaking nature on the rampage bestseller The Rats become embarrassing dachshunds with fangs Canadian mediocrity Deadly Eyes. Wilson should perhaps count his blessings that someone, at least, appreciated The Keep, and as much for its narrative properties as its director's abilities, though many of the most intriguing elements of the book, such as the professor's fear that the keep's decoration of metal crosses in its walls indicated Christianity was holding Molasar within, and his Judaism was fundamentally misguided - though his decision to help the demon destroy the Nazis when his reign could be all the more dreadful comes across as shortsighted to say the least in the movie version. What you were left with was a mood piece that sustained some attention even if its artistic success remained frustratingly out of its grasp.

But as the nineties dawned, filmmakers didn't give up on the printed page by any means, King continued to bloom - Misery even garnered an Oscar for Kathy Bates in the villain role - Barker found his endeavours thwarted with Nightbreed, from his novel Cabal, and Harris's Silence of the Lambs arguably changed the style forever once Jonathan Demme and Jodie Foster joined forces to fashion a blockbuster. Those that have not been adapted are as interesting as those that were; we are still waiting for the definitive Ramsey Campbell movie (The Nameless hardly counted), T.M. Wright's A Manhattan Ghost Story could be a classically refined chiller, James Lovegrove's shipbound endless voyage The Hope could revive portmanteau horror, Kim Newman's Anno Dracula series is the next great franchise if anyone adapted it, Tim Powers' The Anubis Gates would be a historical epic of thrills, Katherine Dunn's nightmare carnival Geek Love could be electrifying and Iain Banks' The Wasp Factory has the potential to be a stop motion animated creepfest. Then again, when you see how easy it is to mess these things up, a healthy scepticism of their potential may be in order.

[The Keep isn't available on DVD or Blu-ray because Michael Mann forbids it, he really doesn't like it at all. You may be able to catch it on a TV showing or on selected digital streaming platforms, however.]