Time was when adapting a horror novel into a film meant digging back to the classics, or at least the fairly well-thought of, so the big movies of the early years of the genre tended to be crafted from recognisable texts like Doctor Jekyll and Mister Hyde, The Phantom of the Opera, Dracula, Frankenstein and the like, just to give the somewhat disreputable business of scaring your audience that sheen of sophistication, even class. Which brought us to Peter Straub's well-regarded horror novel Ghost Story, a self-consciously literary tome that harked back to the classic forms and examples in literature and updated them for what arrived slap bang in the middle of the horror boom of the nineteen-seventies and eighties. And one indication you had made it as an author would be your hit novel adapted for the big screen.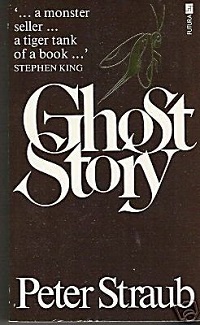 Or even the small one, but you could get away with more at the cinema where censorship was less restricting, thereby giving work to the burgeoning field of special effects and make-up which adorned the chillers of the era. What was notable was that these were contemporary efforts, so if a book had sold enough copies the chances were it would be optioned by Hollywood, always in search of a new hit; Straub's breakthrough material ticked the boxes of popular appreciation and more highbrow assessment, as while Gary Brandner wasn't going to be reviewed in any high-falutin' journal of academia, never mind a broadsheet critics supplement, Ghost Story had enough of a serious intent to appeal across the board. Though that was not to say it was somehow apart from the rest of the new wave movement of the era.

Indeed, the sex and violence was very much present, and horror fans could get a thrill from reading the tale of a succubus returning time and again to victimise a town and its connections knowing the literati were appreciating it on their level too, it was as if something subversive had been smuggled into the establishment. Even with Stephen King, at that stage the highest profile of the fresh talent in the arena, there was not the sense that he was awarded that acknowledgement, though it was true Straub's prose was far less plain and to the point than King's was. But he had seen his first success, an unassuming tale of a psychic girl bullied into horrific retaliation by her school called Carrie, taken to the screen by director Brian De Palma and become one of the defining movies of the new wave of movie horror, and Hollywood took notice.

Of course, this didn't happen out of nowhere, as there were some major precedents. Shirley Jackson's The Haunting of Hill House was among the opening stirrings of this style, still a respectable ghost yarn but not afraid to put the wind up the audience in a way that a few years later Roman Polanski's version of Ira Levin's Rosemary's Baby became a sensation, in turn paving the way for William Friedkin's hugely influential The Exorcist, drawn from William Peter Blatty's equally popular novel. Even then there were other trend followers taking recent novels and making more modest productions out of them: Richard Matheson's Jackson take-off Hell House made it to the screen and proved memorable, while Robert Marasco's Burnt Offerings illustrated how difficult it could be to capture the essence of what was effective on the page with its adaptation. Some seemingly obvious choices, like Anne Rivers Siddons' The House Next Door, didn't even appear in the movies.

But Ghost Story did, and appeared to be a sure success in the planning considering how much of a following it had. This was where screenwriter Lawrence D. Cohen hit a snag; he had written the script for Carrie and found himself the go-to-guy for refashioning books of chiller material, but Straub's accomplishments were so intricate, so heavy with detail and intertwining plotting, that they would be impossible to faithfully recreate in a two hour long movie. Thus he found himself between a rock and a hard place: he would have to simplify the text, and in effect invent a whole new story using elements from Straub, hence satisfying neither the readers nor the moviegoers because the results fell betwixt two stools. This proved a major headache for him, especially as he loved the source so much.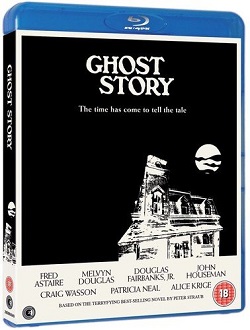 And so it was when this arrived in cinemas, Straub's work had been so widely enjoyed that the problems the production had suffered - in adaptation, not in actually shooting - were all too clear to see, with the succubus now the spirit of a vengeful murder victim who is out to get those she feels wronged her, in its way looking forward to a bigger movie of the eighties, Wes Craven's A Nightmare on Elm Street. What was curious were those victims, for they were played by some of the most respected old men of the theatrical professions still around in 1981, Fred Astaire, Melvyn Douglas, Douglas Fairbanks Jr and John Houseman, who most recently had introduced John Carpenter's The Fog. This prestigious cast, along with a briefly seen Patricia Neal, were a conscious attempt to bring the class of the novel to the movies.

But it didn't quite work out that way when most viewers wondered what performers of their calibre were doing debasing themselves in a low rent entertainment, no matter how accomplished they had been in their roles (and Astaire was particularly poignant in his final film). Nobody wondered that about the actual leading man Craig Wasson, playing a stand-in for the book's ostensible hero, and introduced to the story as his twin brother, crashing nude through a skyscraper window then plummeting full frontal naked to his death. If you'd ever enjoyed Fred and Ginger in their classic musicals, or even more recently Houseman in The Paper Chase, you would likely have found this sight so tasteless it would put you off the rest of the story, and if you were a more seasoned horror aficionado you would have already read the book and be baffled at what they were doing to it.

Of course, lurid elements had become par for the course in horror novels by then, no longer were the potboilers of Dennis Wheatley the benchmark, and it would be difficult for movies to accurately depict such hit books as Mendal Johnson's Let's Go Play at the Adams', where a group of children torture their babysitter in revolting ways, or the work of James Herbert, whose The Fog had a chapter where a crazed gym class chopped off the erect penis of their more than willing teacher while under the influence of the titular gas. Never mind now, even the most gruesome video nasties to be would balk at much of what was going on in the paperbacks passed around between teenagers and workmates, getting their kicks out of the most extreme material the authors could dream up, and to plenty of sales.

Aside from Wasson in all his glory, Ghost Story had a Dick Smith creation for the jolts, every so often showing up as a decomposing corpse to give the characters a terrible fright but not much more than that, though she did have a couple of henchmen in a pair of psychopaths, one a small boy, who we're told had escaped from an asylum. When she wasn't dissolving, our ghost was played by Alice Krige, a South African actress now possibly best known as the Borg Queen from Star Trek: First Contact, but here being very self-possessed as the otherworldly woman who has two identities but the same personality. Rendering the novel's villainess in far less complex terms was not all that was simplified, as the snowbound weather that echoes her threat to the characters, even to the extent of destroying their homes, was merely a backdrop to the various shenanigans the four old geezers were stuck with.

And yet, there were still moments which indicated where more time and redrafting might have saved the enterprise. It's true enough watching the now elderly stars make their way through the frozen landscapes does cause concern, even if that was down to worrying for the health of the actual actors in those conditions, aware that filming in chilly conditions was what put paid to Boris Karloff around ten years before (and casting ageing horror stars could have been more appropriate, better than Pete Walker's House of the Long Shadows anyway). Also, the scenes where the club of friends sit around telling ghost stories to exorcise their guilt were nicely atmospheric, suggesting the style of the BBC's Ghost Stories for Christmas of M.R. James tales would have been a very decent guide. But of course, this was always going to be in the shadow of another snowy chiller: Stanley Kubrick's version of King's The Shining overwhelmed Ghost Story and showed how inspiration made the difference. King would be adapted many more times; Straub, not so much - a film of his Shadowland could have been a classic in the same way.

[Second Sight's special edition Blu-ray is decked out with special features to accompany a nice-looking and sounding print, with a commentary from director John Irvin, interviews with Straub, Krige, Cohen, producer Burt Weissbourd, matte photographer Bill Taylor on Albert Whitlock's effects, trailers and a photo gallery. It's worth getting this disc for those, offering a fascinating insight into how something like this was made.]