Not everyone likes being told what to do, when to do it and the method to use, even if it will do them good, so for public information films there is an obstacle to overcome in that they would be playing to a large mass of people who were resistant to their well-meaning instructions and advice. "Tell me something I don't know!" may have been the reaction, or the more modern "Don't patronise me!", but the fact remained officials do have to get their message out to the populace somehow, and a short film became ideal once cinema had taken hold in the entertainment industry. Therefore the obvious thing to do was create a brief item of instruction or warning for a captive audience awaiting the start of the feature they actually were there to watch, among the supporting programmes that filled the spaces between the main attractions.

But finding filmmakers keen to make those shorts was not as easy as it sounded, since anyone serious about moviemaking was going to be wanting to offer the world their masterpiece rather than some effort barely one step below advertising. Therefore there was a gap in that market, and the Central Office of Information were keen to recruit talent to convey their messages with some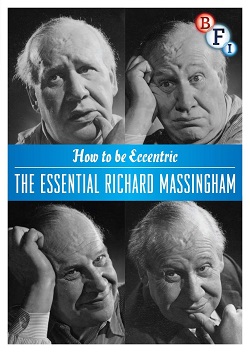 skill, and one of those directors was Richard Massingham. Working more or less exclusively in films lasting less that twenty minutes long, if that, he became a master of his style, eliciting the humour and paranoia that would go on to define the public information film for decades to come, and proving there were some things that never changed, specifically with his work the correct manner to drum into the audience's heads rules to live life by.

He was born in 1898, son of a newspaper editor, though he studied medicine and became a doctor, yet cinema was his true love, graduating from his own amateur shorts to professional assignments. Early items in his filmography included Tell Me If It Hurts, a heightened, almost experimental depiction of a trip to the dentist's that employed his trademark disarming humour, though whether he was intending to encourage regular check-ups for your teeth or put you off attending the surgery until you really had no choice was up for debate. One defining characteristic of most of his approach was that tension between making light of the situation and emphasising just how serious that self same situation could become if left to its own devices. Not that every P.I.F. traded in humour, of course, but Massingham demonstrated its worth.

Come the nineteen-sixties, seventies and eighties, the heyday of the P.I.F.s in the minds of many as they moved to television, the films would often become alarming, all the better to ensure the audience never forgot the message, whether staying away from the Spirit of Dark and Lonely Water or never fooling with fireworks, not to mention your local crime prevention officer informing you if it's easy, it's easy for a thief who can break into your home, or pointing out this man is not drunk, he is suffering hypothermia and here's what you must do. Yet while we think of the information films of the forties, which was really Massingham's golden age, we tend to regard them as stuffy or inappropriately light hearted, and on watching his endeavours you had to admit he had the correct technique down to a fine art, probably because he was so well-versed in cinema in the first place.

Later, twenty-first century P.I.F.s would still employ the shock tactics the seventies had pioneered, warning drivers of what happens when they hit a child with their car, insisting we should be vigilant about child abuse committed by parents or guardians, or demanding we avoid suffering strokes, but Massingham was not above chilling his viewers either, only he performed such messages - and he did often appear in his own work, making him a minor celebrity - with a streak of surprisingly wide-ranging humour. Take one of his most famous shorts, Coughs and Sneezes, which orders us to use a handkerchief when sneezing or coughing lest we spread the germs; it's a very funny piece even today, as exuberant and wacky as it is near-belligerent in its telling off, but as a doctor he was very interested in public health, and one of his post-war potted dramas illustrates in rather more bleakly humorous fashion how easily it is to contract food poisoning from careless food workers.

Massingham made almost a hundred of these enterprises, and most displayed his creativity, be they instructing the wartime rationed audience how to bathe in five inches of water (which he demonstrates by writing the measurement on one foot to make sure he's stepping into a bathtub of the correct amount), or posting early for Christmas (which ends with him decked out in festive decorations), or one of the most durable subjects, crossing the road safely, one which still influences the medium to this day. But he made more whimsical, longer films as well, such as a tale of the life of a suit from its first purchase through its owner's ups and downs until we reach the reason for this story, to point out that old clothes can be made into new ones in a make do and mend tenet for austerity Britain. Then there was a countrywide pub crawl by unseen narrators, complete with the requisite accents, or the account of a house move needlessly complicated by a fussy man of the house.

Massingham even branched out into mental health in one of his most striking works, where the state of the British nation with its mood that nothing is playing out as it should now the war is over and money is short, not to mention services are stretched and people are bad tempered and gloomy, was addressed by showing two drinkers in a pub deciding there was nothing worth living for now and entering into a suicide pact. Only one thing saves them: their rediscovery of their sense of humour, something you imagine the director valued dearly. This use of laughter to get the point across was vital, for as Mary Poppins so acutely pointed out, a spoonful of sugar helps the medicine go down, and we can watch Massingham's expertly deployed message making today with the same reaction audiences of his day would, agreeing he was talking sense and thanking him for the laughs he had provided.

The BFI have released a selection of these films on a DVD (complete with booklet) entitled How to Be Eccentric: The Essential Richard Massingham. It'll cost you FIVE POUNDS IN NOTES! OK, probably a bit more, but it's value for money.