There had been werewolf movies around almost since the horror genre began in the silent days, but the real hit that established a bunch of rules seeming so authentic they became part of the folklore was The Wolf Man in 1941, which set Lon Chaney Jr on a path to playing a whole bunch of monsters whether he was appropriate for them or not. Curt Siodmak was the writer and director we had to thank for that, and once his efforts had proven successful, in the very Hollywood manner that would only continue, a sequel was ordered, pitting The Wolf Man against Frankenstein's Monster (this time played by Bela Lugosi). However, this turned out to be an anomaly in the werewolf genre, sure there were others in Universal's series as they mashed many of their characters together, culminating in the Abbot and Costello showdown, but after that the subgenre tailed off.

And not a wagging tail either, but once special effects really took off in horror movies come the dawn of the eighties, the method of turning people into wolfmen seemed an obvious step to take in pushing at the boundaries of the business. Thus we were blessed with two big hits in quick succession: John Landis' An American Werewolf in London took a tragicomic approach to it scenario, and Joe Dante's The Howling was more in-jokey and straightforward, with a neat line in spoofing the self-help mantras of the seventies. It didn't stop there, as well into the middle of the decade there arrived some lesser films such as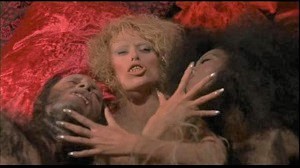 Full Moon High, The Wolfen, The Company of Wolves, Silver Bullet and of course the legendary Teen Wolf, all of which applied the special effects to offer more bang for the horror fans' buck.

Which was all very well, but where there's a hit there's a sequel, and only two of the major works from the cycle of the werewolf earned that: The Howling and An American Werewolf in London (we don't talk about Teen Wolf Too). In 1984, there showed up on the world's cinema screens Howling II, alternatively subtitled Your Sister is a Werewolf or Stirba: Werewolf Bitch depending on where you saw it, the Australian director Philippe Mora's endeavours to cash in on the minor craze - he would carry on in spite of the risible reception this had with Howling III: The Marsupials, and the series would go on and on into the 21st century. When Sir Christopher Lee died, there were many reminiscences from fans and casual viewers alike on their favourite of his most notable roles, yet one film that kept turning up was this dreadful sequel: why was that?

Lee had plenty of bad movies in his filmography, but there's something about his unflappable countenance and demeanour stuck in a motion picture that was so absurdly trashy that made him that bit more endearing. It didn't exactly make the movie any more endearing, which cast him as a variant on his Duc de Richelieu in The Devil Rides Out, the imposing and stately man well versed in arcane matters, only landed him with two cardboard sidekicks (played by Reb Brown and Annie McEnroe) and pitted him against the evil of Sybil Danning's cleavage. Ms Danning, dressed as if she wasn't quite finished with her wardrobe from Battle Beyond the Stars, also took part in the hairiest threesome ever filmed as the producers overestimated drastically the erotic appeal of watching werewolves have sex, but since original author Gary Brandner was well known from mixing horror and the carnal, maybe it was fitting.

That said, Brandner was on record for saying he wrote the first few drafts of Howling II, having had nothing to do with the first one, and then was too busy to pen the final script, so perhaps we should be blaming Robert Sarno who shared the credit. Whichever, this took the New Age lampooning of the original and changed the werewolf society into something akin to Satan worshippers, beginning in California where the brother of the lead from before is approached by Lee's imperious character and told not once, but twice, "Your sister is a werewolf!" There's only one thing to do: no, not go home and stay away from the strange man, but accompany him and a newswoman acquaintance (McEnroe) to Transylvania (so now we're getting mixed up with vampires?) where there will be a big confrontation with Stirba's hairy hordes. Who look remarkably like a bunch of blokes in gorilla suits - stick diving helmets on them and we'd be back with Robot Monster.

As you can tell, this was supremely idiotic, but it captured something about the eighties which at the point Lee passed away was subject of much nostalgia, even among those who weren't there at the time. It certainly had its flat patches where Mora relied on the scenery to keep the interest up, but there was enough kitsch here that proved the common view this decade was the best period for utter trash, something the seventies had gone through before it, and not that far back either, therefore you just had to take one look at the way the dwarf character was treated - eyes exploded by Stirba's magic powers, then possessed and thrown through a closed window to be impaled on a spiked fence below, cheers - and you would be well aware this was prime garbage you were dealing with. And of course it did feature the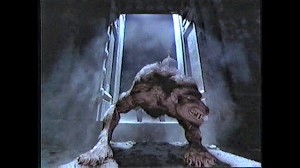 most hilariously edited end credits of its era, possibly of any era, that saw Danning's bosom flashing over and over again, complete with the cast's reaction shots.

If Howling II delivered a look at eighties exploitation moviemaking that spoke to many decades later, An American Werewolf in Paris was less era-specific, with the main signs it was made in the nineties the way it was topped and tailed with bungee jumping sequences and the fact that the werewolves were less rubbery effects work (though that did feature to an extent) and more CGI creations, which given the format was in its relative infancy for supplying the monsters for horror flicks, have not aged anywhere near as well as the effects from the 1981 source. It was 1997, but this sequel had been in production for years, considering a Landis storyline which would have ended with the sight of a chained up Jenny Agutter transforming into one of those beasts, and instead opting for a less eccentric vision that saw less of a fresh take and more of a run through of various points which had served the material well before.

Needless to say, without the panicky humour that was genuinely funny and the concept unafraid to mix that with deeply felt tragedy, the Parisian update hasn't stuck in the collective memory in anything like the same way the first one did. Was it just too long after the fact? Not necessarily as there are a good few sequels which show up far in the future of their inspiration, and not only long running horror franchises either, it was more that they just didn't have enough of a good reason to make it other than the ever-present need to cash in. It flopped at the box office and relegated once-promising director Anthony Waller to obscurity, despite a few films after this, though those were barely seen; a pity when his sleeper hit Mute Witness seemed to herald so much from him. The cast really only had one star, Julie Delpy, who played the French werewolf our American hero Tom Everett Scott falls for.

There were a few tries at joking around, with backpacking Scott accompanied by two pals who act like overexcited puppies, and such would-be comic setpieces as the old "chewing a condom pretending it's gum" gambit, but the harking back to the Landis script simply reminded you how good that was, and how far from perfect this re-do turned out to be. It did share something with Howling II in that it featured a cult of werewolves who wish to take over the world or something (if not, feasting on the flesh of American tourists will do), but while that eighties farce was able to tap into something perversely compelling since you couldn't believe how bad it was getting, here its nineties equivalent appeared to show the way for acres of disappointing sequels, remakes and rip-off that peppered the horror genre for a long time to come. It was goodnatured enough, but ironically lacked any bite.

There's a reason Full Moon High never had a sequel, though you imagine if Larry Cohen had been offered the budget to make one he wouldn't have said no, and Silver Bullet was never followed up either, there wasn't any money in doing so, but there was perceived to be cash in Howling II and An American Werewolf in Paris. There are dedicated fans of the wolfmen and women who will see anything that features the creatures, just as there are with zombie fans, but not many find the ingenuity Dante and Landis did in pouring new wine into vintage bottles, and the genre has lacked a real groundbreaking work since. There's a reason Wolf, Dog Soldiers and Cursed never got their sequels as well (though funnily enough Ginger Snaps, a step in the right direction, did). Could the last word have been spoken back in the early eighties and it's all afterthoughts from then on?