While over in the United States there were a wealth of animation studios jostling for position, in Britain for many decades there was really only one that made much of an impact until Bob Godfrey, Cosgrove Hall or Aardman began to establish themselves on film and television. That pioneering studio was Halas and Batchelor, brought into the world in 1940 thanks to the efforts of the Hungarian John Halas and his wife Joy Batchelor, and over the years they were working they produced around two thousand films and television episodes, not to mention a number of advertising and educational shorts as well. Although there were other companies that would conjure up the occasional cartoon, it was these two who created the great plethora of animation that set the standard for what was to come.

During the first half of the nineteen-forties, Halas & Batchelor produced propaganda pieces for the war effort, and valuable they were too, though after the Second World War they also contributed the Charley series - no, not the accident prone cat of public information film fame, an earlier character who showed the public how to go about modern life now the conflict was over. But they were not content to stay in that realm, and began branching out into more artistic efforts such as 1948's The Magic Canvas, as if nobody was going to take them seriously as a studio if they didn't push for a more highbrow approach than the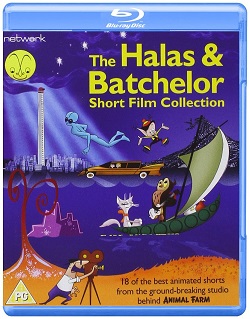 toons out of America, the Warner Brothers and Disney shorts more attuned to a comic sensibility. In that case, the film set a piece of fairly up to date classical music to abstract shapes, including some that looked rather reproductive.

Also in that vein were their adaptations of literary works, like their rendering of The Owl and the Pussycat, Edward Lear's celebrated nonsense poem, indicating that they believed if there was to be humour in these productions, they should be as high falutin' as possible - did anyone really laugh at Lear, even in the rarefied air of 1952? Maybe they did, but the presentation was that sort of after dinner trifle comedy more than anything Bugs Bunny or Goofy would be getting up to across the Atlantic, a more "improving" take on animation, as were other adaptations such as Figurehead, a version of a poem that even in 1953 would be obscure, though the craftsmanship that went into relating the tale of a mermaid who falls in love with a ship's figurehead to the extent of sinking the vessel to be with it always was undeniable, some exquisite model work on display.

However, the tide was beginning to turn as just as the British public viewed the medium as best for jokes and japes, if not entirely kids' stuff, so Halas & Batchelor set about adding more humour. The History of Cinema arrived in 1957, three years after the stern Animal Farm, the first animated feature ever produced in the United Kingdom, and described how the moving image that the studio was so dependent on moved forward in an irreverent but worldly wise lesson which gently indicated audiences were never entirely satisfied unless there was something new to divert them: the short ends with the introduction of widescreen films, which naturally comes across as pretty quaint given what we have now. However, one aspect that they noted well was the emergence of television as a major cultural phenomenon.

So it was that the company branched out into making works for the small screen, creating some of the earliest cartoon series for British television. That said, they always were careful not to close off any avenues of their potential market, therefore the voices they used were often American, as if attempting to fool the cousins across the pond, never mind the kids watching in Britain, that this was pure United States product and as a consequence that bit more interesting. Whatever the motive, it succeeded, and series like Foo-Foo, Snip and Snap and especially DoDo: The Kid from Outer Space were hits around the world, even if they are less well recalled than the similarly-targeted, puppet-based programmes from Gerry Anderson from the same era. Halas & Batchelor didn't only craft these for the children, with more grown up efforts like Habatales (the Curious Ape episode won a prize at Venice) and Tales from Hoffnung, animating the celebrated drawings, very well received.

Come the nineteen-sixties, as well as the business for the box, the theatrical shorts were still being made (in addition to their second feature, Joy's pet project Ruddigore, a Gilbert and Sullivan adaptation), which included possibly their most famous one, the satirical Automania 2000. This posited, half in fun and half gravely serious, what would happen if the obsession with the motor car was going to be taken to its ultimate end, which was to see the scientists (and presumably engineers and manufacturers) developing ever more volumes of vehicles until they have covered the face of the planet and show no signs of abating. It starts off like one of those Tex Avery spoofs of modern life as seen in future settings, but ends up surprisingly bleak and chilling in very much its own individual fashion, the rendering is simple but effective, with no qualms about accusing commercialism as the "driving" force behind rampant technology.

On the other hand, there were also more deliberately charming outings like The Question, which has a little man find a question mark and wonder what to do with it, visiting various leaders of society - religious, scientific, political, military, etc - until he finds the answer to his question about the meaning of life: this being made in 1967 you'll not be too surprised at what that is. As the seventies dawned Halas & Batchelor were still making promotional efforts like BP's Children and Cars where kids' ideas of what cars they would like to create themselves were animated as their own drawings brought to life, but in addition the studio was asked to provide, say, a music "video" of the title tune to the 1976 concert movie The Butterfly Ball, which with its fairy tale, psychedelic Wind in the Willows effects ended up getting more play on television as a standalone piece than the parent film ever did.

But Halas was still wanting to force himself on, and continued in ever more advanced techniques; his accompaniment to Kraftwerk's Autobahn in 1979 is still spoken of as one of the trippiest cartoons ever made, part Yellow Submarine, part futuristic mindbender which in spite of the theme of the song featured no cars (as far as you could discern), simply a little green man in goggles marching, flying and spinning through a landscape of the imagination. Full length version of the tune, too. Then there was 1981's Dilemma, where Halas proved he was still in possession of his pioneering spirit, a computer animated history of the world in ten minutes that pointed the way to where the medium was headed into the twenty-first century, and played a number of cinema engagements in support to science fiction movies, though it was less wham bang and more back to the improving tone of his initial films.

John and Joy died in the nineteen-nineties, leaving behind them a vast catalogue of incredibly diverse entertainment and education. Network have brought out a "Best of" compilation of examples of all the films mentioned above, as well as one of their charming instructional films on flow charts, and a wealth of documentary extras to set the cartoons in context. You can pick them up either on a two disc DVD set, or a single disc Blu-ray.