The sword and sorcery genre that blossomed briefly in the nineteen-eighties took a few forms, but mostly what you'd get would either be set in some desert landscape, or at least some sunbleached region, or it would take a more forestry-based location as its backdrop as befitting the Middle Earth stylings as beloved of various arty-hippy types who had come of age in the sixties and were by then bringing out their own movies. Basically it was Robert E. Howard versus J.R.R. Tolkien, and Howard tended to emerge the winner in sheer volume of productions, possibly because most filmmakers preferred the warmer climate. But as for that medieval, often Celtic approach, there were precedents, though the one most will settle on would not be, say, Robert Bresson's Lancelot du Lac, his austere telling of the Arthurian legend.

Nope, it would be more like what was well and truly lampooned in Monty Python and the Holy Grail, which you might have thought would have seen off the genre with its hearty spoofing of the myths and legends of Merrie England, limb-losing Black Knight and all. But then something interesting happened. George Lucas was preparing his sequel to Star Wars and wanted a short work to accompany it on its general release in cinemas worldwide, and so he asked the art director Roger Christian, who had been awarded an Oscar for his considerable achievements on Star Wars' set decoration and design, to direct a film of his choosing. This meant for decades afterwards, long after the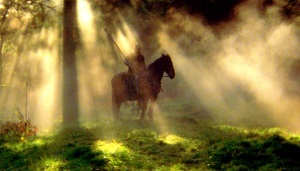 tradition of including a supporting feature in the movies had just about died out, many who had seen The Empire Strikes Back on its initial run had a vague memory of that atmospheric little item about the medieval knight.

Black Angel was the name of that short, and for over a quarter of a century it was believed to be lost, leaving many Star Wars fans lamenting that one piece of pop culture connected to it would never be seen again - and they'd seen the bootleg of The Star Wars Holiday Special, how come that wasn't lost forever instead? Then the word came through that a negative of Black Angel had been discovered in a converted World War II bunker used by the now collapsed Rank Organisation to store its old product, and the buzz was reawakened; Christian had the print restored and took it to film festivals before releasing it for all to see on the internet. He claimed to have been interested in echoing the art of Andrei Tartovsky in it, which was a lofty ambition, and if you actually watched it either through curiosity or nostalgia all those years later, it's doubtful you'd have the profound reaction one of the Russian master's pictures would engender.

That said, it was for what was a low budget effort rather well realised, with some very well chosen locations in Scotland providing a visual grandeur, be they the castle ruins, the babbling rivers or hills and glens all shrouded in a chilly-looking mist. The plot was unlikely to tax anyone much: Sir Maddox the Knight (played by Tony Vogel) returned home to his countryside domain only to find there had been an attack and a terrible plague striking the area, killing almost everyone (which must have saved on extras) and leading him to wander off to see if he could fathom a method of rescuing the situation. Even then, that narrative was purposefully vague, as if gathering up various fantasy clichés, mostly of the Arthurian nature such as a lady in the lake or the Black Angel of the title, a formidable foe the hero must take on in combat, therefore much of the work was delivered through the visuals and atmosphere.

This might have stayed a simple one-off if it had not been for John Boorman. He had been preparing a version of the King Arthur tale for some time, his endeavours to bring Tolkien to the screen having foundered, and when he saw Black Angel he was inspired, screening it for the crew of his Excalibur film to show precisely what he had in mind for his vision. You can see that while he had a larger budget than Christian, there were similarities, not least because Trevor Jones was hired to provide the music score for them both, but more than that the sense of landscape was very important indeed, in Excalibur's case not Scotland but the much the same Ireland where the director had made his home. Unlike Black Angel's sort of-legendary allusions, this really was based on the classic account of King Arthur as penned by the roguish Thomas Mallory while he was in prison, and that tone of capturing the myths was patently vital.

However, so sincere in bringing its tales of centuries ago to the screen was Excalibur that it has been the source of wildly differing views ever since, with even Arthurian buffs unable to agree on whether Boorman had managed to accurately recreate the account on the page in film form. What most took away would be selected scenes, as it was notoriously hard to follow if you were not entirely familiar with the source (seeing Disney's The Sword in the Stone when you were a kid didn't really count). Therefore this became that movie where Gabriel Byrne shagged a woman while wearing a suit of armour that ended up with a bunch of Knights of Olde England strung up from a tree so that crows could peck out their eyes, but obviously there was more to it than that as there was still the fact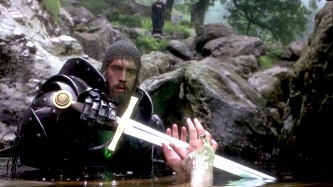 of the cast to be taken into consideration, especially the dream team of Nicol Williamson as Merlin and Helen Mirren as Morgana.

Williamson was cast at Boorman's insistence, and his interpretation here turned out to be the role he is most known for since his death, never mind his equally forceful performances in the theatre which you would imagine he would prefer to be remembered for. Always something of an eccentric, his deliberate line readings made for a mischievous but determined Merlin, the grand manipulator who takes things too far and finds events finally getting out of his hands, never mind his control. Meanwhile Morgana proved an intense rival (perhaps it was no coincidence Williamson and Mirren didn't have a great history of getting on) who brought out the overriding theme that while men aspire to be noble Kings and knights, there was always going to be some baser desire in their personality that would prove their undoing, with even the supposedly pure romantic love nothing to be indulged if you wanted to stay at the top.

This preoccupation with human weakness informed Boorman's often misty-looking vision, contrasted with the oh so shiny armour most of the actors sport (Merlin even has a gleaming metal skullcap worn at all times), but was it really that difficult to take seriously? When contemplating the screen fantasies of olden days, we were perhaps overlooking the elephant in the room, as around the point Black Angel was being filmed, there was another British movie that spoke to the inherent, unintentional ludicrousness of the whole genre so ably highlighted by Monty Python, and that was Hawk the Slayer. Like those other two respectable contemporaries, it was shot in various countryside locations in apparently not the best weather conditions, but it embraced its fantasy in its second rate Tolkien on a budget fashion in a manner that has had it the subject of snickers and amused derision ever since, even earning a memorable exchange on cult sitcom Spaced. Why, you may ponder, can Excalibur be taken seriously when poor old Hawk is not?

Fair enough, not everyone takes Excalibur seriously, not everyone takes Black Angel seriously for that matter, but for all that they do speak to a tradition, after all Arthurian tales in cinema are almost as old as the medium itself. This mix of magic and chivalry as perceived by the storytellers is a potent one, so why is it so often we get the likes of 1984's Sword of the Valiant (itself a remake of a work from the previous decade from the same director, Stephen Weeks) when someone tries to mount a sincere production? When Paul Verhoeven offered the world his Flesh + Blood in 1985, he approached it not unlike Boorman had, only if anything he increased the sex and violence while ditching the sorcery entirely: that was artistically successful, and appeared to lead the way to how the historical genre would continue, capped off at the start of the nineties with Kenneth Branagh's Henry V which informed the style for decades after, more akin to Terry Gilliam's Jabberwocky without the laughs. It took The Lord of the Rings blockbusters and Game of Thrones on television to bring back fantasy to the medievalism, but don't dismiss Christian's work, being allied to Star Wars meant it was one of the most widely seen short films of all time.