If there was one film said to have affected the brilliant cartoonist Charles Addams the most in his formative years, it was James Whale's Universal horror of 1932 The Old Dark House, which drew on the 1927 J.B. Priestley novel Benighted and featured travellers lost in the classic dark and stormy night on the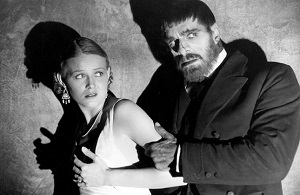 way to... somewhere or other, who are waylaid when they are forced to take shelter in the rambling abode of the title. Therein they discover a family of oddballs and their butler (played by Boris Karloff, fresh off his Frankenstein success under Whale's guidance) who happen to be so eccentric that they are turning to murder, only some are more prone than others and the travellers are at a loss to perceive where the danger is coming from. It was a set-up for an overripe shocker, yet the way it played was as black comedy.

You could well see why it appealed to Addams, whose macabre cartoons in The New Yorker and Collier's Magazine would take up the notion of a brood of various weirdos and mine near-endless examples of humour from them; he was a more accessible Edward Gorey, and often his fans would buy the magazines just for his expert cartooning. In the meantime, the mixing of the genres of comedy and horror continued in fits and starts, as for every obscurity like the frankly baffling Sh! The Octopus or the Fred MacMurray vehicle Murder, He Says there was a bigger hit such as Frank Capra's film adaptation of Arsenic and Old Lace, whose tale of a family where insanity doesn't run in the family, "It practically gallops!" would prove an example to follow in its combination of farcical laughs and elements that could be disturbing if handled in a less breezy fashion.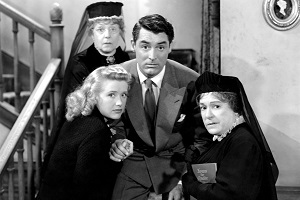 When Abbott and Costello Meet Frankenstein showed up, it would offer the other side of the horror comedy coin, where slapstick and broad humour ruled the roost, a style that would continue apace into the Roger Corman comedies of the nineteen-fifties and -sixties and through to the splatstick gorefests of the eighties with the likes of Re-Animator, yet what if you wanted a more refined wit as Addams had demonstrated? Come the nineties, two blockbusting successes were crafted from his cartoons, The Addams Family and its sequel Addams Family Values, but those were as much based on the sitcom of his work from thirty years before - seeing as how they were also produced after the man's death, were there any more contemporary efforts in his heyday which he could boast were his unholy progeny? As a matter of fact, there was one which wasn't often associated with it, and it wasn't even American.

Before the Addams sitcom was broadcast, a television show he loosely guided in sketching in the characters and their personalities, there was another production which appeared to be following in Addams' footsteps, and appropriately it was a remake of his beloved The Old Dark House. Helmed by William Castle, he was savvy enough to ask Addams of he would provide the opening titles, underlining the connection between the past and the present, though that amounted to not much more than a detailed pen drawing of the abode of the title - Addams' own hand did appear to write out his own distinctive signature, however, as if giving the project his blessing (and the hand is notably hairy and grotesque, in the vein of his humour). Yet this was less a remake and more a variation on the themes that had been set down by Whale, so the title was more a cash-in when the plot had little to do with Priestley, never mind the original movie.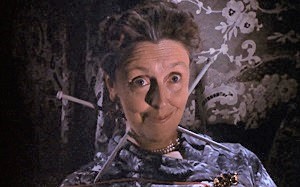 What was interesting was the studio which made The Old Dark House reimagining, not Universal but the British bunch who took up their international mantle as the go-to guys for screen horror, Hammer. Castle, ever on the lookout for a profitable proposition, teamed up with them at the height of their popularity and along with Tom Poston as the American expat in Cornwall, cast a motley crew of local talent to fill out the roles of the crazy Femm family (at least they kept the name). Therefore a selection of Brits who had a following of differing sorts were meant to provide the laughs and chills, with Robert Morley as the gun-loving head of the household, Joyce Grenfell as the ever-knitting matriarch, Janette Scott as the apparently fearful and "normal" one, and so on - but there was another leading lady sharing the screen, and she was Fenella Fielding as Morgana in something of a dry run for the role which would give her big screen immortality.

In both the horror and comedy styles, it had to be noted, and it wouldn't have happened without Addams' indirect influence. In 1964, The Addams Family arrived on the screens, the same time as the more Abbott and Costello fashioned The Munsters which did use the Universal monsters in a spoofy approach. This Addams production was far wittier, weirder and even funnier, however, though you're just as likely to find Herman and Lily championed as you are Gomez and Morticia, and The Munsters went one better than their rivals by making a feature film spin-off in the sixties with Munster Go Home! which the Addams lot were not able to do until that nineties revival, and following sitcom remake on television which was so dreadful it didn't last. But wait, there was one movie made in 1966 that captured the irreverent and ghoulish humour of Addams in a way that was at once contemporary and ahead of its time.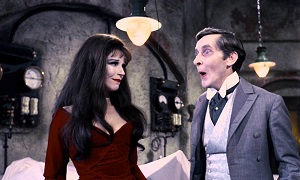 While the Old Dark House remake limped into British cinemas four years after it was shot, barely seen never mind remarked upon, one of the biggest homegrown hits of its decade had taken its lead, or rather, the lead of The Addams Family, in making success out of comic grotesques. Fenella Fielding was involved, and her reading of a Morticia-style villainess was a big aspect of the appeal, as Carry On Screaming! is still to this day named as one of the best of the Carry On series and one of the funniest British comedies ever made. Ostensibly, it was parodying the Hammer horror boom, an obvious target since they both represented their nation's cinematic yardstick of prosperity and acclaim with audiences, so to combine the two was a simple, effective concept. Those audiences could not get enough of the bawdy situations and wordplay, and that they found laughs and plenty of them in the very straightfaced Hammer scenarios was the icing on the cake.

Yet if you look closer at Talbot Rothwell's plotting, it was more indebted to Addams than it was Hammer: no vampires here, classic characters are reduced to a late on appearance by a revived Mummy, and Kenneth Williams' Doctor Watt was so ready with the quips he was a million miles away from Peter Cushing's grey-faced Dr Frankenstein. Rothwell must have been aware of the sitcom, and it's clear there was some inspiration, as he lifts the Morticia gag "Do you mind if I smoke?" completely for use in Screaming!, Bernard Bresslaw is a butler so closely patterned after Ted Cassidy's Lurch that it was almost plagiarism, and our hapless hero Sgt Bung (Harry H. Corbett standing in for an absent Sid James) kisses Fielding's Valeria up the arm in a very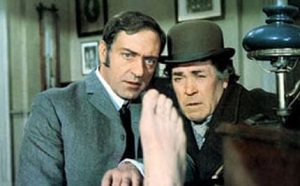 John Astin as Gomez way. That was another interesting aspect: in Carry On land, the characters are preoccupied with sex, but it's rare they get any.

In Carry On Screaming!, on the other hand, Bung is unfaithful to his wife with Valeria who seduces him with her vampish ways, and though it happens offscreen, we are well aware what has happened between them, as if the inclusion of immorality in the Watt household (an old dark house in itself) as they conduct experiments and make innocent young women into shop dummies (a send-up of House of Wax) has loosened up everyone's attitudes and added a hefty dose of giddy fun to the horror scenario. This was also a Carry On where people actually die - one of them is lavatory attendant Charles Hawtrey who falls victim to the hulking henchman Oddbod – though it's still for comic effect, leading one to believe that just as The Addams Family got away with a whole lot more than any sitcom collective had before, their sway over pop culture, especially in the United Kingdom which appreciated such incisive and often lightly surreal comedy, Carry On Screaming! was much in its debt. At the heart of them both were the scene-stealing leading ladies, Carolyn Jones regal as Morticia, and Fenella Fielding perfect with her purr and imperious look as Valeria.