Movie street gangs tended to be very different from actual street gangs in that the silver screen versions would feature much exaggeration, stylisation and general souping up to conform to genre. There were two of these movies released within five years of each other, both directed by the same man Walter Hill, which either through accident or design summed up the two extremes of how to approach the subject in the late nineteen-seventies and into the eighties, and both went on to win cult followings. They were The Warriors in 1979, and Streets of Fire in 1984, but there was more than a difference between their technique, as the former was a trendsetter from the beginning and the latter was a flop that only gathered a significant appreciation once it had been rediscovered on home video and television broadcasts.

Since the thirties and forties street gangs mostly meant the comedy antics of The Bowery Boys to popular audiences, though there were moves to grittier representations in the fifties with the likes of The Blackboard Jungle which kicked off the rash of efforts depicting youth gone wild, or if not gone at least going. In the UK you were stuck with Cosh Boy or Serious Charge, but the glamour of running with a bunch of tearaways set in the United States eventually led to their ultimate romanticism in the big budget musical of 1961 West Side Story, which took William Shakespeare's Romeo and Juliet and added songs by Leonard Bernstein and Stephen Sondheim, all of which painted the big emotions, conflicted loyalties and peer pressure in an operatic motion, though it remains nobody's idea of a classic gang movie with its affected choreography and swooning singing.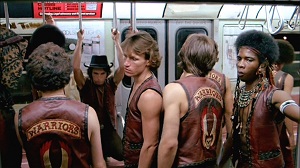 Nevertheless, the notion that you could play out the essentials of life in a raw, powerful and for that matter sensationalist fashion was established, mostly in lower budget flicks that more or less dispensed with the musical aspect, not that they were averse to having a theme tune, of course. Then came the British-made Stanley Kubrick adaptation of Anthony Burgess's science fiction novel A Clockwork Orange in 1971, and the essential violence of the depiction of street gangs was now regarded as ideal for attracting audiences; not always the audiences the studio wanted, as this was one of the instances of violence being blamed on a movie, something Kubrick took to heart when he withdrew his work from British cinemas for the rest of his life. But the damage had been done, if you wanted a solid villain or antihero for the youth market, make them gang members and watch the cash flow in.

Following Jack Hill's female take on the subject Switchblade Sisters in 1975, John Carpenter did as much to shape these works for the future as Walter Hill did with his Assault on Precinct 13 from 1976, making its almost spectral bad guys a huge group of gang members laying siege to a police station, but Hill's The Warriors made them the heroes. Basing the plot on a Sol Yurick novel the disgusted author had penned as a brutal riposte to West Side Story, which in turn was drawn loosely from Ancient Greek history, the story was simple: a mass of gang members settle in New York one night to listen to the preaching of Cyrus (Roger Hill) who claims that if they unite, they will outnumber the cops and be able to take over the whole of New York City. But in a nod to the tumultuous times of the assassination-ridden sixties, he is murdered as he makes his speech by a troublemaking gang called the Rogues led by Luther (David Patrick Kelly at his most weasely, which is saying something).

As if that wasn't bad enough, Luther then pins the blame on the nine representatives of the Warriors from Coney Island, led by Cleon (Dorsey Wright) who is promptly stomped to death in the ensuing riot, and the remaining eight must escape back to their home turf, an odyssey rendered with a curious, mythic tone which did much to attract its cult. Unfortunately as with many movies which depict youth violence, it also attracted trouble in the cinemas showing it, which led to a muted publicity push when the media were up in arms about it; see also Dennis Hopper's Colors or John Singleton's Boyz n the Hood, among others, which through sheer bad luck drew rivals together in the same place resulting in bloodshed, though hardly the epidemic the media liked to build it up as. The Warriors was not bothered about realism, however, as Hill was more interested in the storytelling element, rendering his yarn as something that might be passed down through generations as a futuristic campfire tale.

There were beatings in it, but they were administered to and by almost surreal-looking hoodlums, each with their distinctive appearance, from the most celebrated Baseball Furies in their uniforms and face paint to the deliberately rubbish Orphans, who were not invited to the forum and even their moll Mercy (Deborah Van Valkenburgh) abandons them to go with the Warriors' new stand-in leader Swan (Michael Beck). While elsewhere that year Philip Kaufman's The Wanderers and The Who concept album adaptation Quadrophenia attempted with great success to recreate the vivid, you had to be there gangs of the past, Hill was looking to the approaching years in a way that would feed into the post-apocalypse craze of the eighties, much in the manner Carpenter's Escape from New York, which owed something to this, would kick off a round of lower budget urban hell fantasies, often with the gangs as antagonists.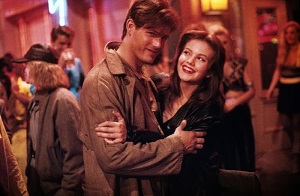 And yet, when Hill tried that out himself in 1984, fresh from the worldwide success of 48Hrs, the results were a surprise flop, as Streets of Fire was considered a mix of too many parts that appealed to nobody when mixed up together - Dan Hartman's sleek pop perfection I Can Dream About You was the only thing to make a sizeable impression at the time. However, it had enough of that Warriors sensibility to find a cult audience eventually, and by the end of the eighties it had one of the strongest reputations of any Hollywood film that had garnered that sort of appreciation. Hill, who co-scripted, took the basic idea of a group of motley characters, much as he had in the multi-racial '79 movie, which included a female too as the night wore on, and concocted a similar gang for this effort, as Diane Lane's rock singer Ellen Aim (obviously miming, which adds to the unreality of the project) is kidnapped by the Bombers, a collection of motorcycle-riding baddies whose look is reminiscent of Marlon Brando in The Wild One, the film that started the biker gang craze of exploitation movies circa the sixties and seventies including Roger Corman's benchmark The Wild Angels.

Thus Hill produced a shotgun wedding (or sledgehammer wedding, perhaps) of the genres that seemed to be destined to sum up all that was cool in the street gang flicks of the mid-eighties, a spot of Mad Max 2 here, a reference to Carpenter in its quasi-sci-fi there, a dose of New Wave rock liberally dousing the soundtrack, and a lot of the lessons he had learned on The Warriors. Nostalgia can do funny things, and now the lead character played by Michael Paré can be the source of much admiration whereas back then he came across as something of a wannabe berk (the bit where he punches out Ellen to quiet her concerns is still an uncomfortable inclusion), now he looks to encapsulate the leader qualities every action movie should seek in its leading man (or woman). Paré's collection of hangers-on as he tries to rescue Ellen included her manager, a deeply unfriendly Rick Moranis, a drifter (Amy Madigan) whose lesbianism is simply taken for granted in progressive fashion, a fan (E.G. Daily) and an entire doo-wop group, a refreshing combination even if they don't always get on.

Their rivals the Bombers, however, sum up what the street gang had turned into in Hollywood fictions, led by Willem Dafoe in slick, black overalls whose motives for the kidnap are none too adequately explained: basically, as in Michael Winner's notorious Death Wish sequels, any large assembly of young (or young-ish) men was to be feared for the mayhem they could create, and they had to be portrayed in an urban environment for the full effect, especially potent if there was a touch of the futuristic about it. The Warriors was supposed to be set in the near future, and Streets of Fire had a title card stating it was from "Another time, another place...", but really almost all of the contemporary films on this theme, from Abel Ferrara's China Girl to the Leon Isaac Kennedy pet project Knights of the City, contained a certain not quite genuine quality. Not that they were not entertaining for that lack of authenticity, as Hill illustrated it could be the strongest asset, and still influence movies into the 21st Century, with Sion Sono's Tokyo Tribe a Japanese symbiosis of The Warriors and Streets of Fire. So yes, praise John Carpenter for predicting and guiding the way genre movies would be taken all those years later, but don't forget Walter Hill, who returned to the genre with a nineties twist in Trespass - he had a major part to play as well.