You know what you don't get in trailers released these days? Compared with the nineteen-seventies, that is? You'll soon see should you take a look at Nucleus Films' Grindhouse Trailer Classics collections, up to its fourth volume out now, and the answer isn't flared slacks, it's nudity. One thing you cannot help but notice was that if one of the characters, preferably female, had a nude scene, it would be excerpted and stuck in pride of place in the advertising, and in volume 4 there was plenty of that. It was as if the companies involved thought the sole method of getting the punters into the cinemas, assuming the punters actually cared about what they were watching, was to put the nakedness up front, something you cannot imagine trailers including currently.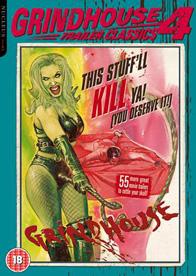 Is it a sign we have become more prudish? That can't be right, considering what is on the internet for billions to see at the click of a mouse, so perhaps it's because what we look at in private has become markedly different from what we visit the cinema to see in public. At the beginning of the DVD collection, there are a few clips that grindhouse or drive-in owners would place at the opening of the evening's presentation for their "Coming Attractions" section, and in between two more innocuous efforts is a very upfront message warning patrons that masturbation is strictly prohibited on the premises, which is amusing, but also points to what kind of person was attending these establishments, and what they were wont to get up to, presumably on their own. Those war stories from those who visited the fleapits to actually see something they were interested in never seemed more like they were taking their lives in their hands.

Rather that than taking anything else in their hands, but there were people who really did want to see how much entertainment could be stuffed into a ninety minute exploitation flick, and those trailers were what drew them in like moths to a flame. The examples in this case demonstrated that if it was not the nudity attracting them, it would be the violence as lurid scenes of devil worship alternated with shootouts with the cops and weapon-wielding madmen (and madwomen) lusting for blood, but if that wasn't enough, familiarity assuredly did not breed contempt in these low budget enterprises. Nope, if you really wanted publicity and the sex and violence just weren't making the grade (not that this would happen tremendously often), what you needed was a name above the title: what you needed was a star!

There are a number of famous faces in this collection, but it was not a case of some on the way up and others on the way down, as they all had pretty much reached the pinnacle of their fame whether they were William Smith as the baddie in a Blaxploitation effort or Roberta Collins as one of the potential victims in The Roommates; they were the sort of star who had found their level and attracted a degree of fame and a following because of it. Yet just as interesting were those who had been celebrities in a number of high profile, even respected works but had to earn a crust somehow and had wound up on the skids, let's call it the Aldo Ray effect (sadly Aldo is missing from the Volume 4 selection). They still had audience recognition, and that's what the producers at the sleazier end of the market were banking on.

Some stuck around in these longer than their contemporaries. John Mills for example did not turn scuzzmeister, but as seen here he did show up alongside Luciana Paluzzi for A Black Veil for Lisa, and David McCallum was between his TV spying job and Sapphire and Steel when he showed up to warn us all of the threat from Dogs with a mind of their own. Then there were the likes of Carroll Baker, who appears in The Sweet Body of Deborah and couldn't get much more respectable than that until Kindergarten Cop two decades later: her fans were surprised (and pleased?) to see her providing some of that aforementioned nudity too. Gloria Grahame represented the ageing star who wanted to work but the A list just didn't want her: here she's in Mama's Dirty Girls – but as matriarch Mama, or Stuart Whitman and Martin Landau who just couldn't cut it anymore and were stuck in a veritable grindhouse swamp, Landau got out to Oscar glory, but many more did not. And Micky Dolenz, well, there was always LWT sitcoms with a namesake robot to rescue him from Dirty Dan's Women, aka Night of the Strangler.

But what you really take away is that these trailers did a great job of rendering their parent movies looking far more exciting than many of them could ever hope to deliver on through the process of actually settling down to watch them. Poor Albert and Little Annie is an excruciatingly boring film, but under that title or I Dismember Mama it did appear riveting in the advertising. And that's the other appeal of these two minute wonders today: comedy. Just about every one, having to edit down to the most sensational highlights, raises a goodly amount of laughter after the fact, probably more than actually getting out the popcorn to watch Erica Gavin try to cash in on her Russ Meyer fame from Vixen! or Robert Quarry try to be the man of screen horror for the seventies. The trailer for the Orson Welles-presented shockumentary The Late Great Planet Earth told us the world was ending imminently, but maybe he was talking about the world of movies like this. Just count your blessings he didn't take his clothes off to do so.

Buy Grindhouse Trailer Classics 4 here!