Mission is a short science fiction film set in Scotland from director Mark Buchanan, well worth seeking out. He was good enough to answer a few questions...

TSI: Did it take a long time to set up the film?

MB: Three and half years from first draft to final edit.

TSI: How did Emun Elliot and Siobhan Redmond get involved?

MB: Emun was a pal of mine at the RSAMD [now RCS]. We were in different faculties [acting/film] but the set up was geared towards collaboration. As such, our paths would cross regularly, followed by heavy drinking sessions at Traders on Hope Street. We kept in touch after graduating and Mission seemed like a good opportunity to work together once more.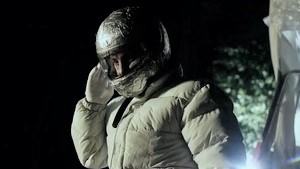 I did not know Siobhan personally before approaching her, but I'd long admired her work. She's a smashing actor and thought I'd give her agent a punt. I was thrilled when she accepted!

TSI: Does mixing genres (domestic drama and sci-fi in this case) appeal to you?

MB: It really does. I'm a Rod Serling fanatic and I've tried to channel his skill at utilising mundane settings to tell fantastical tales to relay timely moral truths that were easy to swallow.

TSI: I spotted a J.G. Ballard inclination, were there any intentional influences such as that on the final result?

MB: Not explicitly but I can see how you've made that connection. There is a very strong Spielberg vibe.

TSI: How did you get the stock footage for the Mars mission?

MB: All the footage NASA captures is for all mankind. As long as you're not advertising a product you're free to use the footage they generate.

TSI: Was the intention to say anything about emotionally distant fathers?

MB: I was more interested in exploring the effect disappointment has on the human psyche.

TSI: Do you think the British short film is in a healthy state at the moment?

MB: Without question -- there is so much talent out there. After a bit of a drought, we're beginning to see the fruits of the first BFI-run short film production cycle and the work that I've seen is diverse, electrifying and truly inspiring. There's also great work regularly being generated by independents like ourselves! We like to keep the big boys on their toes!

TSI: Do you have any particular favourite short films, past or present?

MB: My good friend Jamie Stone recently unleashed his new short - Orbit Ever After - upon an unsuspecting populace and it's very special. Scottish filmmakers Paul Wright and Lynne Ramsey produced some nifty work early in their careers which is well worth tracking down [Believe and Gasman are showstoppers]. Logorama is a tour de force as is Corin Hardy's Butterfly. I've got a soft spot for Vincent and Miracle Fish. Oh, and Noah, a short film that played at TIFF this year before leaking online is just sublime.

TSI: Do you plan to move into feature length films?

MB: That's the plan. I've got a script called The Leap about a doomed voyage to Alpha Centauri, a musical about Robert Burns which is sort of an anti-biopic that transposes Burns to the modern day, and a Kaiju flick called Densetsu which I'm pitching as Lost In Translation meets Giant Monsters All Out Attack! There's a bunch of other stuff. It's never a bad thing to have acres of ideas at your arsenal.

TSI: What are you working on next?

MB: A new short called Track. It's about a group of Londoners who hear a song that they can't identify and go on a convoluted adventure to track it down. We've dropped the sadness deliberately upped the fun factor for this one. We're also leveraging the release of Mission to raise funds for Track via Kickstarter. So, if you like Mission, feel free to make an advanced booking for Track. We're hoping to shoot next spring for a release at the end of 2014.