While the great filmmakers of China's so-called fifth generation, e.g. Chen Kaige and Zhang Yimou, now paint stories on a broader canvas with stately epics, the films of writer-director Zhang Yuan are more intimate affairs. A leading light of the sixth generation, Yuan has never shied away from controversy. Behind the Forbidden City (1997) tackled Chinese attitudes towards homosexuality, while Seventeen Years (1999) told the story of a parole home visit for a girl who murdered her sister.

Given their subject matter it is perhaps unsurprising that several of Yuan's movies have been banned in China. However, Seventeen Years was greatly praised by the Vatican who subsequently awarded him their annual prize for filmmakers. Accepting the Bresson Prize, named after the great French Catholic film director Robert Bresson, Yuan saw this as an opportunity to build better relations between China and the Vatican.

Zhang Yuan was in attendance at the Raindance Film Festival in 2006 for the British premiere of his first film in four years: the truly remarkable, spellbinding, Little Red Flowers. On the surface, a simple tale about a boisterous child's stay at kindergarten, the film is also a remarkable allegory about society's attitude towards misfits and nonconformists, reflecting not just Chinese attitudes but those the world over. All proceeds from the screening went to Children in China, a charity supporting disadvantaged children and young people. For further information visit www.childreninchina.org.

Q: Little Red Flowers is loosely based on an autobiographical novel written by a friend of yours. How much of this is reflected in your film, and does it feature any aspects of your own childhood?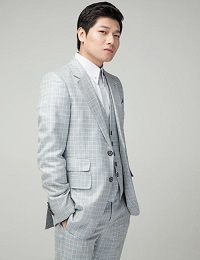 YUAN: There are some of my stories in the movie, but many Chinese grew up in this kind of kindergarten. So this is not only my own story.

Q: Is the film set within a specific time period?

YUAN: I did not want to set the story within any particular time period. There are still many schools like this one across China.

Q: Is the film set within a specific time period?

YUAN: I did not want to set the story within any particular time period. There are still many schools like this one across China.

Q: A lot of the information we (in the West) have about Chinese film often concerns censorship. Were you subjected to any restrictions? Has the film been released in China?

YUAN: The film was released three months ago. The film went by quite smoothly, there were no restrictions placed by the government, but I have made eleven movies and half of them could not be released in China.

Q: Do you think Chinese audiences will ever be able to see these films?

YUAN: Chinese audiences are still able to see these films because we have the pirated versions.

Much laughter. Particularly from the Chinese amongst the audience!

Q: So how do you feel when you get an idea for a new film? Do you just go with it or do you feel pressured by restrictions?

YUAN: The issue of censorship in China is still quite complicated because it is not specified by law. So, whenever we make a film we have to practice self-censorship.

Q: It must be extremely difficult. How do you know where to draw the line?

YUAN: (laughs) We can only guess.

Q: In this country the issue of censorship could arise because your film features scenes of child nudity.

YUAN: I think in China nudity among children is a very natural thing. You can tell by the costumes worn by the children in the film (Note: The children's school uniforms are slit at the front and back, so they can go to the toilet easily). Especially in the Northern part of China, these kinds of costumes are very common. Many Chinese paintings also show child nudity, so to me it is pure, not something disgusting. I think this question is quite interesting. I have attended premieres for this film across China and nobody raised this question, but when I was in America and here in the UK people seem to have this concern. I think it is a cultural difference.

Q: On the subject of children, how on earth did you cope directing all of those kids?

YUAN: I think this film was probably the most difficult I have ever made, because as you said there were so many children. They were all between three to five years old and they always want to play or go to sleep or go pee-pee. So it was really difficult.

Q: Since you were dealing with such a young, inexperienced cast, how closely were you able to follow the script? Did you have to improvise some scenes?

YUAN: Basically, we had to follow the script and I had to give a lot of guidelines to all the actors. We had a lot of rehearsals before we shot the film.

Q: (asked by a Chinese girl in the audience) Why did you use an Italian composer to score your film? Why not a Chinese composer?
YUAN: I like this Italian composer a lot. While I was working on the post-production, I had a lot of conversations with him and I am very happy with how this film's score turned out.

Q: Where did you find the little boy (Dong Bowen) who played Qiang? Was this his first film and how did you get such a performance out of him?

YUAN: Actually, I found him on the street. We had been searching through many, many children. More than ten thousand of them. I found him one week after we started shooting. I was walking down the street and I met him while he was playing. I thought he was really suitable for the role.

Q: He does so much crying in the movie. How did you get him to do that?

YUAN: In the very beginning we had to tell him that 'Your father is not coming to pick you up.' (Audience laughs) Then he would cry. But later on he got used to what we were doing. He even told my assistant director: 'Jut tell me whenever I need to cry and then tell me my father is not coming today. Then I will cry!' (Audience roars with laughter) I think he is a really brilliant actor, the same as all the other children you see in the film.

Q: Your daughter plays Nanyuan in the movie.

YUAN: Yes. She is a very good actress and she is very obedient. (laughs)

Q: How much did it cost to make this film?

YUAN'S TRANSLATOR speaks: 150 million US dollars. (laughs along with the audience upon realising she has made a mistake) 1.5 million dollars! Sorry.

Q: Was it filmed inside a real school?

YUAN: Some of it was filmed at a school in Beijing where my daughter is learning dance. Most of it was filmed on a soundstage.

Q: Are you drawing a parallel between events in the classroom and adult life?

YUAN: Even though the film is told from a child's point of view, I feel it reflects society.

Q: How did the Chinese media react to the movie?

YUAN: I don't pay much attention to what they think. (shrugs) Some said it was good, some said it wasn't good. I don't really pay attention to what the media say, partially because I think this is my character. It's like just now as I was watching the movie on the screen, I felt nervous. That's why I don't really know what the media have said about my film.

Q: (A German lady offers her thoughts on the film) It was illogical and often nonsensical, the story was drawn out to an extent and often made no sense whatsoever… (smiles broadly and gives two thumbs up) Great!

The rest of the audience exchange baffled glances. Zhang Yuan beams and whispers something to his interpreter…

YUAN'S INTERPRETER: The director says he understands and thanks you for your compliments. (Audience applauds, none of us the wiser)

Q: What is your favourite scene in Little Red Flowers?

YUAN: There is one particular scene that stays in my mind. It is when Miss Li and Qiang confront each other, and Qiang cries. To me this scene is very beautiful, it is the part I like the most.

Q: Are you making a specific kind of political statement with this movie?

YUAN: For me the most important part of making this film was the human side of the story, but I think that wherever there is human there is politics. No matter how old we are, even children have their own dignity and it is important for us to respect them.