The documentary feature film playing at the 2013 San Francisco International Film Festival A River Changes Course takes an intimate look at families living along the Tonle Sap River which changes course twice a year. The film creates the backdrop of families and the ongoing industrialization of the country and the people who live the ever changing countryside. The director Kalyanee Mam took some time to answer some questions about the film.

What can the people of Cambodia learn from A River Changes Course?

We first screened the film in Cambodia in October last year in the largest theater in Phnom Penh. 600 people came to the screening and 200 of them were parents of garment factory workers who came from the villages. The response was overwhelming. One young Cham Muslim woman stood up and said that growing up she had always felt she was different. But after watching the film she finally felt she belonged and part of the Cambodian community.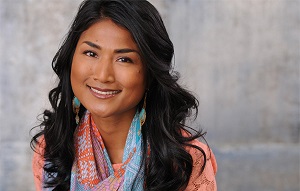 For many villagers in Cambodia, without access to media such as newspapers and television and without means and opportunity to travel throughout their country, this is the first time they will fully realize that what is happening to them and to their land, rivers, and forests, is happening to all Cambodians all across the country.

We have been granted an unprecedented license by the Royal Government of Cambodia to screen the film in villages all across the country. We hope that these screenings will help to fuel discussions and raise consciousness in Cambodia in a way that has never been done before. And we hope such consciousness will inspire and motivate villagers to speak out and act to protect their forests, lands, and rivers.

Have people in Cambodia seen this film?

Sari Math, Khieu Mok, and Sav Samourn and their families all came to that screening in Phnom Penh. It was a shocking experience for all of them but especially for Sav Samourn and her family, who have never stepped foot outside their village or seen a movie before, let alone a movie about themselves. But they were all very pleased to be part of the film. Khieu said if she had known the movie would be so big she would've worn make-up and nicer clothes! Sari's father asked if it would be possible to re-shoot the whole movie again and this time he would put on better clothes!

What other countries can learn from the points raised in this film?

What is happening in Cambodia is also happening in other parts of the world. We are losing our forests to plantations and industrial agriculture. We are losing the diversity and wildlife in our fisheries to overfishing and the construction of hydroelectric dams. Many people are also suffering from insurmountable debt as the cost of living skyrockets all over the world. What we can learn from the film is that what may be termed as progress has indelible impact on people's lives. And the question we should be asking ourselves is what can we do to make this progress more sustainable for all of us.

I was shocked when I first heard Khieu express her wish for the factory to come to her village. But in that moment she expressed the singular wish we all have to live life with comfort, dignity, and close to the people we love. But like Khieu, we also fail to recognize the unexpected consequences of our desires for convenience and consumption. This is the challenge we are faced with right now in Cambodia and all over the world. How do we seek balance without destroying ourselves in the process?

In recent years some countries have become better (like Columbia) while others have become worse. How do you see Cambodia faring in the near future?

The river will change course but the direction it will take will depend on the people of Cambodia and the government to steer it in a direction that is sustainable for the people and the country. Currently, there are already men and women in Cambodia taking action against the government to maintain rights to their land, to protect their forests and fisheries and to demand a livable wage. These are the people who will help steer the country in the right direction.

When I ponder Cambodia's future the image that keeps me hopeful is the determined look of Sav Samourn at the end of the film as she carefully but deliberately puts on her hat. The companies may come and the forests may be cut down, but she will continue to fight for her life and the future of her children. It is this courage and tenacity that allowed millions of Cambodians to survive the Khmer Rouge regime. It is this resilience that will ensure the survival of the Cambodian people today.

What can viewers of A River Changes Course and visitors to Cambodia do to create positive change?

I hope viewers in watching the film will be impacted on multiple levels. I hope the film will help raise awareness of the impact the destruction of forests and fisheries are having on people's lives in countries like Cambodia. But I also hope the film will inspire people to think about the concept of family, love, and identity in a different way. What does it mean to love, give, share and be part of a community greater than ourselves? Once we grasp this understanding then I think we can open our hearts to change the way we think, act, and ultimately impact the world that we live in.

Since you worked as an associate producer on the documentary feature Inside Job with Charles Ferguson what did you learn working with him?

We have very different ways of telling stories. That's important because even though I worked with him on Inside Job a film that was different from my own perspective but I respect it. It is a very important perspective to have but that's not the way that I want to tell my stories.

The stories that I want to tell are more intimate. More portraits. These are stories that dig into peoples souls. They reveal. Something that I feel are more universal. Something that stays in your heart and sticks with you for a while.

The kinds of films that he wants to make are more cerebral and mindful.

A River Changes Course plays April 29, May 5 at the San Francisco International Film Festival and Doc House May 23 at the Lexi Cinema in London.