When Timothy Dalton voiced his opinion that Daniel Craig may now be the best James Bond rather than the previously, dearly held belief it was Sean Connery who had been the finest 007, he was saying something that had been in the minds of many once Skyfall was released. Connery was excellent for his time, yet it was time to move in to the twenty-first century. But for some fans, his endorsement was all too appropriate seeing as how his and Craig's style contained similarities, especially in the way they were intended to be approached by the audience.

Both Dalton and Craig were seen as welcome new brooms to sweep away immediately previous movies in the franchise which had been viewed as growing increasingly silly and past it as modern day entertainment, and both were regarded as a grittier take on the classic character which would take him into the future, a brave new world of Bond adventures. Yet where Craig was embraced wholeheartedly by the majority of this fresh audience, after perhaps a hiccup in perceived quality for his second instalment, Dalton's hiccup was blamed for nearly derailing the entire series - for a while it looked as if new Bond movies were unlikely thanks to a number of factors both financial and cultural.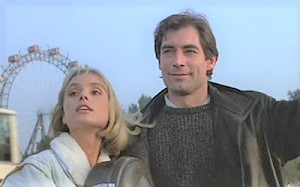 Dalton's first outing in the role was The Living Daylights, which had been intended as another Roger Moore entry but was adapted when he thought, rightly, he was getting too old for this sort of business. Yet while the new face was touted as knocking years off the character, Welshman Dalton was actually in his forties when he appeared, and had been in movies, never mind the theatre, for decades prior, most notoriously as Mae West's love interest in Sextette where he got to sing a duet with the ancient sex symbol. Naturally, none of that came up in the publicity for this 1987 effort - it was meant to be serious after all, and with that came a problem that Craig encountered too.

Humour, black comedy as it was, but wit all the same, was a big part of enjoying a Bond movie, not only in the one-liners but in recognising the stunts and setpieces as something so over the top that you had to take them as they were intended, a curious mix of the tongue in cheek and the straight ahead, thrill ride spectacle. But Dalton didn't look as if he could tell a joke to save his life, and whenever required to fire off a gag he appeared to be doing it through gritted teeth, which may have helped the producers' case that they wished to be more sober in their results, but tended to make them too straightfaced; in the case of The Living Daylights there were times when the film was close to drab.

That in spite of a strange obsession with those keyrings you used to get in the eighties which beeped when you whistled, here pressed into service as the height of sophistication and none too convincing in that capacity. Maybe it was the choice of Eastern Europe during the Cold War which brought down the mood, maybe it was Bond in Afghanistan and joining with the Mujahadeen, a misstep not quite of Rambo III proportions, but unfortunate in light of history to come, but The Living Daylights was a very ordinary movie to carry the Bond brand - I know, all that in spite of featuring Grange Hill's Precious Matthews as a Bond Girl. Oh, and Maryam D'Abo playing a cello.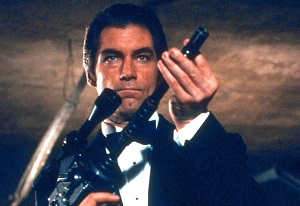 It did well enough with audiences interested to see this new version, but for the next instalment the producers took the criticisms to heart and tailored Licence to Kill expressly to Dalton's style, the more humourless, more man of action, let's face it more violent than ever Bond, with the result that a great swathe of the audience were too young to watch it in cinemas. Not reckoning on 1989 being the first real summer blockbuster-obsessed year of the modern era, this would-be hit foundered in the wake of Batman and Indiana Jones, as it was too similar in plot, if not in budget, to a large number of action thrillers where Chuck Norris would take on evil drugs dealers and beat them at their own bloodthirsty game, so instead of feeling novel it was rather hackneyed.

As if concerned about this, they offered a beefed up role to fan favourite Desmond Llewellyn, whose Q was about the only acting link to the old days left in the series, and while that was nice, you still had to contend with a movie that had Bond beaten up by ninjas and bumping off bad guys - illegally, as his licence to kill had been revoked - as if he were some serial killer with a posh accent. Robert Davi was a different villain in theory, but in practice harkened back to Live and Let Die with his plans for the drugs market, and there was a grimness to this one (Felix Leiter gets his leg bitten off by a shark!) which worked against the wide appeal Bond had cultivated for over twenty-five years on screen.

Perhaps Craig got away with it because with Casino Royale they went back to the source, adapting an Ian Fleming book instead of inventing a plot which was more to do with audience expectations: it had authenticity on its side as it piled on the "We mean business" aspects with aplomb. Though Skyfall was careful to pay tribute to its esteemed past, Dalton seemed too keen to get away from it, but whatever your opinion of him, either as the worst ever or unlucky in his choice of material, it's true that his brief, two film tenure marked a change that in light of the warm reception Craig received, was ahead of its time, and too much of its time now. At least he got to lead the Time Lords eventually.