Bloodsucking Freaks/Ilsa, She-Wolf Of The SS

Say, in a fit of lunacy, you get engaged. Or the booty call actually believed all that "Ooh, I love you, baby" crap and, instead of politely going home and quietly awaiting your next half-drunk all-desperate summons weeks later, clamped on tighter than barnacles on the SS Minnow, and began using the most profane word in the hit-that-and-split practitioners' vocabulary—we—while babbling on about long-term plans that interest you about as much as becoming chief corral cleaner at Cowtown Rodeo.

Sure, if the season is right, you can drive around until you see a curbside wood chipper, and toss the second party in, then when the cops ask what became of the MIA mess, shake your fist and, with your best Charlton Heston delivery, bellow "Damn you, Bermuda Triangle!" Or chuckle, "Whattaya mean? S/he's sitting right here" and begin having a lively conversation with your sofa.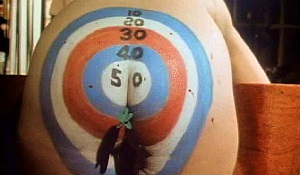 However, stunts like those only work once, meaning you're infinitely suspended in abject terror, horrified the very next pick-up podner could be another (soul-)Robbin' Leech. Back in the old days, I used to…er, I mean my former college roommate would simply move to another town, where the local Barney Fife never saw any of the alibi shtick before. But now, with national databases and DNA testing, you sneeze within 37 miles of a missing miscreant and some gung-ho CSI who looks nothing like Marg Helgenberger is convincing the judge that the next chair you'll be speaking to is the electric one you're getting strapped into.

At any rate, unless you enjoy the view from a cell window in San Quentin, there is another way to ditch the itch: convince the clinger to voluntarily vamoose via an "innocent" screening of some mighty sick (but enjoyable to the true junkfilm junkie) flicks.

Invited to a holiday feast with the parasite's parents, siblings and granny? Don't panic, Pat. Bring along one of these beauties, pop it into the DVD player, and insist the presentation is a tradition with your family, and you'll soon be chanting "free at last, free at last" even if you have never "been to the mountaintop."

*Bloodsucking Freaks (1978)—Much like the music scene of the prior era when you had hippie hangover acts on the West Coast and the Velvet Underground repping the East, the Seventies skin flick trade was divided, with the New York crowd cranking out a far grittier product, often labeled "ruff stuff." And although Freak is not hardcore by official smut standards, it does contain an abundance of brutality and defiled naked women.

(Hey, porn is in the eye of the beholder.)

Despite "bloodsucking" appearing in the title (it was originally called The Incredible Torture Show and rated X), this is not a vampire movie. Abetted by his dwarf buddy Ralphus, Sardu (Seamus O'Brien) runs an off-off-Broadway magic show—except he's not performing illusions, he really is torturing his "assistants." When not gleefully using a human butt as a dartboard and renting out slaves to severely twisted Manhattanites, the showman is obsessed with sticking it to a snooty theater critic constantly putting down the sadist in the New York Times.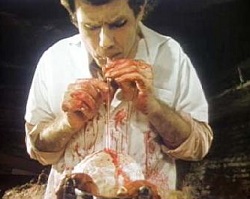 I traditionally strive not to spoil the fun by giving away too many plot twists; but imagine how quickly you'll be sent permanently packing when your no-longer-future-in-laws get a load of Ralphus drilling a hole in a captive woman's skull so a nutjob can suck her brains out through a drinking straw.

Even Sardu winced at that one.

*Ilsa, She-Wolf Of The SS (1974)—Yeah, I know, Nazis are so politically incorrect, and every one is thoroughly repulsed by them. Which is why this movie was a box office smash upon release, did well on VHS and DVD and spawned three profitable sequels, the public having such high moral standards, and all that.

For the record, I am not condoning Nazi atrocities, just condemning those who self-righteously slam exploitation films by day then sneak off to see them by night. And apparently there are plenty of Ilsaphiles out there. Sequels don't get produced unless the originals are highly profitable.

Besides, those out to kill the messenger are taking their eyes off the prize. We're looking to DITCH the dud, not register for wedding gifts. Who knows, you might hit the quadruple bonanza, your target so repulsed by the mere title of said mopic, you're getting shoved out the door before you even open the DVD jewel box.

Severely stacked Dyanne Thorne stars as Guess Who, the Reich's most ruthless prison camp kommandant. Ilsa is not merely cold-blooded; she immensely enjoys her work.

And, oh, what a barrel of laughs her average day is, be it having a naked female prisoner stand on a block of ice with a hangman's noose around her neck so a table of gloating Gestapo goons can get their giggles as the ice melts and the prisoner is slowly strangled, or humping a male captive into exhaustion then having him castrated so he can never have another bedroom bolero.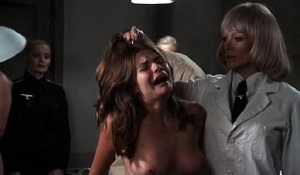 Colonel Klink, she's not. Major Sicky, much more accurate.

To gain distribution, prison films always end with harsh retribution. So, how did Ilsa manage to have three psycho psequels? By subsequent producers employing the time-honored tradition of matter-of-factly pretending the cash cow never bought the farm in the prior pic. The producer of this, the original, is David Friedman. Etch-A-Sketch a mental picture of how that went over with his rabbi and the congregation.

Creepier still, according to the Psychotronic Video Guide, certain fanboys who encounter Dyanne Thorne at conventions are disappointed she's refined and pleasant. Hoo, boy.

Noted ditchologist, Dr. SWManor, prescribes either one of the above as a proven means to quickly turn that Fatal Attraction into a long-past distraction. If the pain persists, make it a double feature. Should even that fail to shake the flake, resign to your fate, immediately propose, and enjoy a highly colorful marriage.

Right up to the moment the first of 23 dagger strikes plunges through your aorta as you sleep.


visit www.ManorOnMovies.com for the full MOM archive, including the photo-illustrated version of this review.