The Doll Squad (1973)



If you want to be jealous of someone (besides SWManor), an excellent candidate would be Ted V. Mikels. Contrary to his initials, TV is into producing and directing movies. A dime a thousand, you say? Not the way Teddy did it during his heyday.

You see, Mikels avoided the horrors of a "real job" or even the standard approach to low-budget filmmaking by blessing us with profitable drive-in classics such as The Astro-Zombies, Blood Orgy Of The She-Devils and The Corpse Grinders while live in a Cali castle cohabitated by up to ten attractive females he was, er, "mentoring" in the cinematic arts. Could he take great pride in the quality of his celluloid productions and contribution to the art form as a whole? Uh, did you miss the parts about shacking up with nearly a dozen young babes at a time, making money at it and never having to take a ham-and-egger j-o-b?

Ted deserves the full-column treatment but, for now, let's move on to our feature presentation.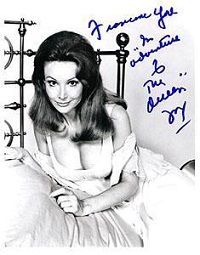 Francine York is one of my favorite bombshells from the Golden Age of junkfilms. A runner-up in the Miss Minnesota contest at age 17, her film career promoted by Jerry Lewis (Hey, lady!), Ms. York's physical appearance could be described in one word--YOWL!!!--and, if the average man wasn't such a numskull, she would have been placed on the same pedestal as Bardot, Welch, Andress and similar contemporaries. And thanks to being very diet-conscious, she remains quite attractive in her more "mature" years.

Equally important, in the handful of times I've been in contact with Francine--we'll pause for a moment so you can eat your heart out--she has always been as nice and down to Earth as humanly possible. No "I knew Elvis, and you are so below a hot mama like me, chump" tude from this sweet lady.

I'd rank Curse Of The Swamp Creature (1966) her most must-see cultish collaboration. However, since I've covered a lot of horror/sci-fi in recent M-O-M entries, let's shift gears to my fave Francine action flick, The Doll Squad, a Mikels movie extraordinaire.

Francine and a trio of busty crimebusters battle a barrel of baddies, with a battery of karate kicks, traditional weapons and even the tried-and-true "alight a stream of hairspray to create a flamethrower" trick. Goodness, gracious, great balls of fire.

The gals are abetted by Anthony Eisley who, because he starred in both The Mummy And The Curse Of The Jackals (1969) and The Navy Vs. The Night Monsters (1966), earned a seat at the banquet table of any reputable junkfilm Hall Of Fame (and was a tremendous conscience-free con man on a Dragnet episode well worth seeking out.)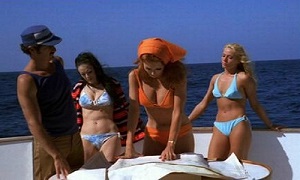 One of the bountiful babes, Sabrina, is…okay, hold it right here. I know what you're thinking: did he fire six shots or was it only five. No, wait, that's another movie. Re Doll Squad, you're thinking: a highly trained beauty battalion battling baddies, one of them named "Sabrina"--this is nothing but a Charlie's Angels rip-off.

As they say in Peru, au contraire, mein Herr. Mikels' masterwork was released three years before Farrah and friends hit the airwaves. So, if you want to point a finger at a potentially pilfering party and shout "Copycat, copycat, nothing but a drowning rat," the alleged culprit in this instance could be identified as easy as ABC. (Get it?)

Truth be told, the Squad storyline is not the draw here. When I say you need to see this picture, I mean you need to SEE this picture, as in layeth your eyeballs on its visual content and glory in its unique directorial styling.

I dubbed it CleavageVision. In plain terms, Francine and her troika of temptresses are stacked to the max, and Mikels' lens just about plunges directly down their D-cups at times, further driving home the point(s). It's like he's allowing you to become the Invisible Man, sneak onto the set and gawk at exactly what you would, if you could get away with it. What a guy.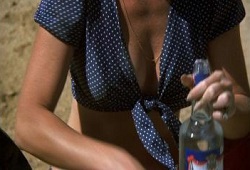 It should be mentioned that Doll Squad is not a nudie pic…which only makes the "titillating" camera-work even better, because the ogling is that much more gratuitous, lascivious and "incorrect." You are supposed to be following an action flick, but the lens is focusing on exactly what's on your lecherous mind, your brain no longer taxed by attempting to ignore whatever else is on the screen.

So blatant, so unapologetic, so hilarious. The hell with sound, color, Cinerama, day-for-night effects, 3-D, computer animation and blue screen. CleavageVision is THE GREATEST INNOVATION IN CINEMATIC HISTORY.

Why, I bet it would have even made The Way We Were bearable! (Hey, say what you will about Streisand being thoroughly annoying, but Babs had a pretty full balcony in the early Seventies.)


[As if the above weren't enough, the official DS DVD comes with a bonus audio track provided by ol' TV himself. They really should put this man on a postage stamp.]

There's a boatload of junkfilm reviews--most illustrated in the crazy new COLOR medium!--at ManorOnMovies.com. You are invited.