Hi Marco, can you give us the plot for "Absent"?
Absent is a film about a boy that devises a plan to sleep at his teacher's flat and then abuse his kindness.

Tell us About Martin's character.
Martin is a boy who is coming to terms with the idea of being gay and he is not ready to confront people of his age with his sexuality so he decides to seduce an adult.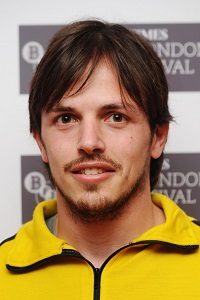 Tell us About Sebastian's character.
Sebastian is an ordinary guy who is so reserved and shy that he could almost be invisible. When this student abuses his good will he cannot find anybody to help him through it.

What inspired you to examine the story about the sexual desire of an underage boy for his teacher?
I wanted to talk about the desire of young people and how society sometimes prefers to conceal it so this situation helps Martin to abuse the power of being young.

How did you cast Carlos Echevarria and Javier de Pietro?
Carolos Echevarria contacted me. He's a very prestigious actor in Argentinean cinema and I thought he would be good in the role even though he wasn't who I had in mind for the role originally. He is supposed to be a very beautiful blond guy but after meeting Carlos I realised it was better not to cast according to this cliché!

For Javier's role I did some internet and I thought that he was physically suitable for the role. I cast 10 boys and I liked him the most. I then called him back with Carlos and that day I realised they would be the most suitable pairing for the film.

Why did you decide to develop a Thriller based film?
I wanted to talk about understanding so I wanted to go to the opposite at the beginning of the film. So to understand Martin, first I wanted to show him as a monster, hence why the film is a thriller. When you think you understand the character the film destroys all the ideas you have and the thriller becomes a film about humanity.

It's interesting that you often hear stories in the UK media of teachers abusing their power to seduce students. Was this film inspired by any true events in Argentina?
Not really. I wanted to twist the popular myth that teachers seduce students.

Was it difficult to make this film after the critical acclaim for Plan B?
In a way it was difficult because it was a challenge – particularly as PLAN B was well received. On the other hand I felt I didn't have all the things I wanted in PLAN B. Shooting PLAN B cost US $6000 - it was guerrilla filmmaking. With ABSENT I could shoot the way I wanted to because I had a budget and people trusted me following the critical and commercial success of PLAN B. People realised my first film wasn't a fluke. There was a lot of work behind it.

Do you See Yourself as a Gay Filmmaker?
Yes, because I am gay but no because I plan to film lots of different things which are not just about sexuality.

Did you draw any influence from other films for Absent? If so, which ones?
Yes, Alfred Hitchcock's "Psycho". In ABSENT as in Psycho, the film breaks in the middle and leaves the spectator in limbo. In Psycho people weren't afraid because of the knife but because of where the film was going. I was also influenced by Japanese horror for the structure of the first part of the film. If you listen carefully, you can hear fingers scratching the strings of a double bass.

How Does It Feel To Have A Second Film at the Lesbian and Gay Film Festival in London?
I'm really happy. They look after me really well here.

Which actors would You Like to Work With?
James Franco, Charlotte Gainsborough and Jeremie Renier plus many more!

What is Your Next Project?
It's called "Butterfly". It's a modern fairytale. I have written the script and I am currently looking for funding.

Who is Your Favourite Director?
Kim Ki Duk.

What is Your Favourite Film?
The Cement Garden by Andrew Birkin, based on a book by Ian McEwan.

"Absent" (15) and "Made in Argentina – 2 Films by Marco Berger" (15) are available on DVD on 9 April from Network Releasing.